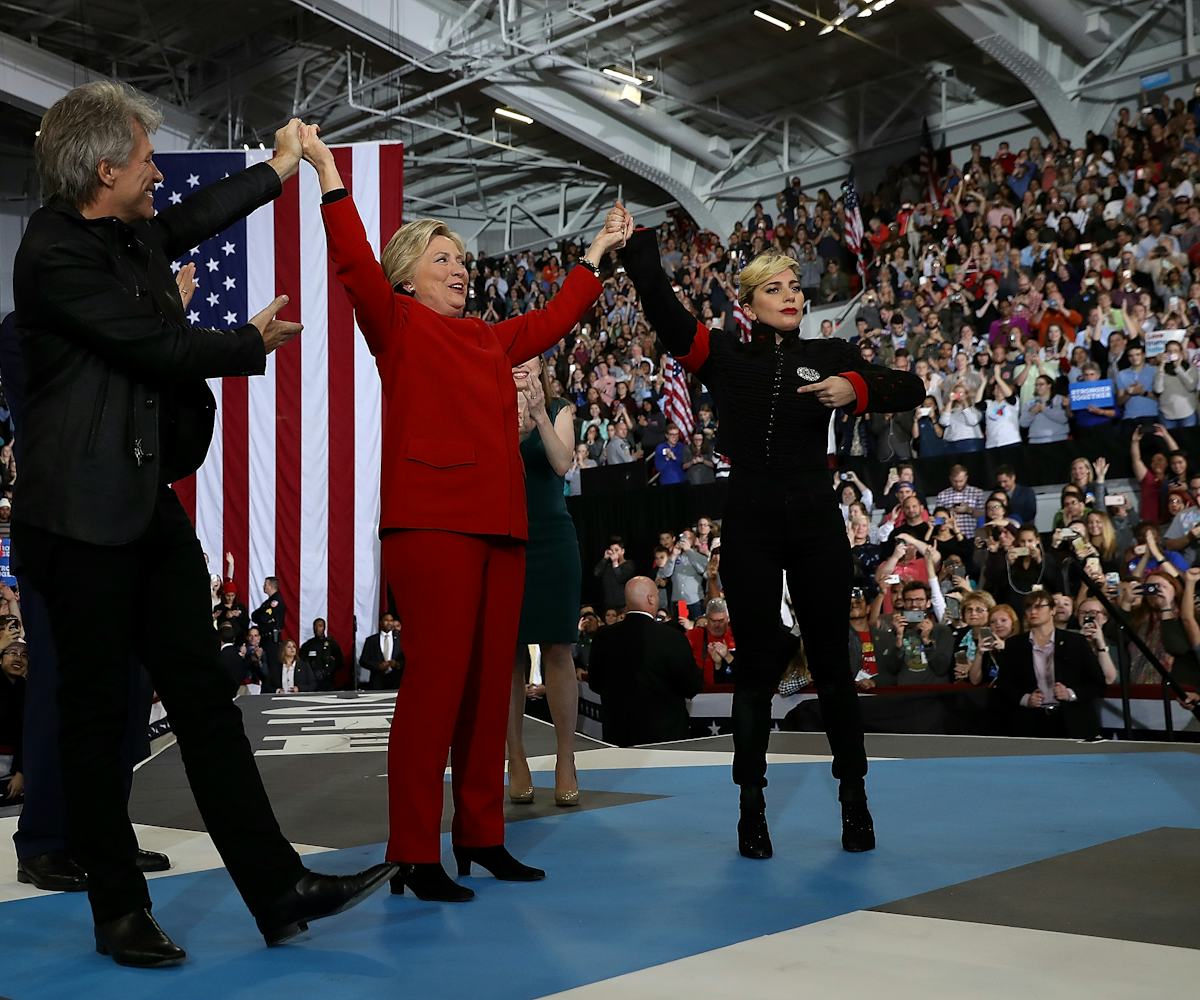 Photo by Justin Sullivan / Getty images
Music's Biggest Stars Came Out in Support Of Hillary Clinton On The Eve Of The Election
Madonna, Lady Gaga, Jon Bon Jovi, and Bruce Springsteen all performed
Hillary Clinton hasn't been shy about recruiting the biggest stars in music to help her win the White House. On the eve of Tuesday's election, Madonna, Bruce Springsteen, Jon Bon Jovi, and Lady Gaga all performed in support of Clinton's campaign, following performances from Beyoncé and Jay Z just a week earlier. 
Madonna's concert was particularly headline-grabbing when she showed up in New York City's Washington Square Park for a surprise 30-minute acoustic set. "Vote with your heart, vote with your mind, vote with your spirit, vote with your soul. Save this country, please," she told the makeshift audience, who sang along to spirited versions of "Rebel Heart," "Don't Tell Me," "Like A Prayer," and John Lennon's "Imagine." 
In Philadelphia, Bruce Springsteen joined Barack Obama and Clinton at a rally outside the city's Independence Hall, for a stirring three-song set made up of "Thunder Road," "Dancing in the Dark," and "Long Walk Home." "The choice tomorrow couldn't be any clearer. Hillary's candidacy is based on intelligence, experience, preparation, and an actual vision of America where everyone counts," Springsteen told the crowd. "Men and women, white and black, Hispanic and native. Where folks of all faiths and backgrounds can come together to address our problems in a reasonable and thoughtful way. That vision of America is essential to sustain, no matter how difficult its realization."
Springsteen also added in some Donald Trump-bashing for good measure. "This is a man whose vision is limited to little beyond himself, who has the profound lack of decency that would allow him to prioritize his own interests and ego before American democracy itself," Springsteen added. "Somebody who would be willing to damage our long-cherished and admired system rather than look to himself for the reasons behind his own epic failure. And that's unforgivable. Tomorrow, those ideas and that campaign is going down."
Closing out last night's final campaign push was none other than ardent Clinton supporter Lady Gaga, who appeared at a rally in Raleigh, North Carolina, and told the crowd that "Hillary Clinton is made of steel. Hillary Clinton is unstoppable."
"Ladies and gentlemen, why don't you put your voting shades on, practice your walk to the polls, and vote for Hillary Clinton," Gaga added. "I think it's time to come to mama." She was then joined by Jon Bon Jovi for a duet of "Livin' on a Prayer," which wrapped up a powerful night of performances that left little doubt of one thing: America's biggest pop stars are with her. 
If you haven't already, vote today.