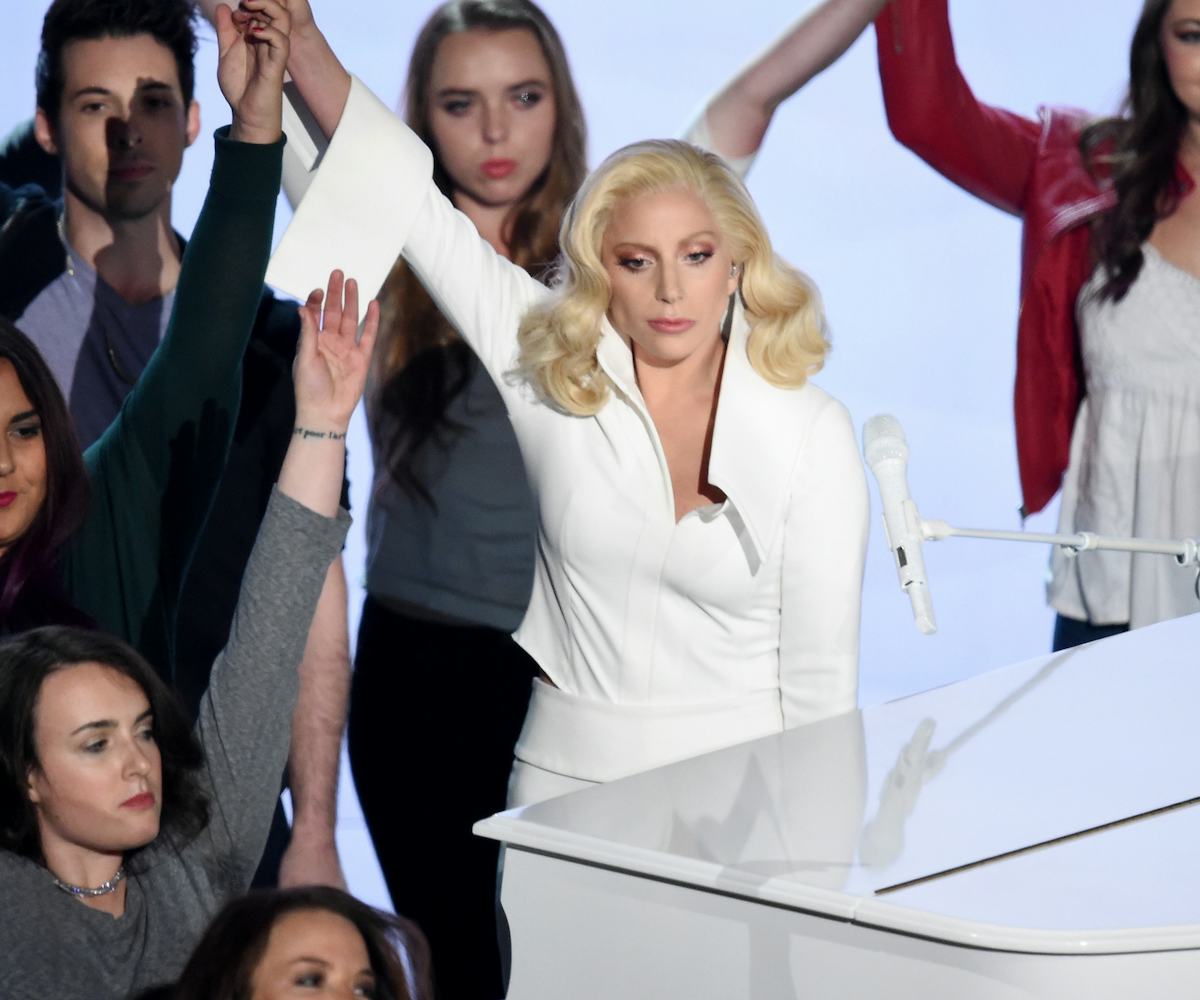 Photo by Kevin Winter/Getty Images.
Lady Gaga's Oscars Performance Was Downright Powerful
watch "til it happens to you"
Lady Gaga is not one to be silent about being a survivor of sexual abuse, participating both in advocacy for awareness as well as sharing her own personal story of abuse at the age of 19. Even tonight, she posted a moving photo to her Instagram with her fiancé, saying, "I never thought anyone would ever love me because I felt like my body was ruined by my abuser. But he loves the survivor in me." She's also, perhaps more so than any other public figure, been a voice and friend for Kesha during her current struggles in trying to break contractual ties with her alleged abuser Dr. Luke. All of this was channeled into her Oscars appearance tonight when she performed her nominated song, "Til It Happens To You."
Written by both Diane Warren and Lady Gaga for documentary The Hunting Ground, which deals with the topic of campus rape in the United States, "Til It Happens To You" asks the listener in an emotional plea to put themselves in a victim's shoes to try and understand the pain they go through. 
After an introduction by Vice President Joe Biden, who urged people to take "a pledge that says, 'I will intervene in situations where consent cannot or has not been given,'" the camera then switched to a stage with only a white piano, a spotlight, and Lady Gaga in all white, nothing more. The simplicity and focus of the setup gave viewers and listeners no distractions from the very important and emotional message.
In a gripping and inspiring finale, she was joined on stage by male and female survivors of sexual abuse, who all displayed messages written on their arms like "unbreakable" and "not your fault." As the song ended, Gaga joined hands with the survivors as the entire theatre rose to their feet for a standing ovation. We hear you, Gaga, we hear you loud and clear.