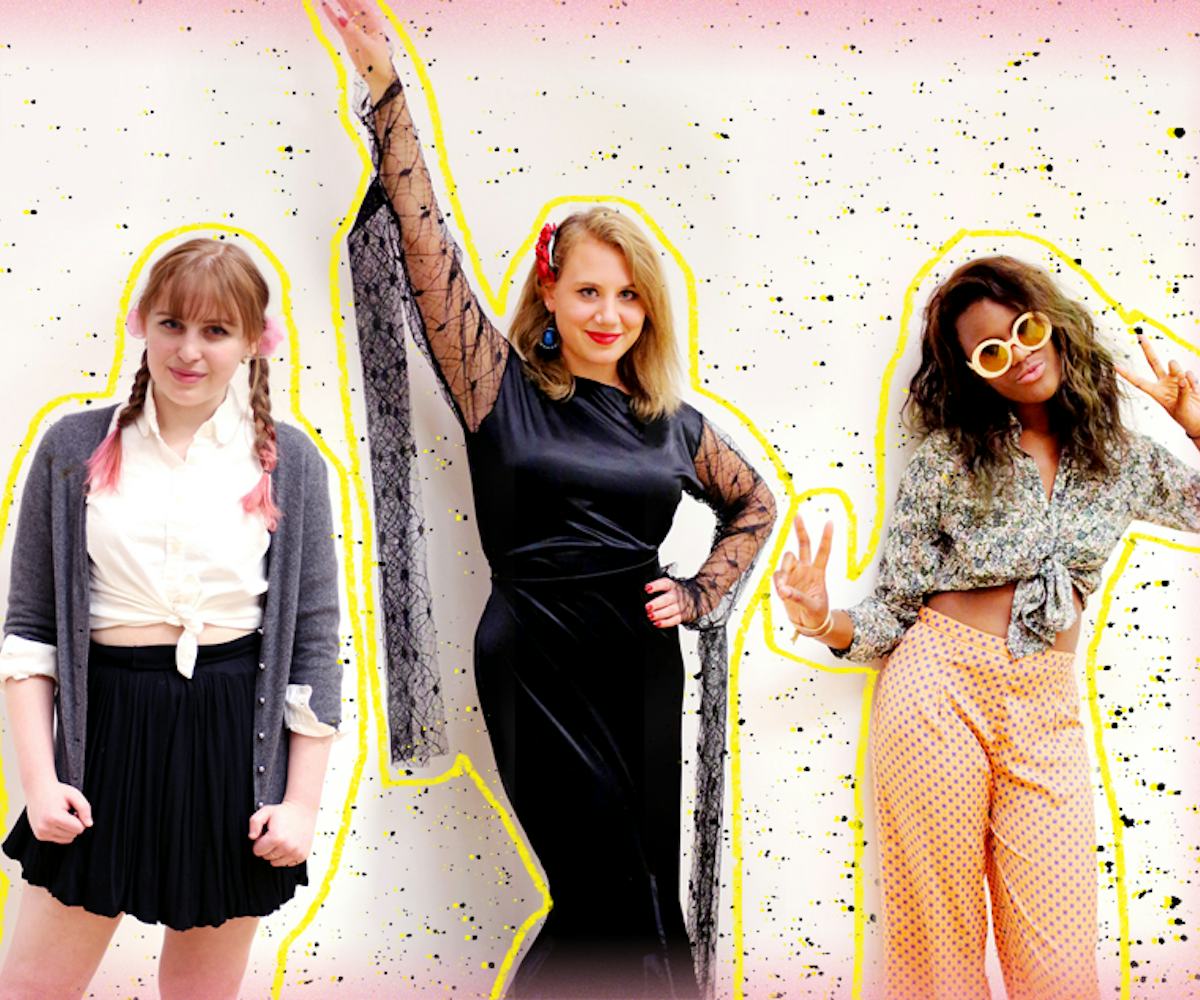 photos by blair waters
3 last-minute costumes on a budget
Ladies and jellyspoons, we hate to be the bearer of bad news, but Halloween is in three freakin' days. Three days. So much for you and your friends brilliant idea to be exact replicas of The American Girls dolls. It's the middle of the week and all you have is some lace gloves, a tube of mascara, and a couple of bucks saved for the holiday. But do not fear; NYLON's intrepid interns are here.
Because nothing says "real world internship experience" like giving our three hardworking edit interns $25 and letting them loose in the city. The challenge was: All our participants had $25, plus anything they brought with them to the office; none of them could go to the same store. The result is three very different, very thrift store costumes—but all for a girl on a budget. Check out the three costumes, and see if you are inspired to, you know, spend more than 15 minutes rummaging through your dirty laundry to become "Sock Girl."
Though, to be fair, Sock Girl sounds pretty rad. 
Priscilla Bajomo, digital editorial intern
Costume: 
"Funky disco chick"
Money Spent: 
$23 at Buffalo Exchange
I headed straight to the East Village so that I would have a big selection of cheap thrift stores. My first stop was Buffalo Exchange who had a range of creative last minute outfits, ranging from an egg costume to a show girl. Many of these were unfortunately out of my price range, but I luckily soon found some patterned flair pants with a retro '70s feel. I then found a floral patterned shirt to match, creating my costume of a '70s hippie girl. 
Rebecca Deczynski, digital editorial intern
Costume
: Britney from "Baby One More Time"
Money spent
: $1.99 at CVS, $20 at Monk Thrift Store
For my Halloween costume I decided to go with an iconic, yet easy to recreate look: Britney Spears in her schoolgirl-themed music video for "Baby One More Time." I have to admit, Britney's premiere album was the first CD I owned, so dressing up as her is a homage to both my childhood and the early 2000's. While it would be much more difficult to recreate some of Britney's later looks, like her red jumpsuit in "Oops I Did It Again" or her infamous "Slave 4 U" snake-accessorizing outfit, this look is easily recreated with basics that you probably already own.
I found my skirt, shirt, and cardigan at Monk Thrift Store. Tying the blouse as a crop top and rolling up the sleeves give it that perfect pop princess vibe. I also found a scrap of pink tulle in the thrift store that I used to accessorize my pigtails. I snagged a cheap pair of knee highs from CVS to finish off the look. With the right hairstyle and attitude, this basic outfit turns into a super recognizable costume that is sure to stir up some nostalgia.
Laura Sciarpelletti, editorial intern
Costume
: Gothy Stevie Nicks 
Money spent
: $5 at Housing Works, $14.50 at Tatyana Boutique.
First I headed over to Housing Works—a local SoHo thrift shop—and rummaged through a great deal of tweed and taffeta. While I had a few characters in mind, my list was shortened by price tags and a short time frame. Finally I found a witchy black dress with long flowing sleeves. I immediately thought, "Perfect! Stevie Nicks." Thinking I'd glam it up a bit, I made my way to Tatyana Boutique—a retro pin-up style store close to the thrift shop—and picked up a bright red flower hair clip. I paired the ensemble with a modest cat eye and blood red lips for a bit of a rock n' roll feel. 
So, which girl do you think nailed it?