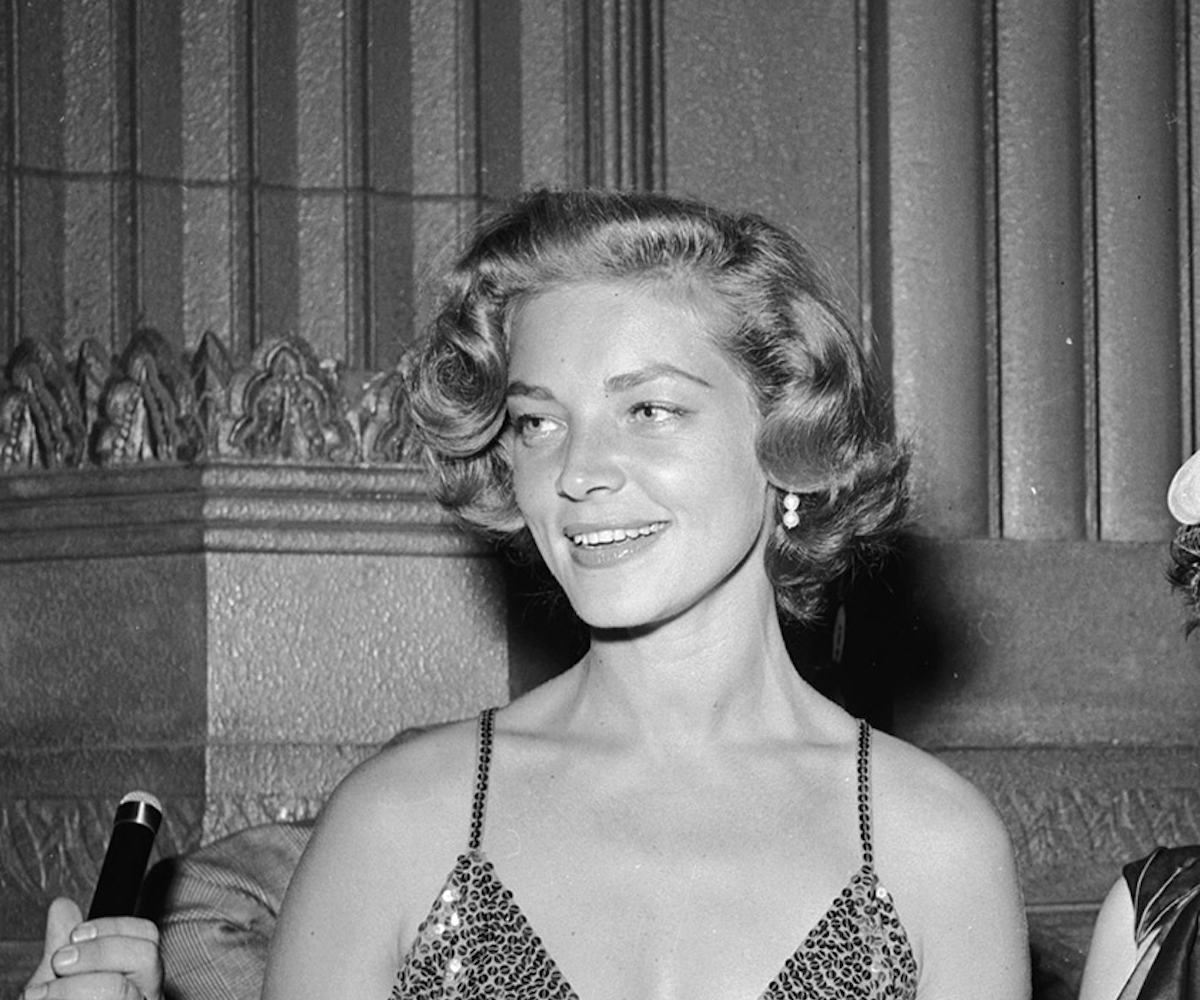 photo via getty images
beauty icon: lauren bacall
how to pay tribute to the ultimate golden girl.
When we heard about the passing of iconic Hollywood It Girl Lauren Bacall, we were extremely bummed, to say the least. After all, she has influenced our style in innumerable ways. So it's only appropriate to pay tribute to Bacall's legendary beauty look—the one that lit up silver screens around the globe.
Whether she was winning audiences in films like Key Largo's Nora Temple and How to Marry a Millionare's Schatze Page, or just walking the red carpet, the star truly showed us a side of classic beauty that has stood the test of time. And even though we might not look exactly like the natural Bronx beauty, we've put together our arsenal of products that can help anyone acheive her sultry look.
Check the gallery to see which lip liners, false eyelashes, and hair curlers we've using to channel Bacall. Then, doll yourself up and spend the rest of the day watching re-runs of old movies with the leading lady (FYI, How to Marry a Millionaire is currently instant-streaming onNetflix!).
Conair Xtreme Instant Heat Ceramic Flocked Rollers - $34.99
The best way to get the legendary luxurious curls from Old Hollywood is to use what they used--yes, we're talking about curlers. You might think this tool seems way too grandma-ish, but try getting Bacall's look with a curling iron alone, and then come talk to us.
Anastasia Beverly Hills Classic Stencils - $20
To get Bacall's classic high-arched brows, you're probably going to have to train them. The easiest way is by regularly shaping your brows with these awesome stencils from Anastasia Beverly Hills. Just choose which shape works best for your face, then follow the guide with tweezers or fill in with Anastasia's Brow Wiz if you need to make your brows fuller in certain spots.
Bite Beauty Contour Lip Liner in Cashew- $24
Bite Beauty High Pigment Pencil in Honey Berry Toasted Almond - $24
It's true that there are so many photos of Lauren Bacall completely ruling the red lip game. But in black-and-white photos like this one, you might get more of a neutral vibe. With such powerful brows, it's OK to keep your lips neutral. Bacall's were iconic because of their definition and shine. Get the look by defining your lip shape with a contour lip liner like this one from Bite. Their high pigment lip color pencil will also give you the full, shiny look that Bacall made seem so effortless.  
Sephora Collection False Eyelashes - $5
If you want to get the look of a classic major celebrity, false lashes are the way to go. Try these falsies from the Sephora Collection. The best part is that they're super affordable (starting at just five bucks) so you rock the look whenever your heart desires. Pro tip: After applying the false lashes, put a coat of mascara over them, as well as on your bottom lashes. This will make your fake lashes look more real, and give you the extra sultry look a la Bacall.