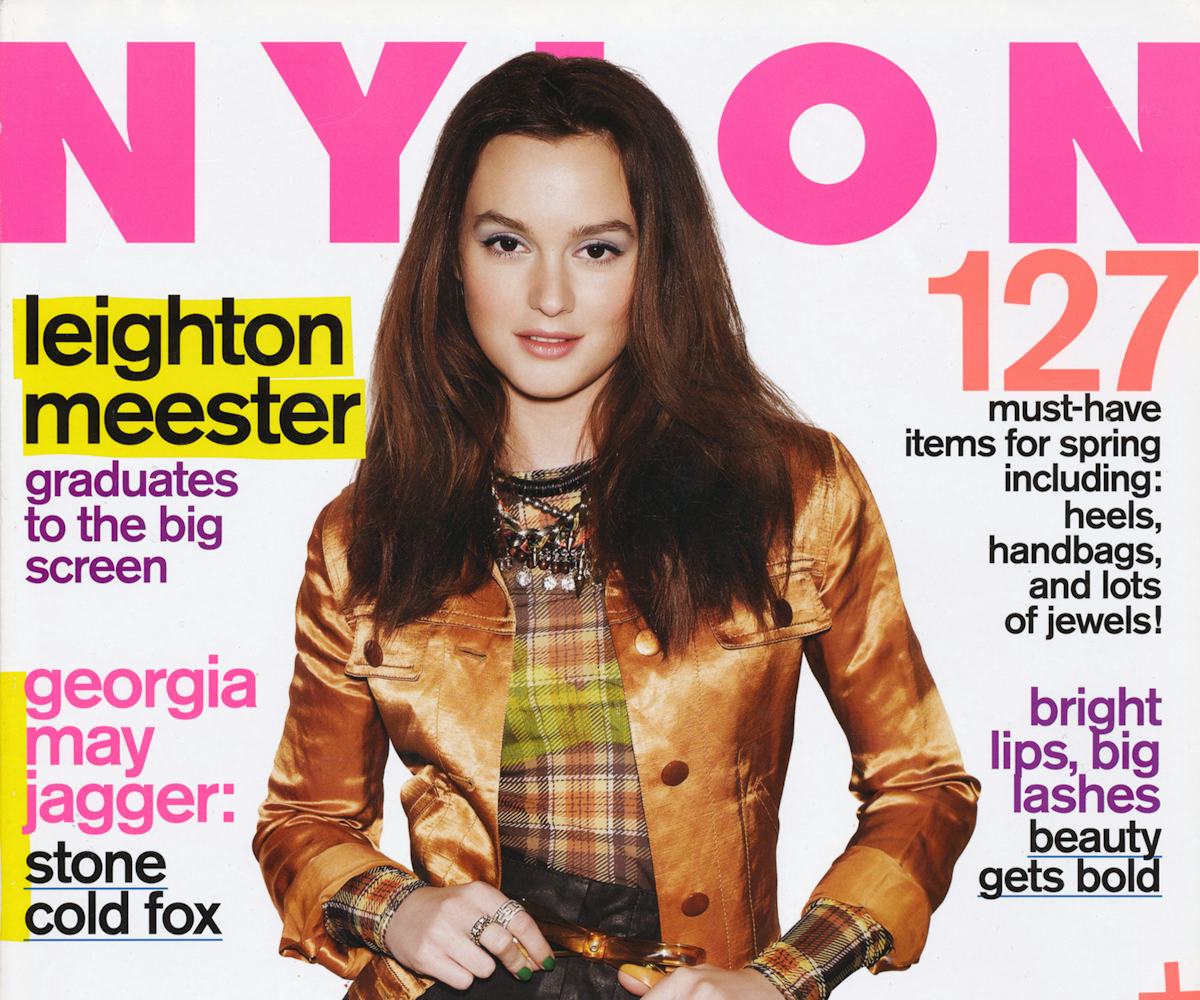 flashback friday: gossip folks
time travel to february '11 with leighton meester.
Our weekly Flashback Friday just got a whole lot cooler. We're still posting some of our favorite covers from past issues of NYLON, but now you can go even more in-depth with our faves by reading the cover stories in their entirety! Yep--consider this your really rad trip down memory lane. While we're still reeling that Seth Cohen--er, Adam Brody--is off the market, we couldn't be happier for the future Mrs. Brody, Leighton Meester, so we're faslhing back to her February '11 cover story where she talked Gossip Girl, The Roommate, and singing with writer Natalie Shukur.
If you're a deranged
Gossip Girl
stalker, they've got your number at Silvercup Studios. When I arrive to meet Leighton Meester in the lobby of the sprawling facility in Queens, where the CW series is filmed, I'm informed by the suited, middle-aged man behind the front desk that the actress is not here. He then infers, rather brusquely, that I am indeed a deranged stalker or, worse still, a terrorist. "Do you know about 9/11?" he bellows. "Did you see what happened with Mark Chapman?" (It's the day after the 30th anniversary of John Lennon's death.) I have visions of being escorted out by security, kicking and screaming. "You have to lay all your cards on the table when you come into a place like this. We've got to protect these kids," he says, referring to the cast of young actors. As I contemplate my next move, I spy Meester breeze in, toting a small dog bag and singing to herself, her head bobbing from side to side. She greets a couple of men hauling garment bags with a saccharine smile and disappears with them into an elevator. I hastily retreat to the glossy black town car that waits for us outside (a placard with the actress's alias--a feminized, backwards version of a famous director's name--is displayed in the window). 
Meester's packed schedule has meant this is our third attempt at an interview in as many days. Our proposed trip to Posman Books in Manhattan's Chelsea Market one evening was derailed because shooting on the second half of Gossip Girl's fourth season ran late; 10 p.m. drinks the next night were abandoned in favor of a Dior store opening that she attended wearing a frothy black tulle dress and hooded fur jacket by the Parisian house, teamed with thigh-high leather Alaia boots. Now our plan is to conduct the interview in the back of the car during the 90-minute drive to Newark Airport so she can catch a flight to Los Angeles for the premiere of Country Strong, her most high-profile film to date, in which she sings her heart out alongside Gwyneth Paltrow as peppy beauty queen-turned-country music ingenue Chiles Stanton. 
Thirty minutes later, after a wardrobe fitting, Meester piles into the car, apologizing profusely, jolting awake the driver who has been snoring loudly. "The faster the better so we're good and on time!" she calls out, before turning to me. "This will be fun--we'll get to cross state lines together!" Trudy, her miniature longhaired dachshund, is along for the ride, and after jumping over legs, sniffing purses, and exploring under the seats, she makes herself at home on my lap. It's a cold December evening, the kind that turns hands numb and cheeks rosy, and the 24-year-old is swathed in layers of thin, drapey knit tops paired with worn-in sweatpants and black combat boots, her hair tied up in a lazy, lopsided ponytail. Outside the wind is whipping and wailing, but inside the car it's drowsily warm, and every so often Meester opens the tinted window a crack; through it you can glance a crescent moon hanging in an inky sky. 
The journey underway, she pulls down the backseat mirror, roots around in her bag, and proceeds to wipe the remnants of Blair Waldorf from her face--black eyeliner, shimmery foundation, and pink blush. She douses herself with Evian spray, pressing it into her seemingly poreless, velvety skin with the sleeve of her stripy sweater. Makeup free, she possesses a wholesome, American beauty, all heart-shaped face, chocolate eyes, button nose, and dimpled cheeks. Her hair is so glossy you could check your reflection in it (a natural blonde, she had to dye her locks chestnut brown to embody the dark soul of Queen B). "She's got a terrific classic Hollywood face that the camera just loves," Stephanie Savage, Gossip Girl's co-creator, says of Meester. "But she's a real chameleon. When she's glammed-up with her hair and makeup done and outfit on, she comes across as a Hollywood beauty, but she is just as comfortable in jeans and boots, reading a novel, as she is going to a red carpet event. That sort of dichotomy in her personality will really serve her well as her career moves forward."
As the car comes to a halt in rush- hour traffic, Meester not only seems eager to shed the physical traces of her scheming, histrionic, headband aficionado TV character, but you get the feeling she is mentally decompressing from a week of Blair Waldorf, too. "Blair is.... I don't know what she is," she says, visibly stiffening. "I have to enter a completely foreign body to sympathize with Blair and her decisions. You know, Blair grew up very savvy, well-educated, and lonely. I think her mother is not the most supportive person and has a hard time showing her feelings, and Blair is very competitive and conniving and it obviously comes, usually, from a very human place, but she makes decisions that I would never make. To really manipulate and hurt people is not really what I think is the right thing to do, but I guess it's all for the heightened reality of the show." She glances anxiously at the window. "Can you unlock that?" she asks the driver, tapping the button with a fingernail manicured midnight blue. 
Meester is the type of actress who embeds herself deep into a character's psyche. "The girl works really, really hard and I admire her so much," says Minka Kelly, who stars opposite Meester in
The Roommate
(out this month). In what is essentially
Single White Female
for the Facebook generation, Meester plays Rebecca, Kelly's college dorm partner, who becomes dangerously obsessed with her. "When you play someone like that it can be really underdone or overdone and she worked really hard at making it believable," says Kelly. "She worked with psychologists; she really studied the illness of the character, so much so that at times on set I was a little concerned whether or not she was there because she scared me so much! The look in her eye was so surreal I was in awe at how much she committed to it. There were even times people on set would mistake her for being sort of anti-social and that's not the case. She would isolate herself from everyone and stay in her trailer, only because she was working so hard. Otherwise she's a very, very lovely girl, and I would be like 'No, no, she's working! She's not here to be social.' I think it exhausted her." Meester says she feels sorry for those she worked with on The Roommate, which she filmed back in 2009. "I didn't really get the chance to open up to them," she says. "I spent a lot of time listening to music that made me feel a certain way and staring in the mirror not liking myself.... If I had to go back and do it again I don't know if I could."
Though she is contracted to play Blair Waldorf for another two years, in her small wedge of spare time Meester is building herself a bona fide Hollywood film career. A comedy (last spring's Date Night with Steve Carell and Tina Fey), a musical, and a psychological thriller all under her belt, her next release is independent drama The Oranges. "I'm in love with that film," she says. "The story is so cool because it's a delicate subject: A young woman whose parents' best friends live across the street, and she falls in love with the husband." Meester plays the lead opposite Hugh Laurie, who, House fans will recall, she has already had an on-screen flirtation with as a guest on the hit show. "I can't tell you how much I hate Hugh," she intones, arching an eyebrow, before confessing: "He's awfully sexy."
Working with a heavyweight cast that includes Catherine Keener, Allison Janney, and Oliver Platt on The Oranges has only amplified Meester's sense of drive and focus. "I love my job, and I'm really proud to be able to say that," she says. "I have gotten to meet people that I think are the best, the most talented, the most successful, and I feel that those people are always the nicest. I think that goes to show that in this business it's good to be real; it's good to be who you are and not compromise that. And a lot of it is word of mouth, people saying, 'Oh they're good to work with,' and for some people...." she pauses. "That's a problem." Meester's life may be consumed by the frenetic nature of her work--the constant plane trips, the filming of multiple projects at once (she would fly to Nashville on weekends to complete much of Country Strong, working on Gossip Girl during the week), and the publicity junkets--but she appears to thrive on it. "I would be bored to death. I don't know what I would do; I would be very unhappy," she says of the idea of a regular nine-to-five. "So I get to act, I get to travel and...feel. And grow. It's wonderful. As far as business goes, business is business. And I appreciate that side as well actually. Smart people make good movies."
There is an air of edginess about Meester. Something she has no doubt developed to counteract her shampoo-commercial prettiness (she has a Herbal Essences contract to prove it and was recently named the face of Vera Wang's new fragrance, which will launch in the fall). She makes daring, experimental red carpet fashion choices (a paisley puffball Louis Vuitton confection, a transparent lace Marchesa jumpsuit, and a men's Thom Browne suit and tie come to mind), and, when the occasion calls for it, is serious about fashion, building relationships with Marc Jacobs, who often dresses her for events, and Missoni, whose upcoming spring '11 campaign, shot by Juergen Teller and featuring family and friends of the Italian brand, she will appear in. "I love Vuitton, Marc Jacobs, Proenza Schouler; I love Dior, Celine, Prada, and it goes on," she says, the names rolling--perfectly pronounced--off her tongue. Then there's her side gig as a burgeoning pop songstress; the music video for her single "Somebody to Love," featuring Robin Thicke, sees her writhing around in her underwear, and the track "Your Love is a Drug" (which she co-wrote) includes the lyric, "I like it, I want it / The way you make my body move." As a performer and an individual, Meester doesn't shy away from her sexuality. The first films she remembers watching were Dangerous Liaisons and Interview With the Vampire. "I know, totally risque!" she says. "I was allowed to watch whatever I wanted. But I think that's probably a good thing--clearly it didn't make me this deranged, devious person."
In the flesh, completely comfortable in what she calls her "airport garb," her extraordinary prettiness is something she is eager to distract from, lest she be pigeonholed because of it. It's a challenge her Country Strong character Chiles Stanton had to navigate as well. "She is so scared of people thinking of her as this ignorant, vapid, pretty face and, you know, I can totally understand where she's coming from because, especially if you come from Dallas, Texas, you're a beauty queen--you don't play the guitar, you're writing seemingly meaningless pop songs. All that I can relate to, totally. It's sad and sweet at the same time." Meester who, for the record, is learning to play the guitar (there's one riding with us in the trunk, a gift from Paltrow and Tim McGraw), also shares Chiles's love of songwriting. "This year has been crazy and I've been going through a lot and I've been writing a lot," she says, exhaling audibly. "It's the best part of my day when I can sit down and write and it comes out in a way that's so true for me." She is beginning to put together songs for a debut album that she plans to release some time this year. She says she's in no rush, but envisages it as a departure from her previous dancefloor-driven pop tunes, due mostly to the influence of Country Strong's acoustic ballads and her time spent researching the role in Nashville's Honky Tonk bars. "I don't want to release anything for the sake of making money because that's just silliness," she says. "The reason I like to make music is because it's fun. If it were a pressure to have this whole other career it wouldn't be fun anymore." Putting her thoughts to paper is something Meester has been doing since she was eight years old. "I still remember my first journal, it was a Secret Garden journal with painstakingly perfect, sometimes completely misspelled, cursive handwriting," she says, laughing. 
Meester was born in Fort Worth, Texas, and soon after the family relocated to the small beachside town of Marco Island, Florida. "For the most part I had a really happy, fun childhood," she says. "A lot of people think they don't--it's so silly to think that way. [Kids today are] stuck inside playing video games. In those days, every day [it was] the swimming pool and climbing trees and the beach, and on the weekend you got on the boat and water-skied and we had a lot of barbecues and camping trips and always going down to the Keys and snorkeling and scuba diving and fishing." She smiles, her voice softening. "I heard someone recently say that you choose your parents before you come into this world, between lives or whatever. And a lot of that I don't know, and I don't want to wonder on it too much, but I think it's funny if you really do. I would have chosen my parents because they're the best people I know. My dad is...he's a goofball. And he likes to cook and he's very demonstrative and open with his feelings. My mother is intimidatingly intelligent and, really, she knows everything, which is frustrating when you're an angst-y teenager, but now I appreciate her more than anything." (Meester's parents divorced when she was six.) She has an older brother, Douglas. "He has two daughters. They're really cute--here's one of them!" she says, pulling her phone out to show me a picture of an adorable toddler with an impish grin. Her younger brother Lex has battled with a brain tumor and she is effusive in her adoration of him. "He's very talented and way funny, and a lot smarter than I am, and he's honestly the most important thing in the whole world to me. I want to be like him when I grow up, and I don't know where he got it, but he's the strongest kid in the world and I'm just amazed by him."
As a child, Meester says she was "shy, but always open." She first acted in her hometown Players Club and especially enjoyed interpreting her characters' emotions. "As a little kid I wanted to be a psychiatrist or something," she says. "But there are some home videos, yes, of me pretending I'm on vacation somewhere and my brother setting up a scene: 'Now in this scene we're going to be by the pool, but it's the beach, in Hawaii,' and I have my outfit together, and then my brother runs in and throws me in the pool and the rest of the video is the camera falling and me screaming bloody murder at him!" She becomes pensive for a moment, glancing out of the window as if conjuring up the poolside tableau. "'You ruined it!'" she squeals, laughing at the memory. "'You ruined it!'"
It wasn't long before an 11-year-oldMeester was spotted by an agent and started modeling (she appeared in a Ralph Lauren campaign photographed by Bruce Weber). Her mother decided to move with her daughter to New York City where Meester has lived ever since, aside from a few years in L.A. as a teenager, where she first attended Hollywood High, then Beverly Hills High, while making the rounds on the audition circuit. A steady stream of TV gigs followed (Law & Order, Entourage, 24, and 7th Heaven among them) before she was cast in Gossip Girl at age 20, the role that made her enough of a household name that she can now carry a movie in her own right. What was growing up in the entertainment industry like? "The hardest and weirdest part about it is if you have insecurities that can be blown waaaaay up by people judging you, judging you based on your looks," she says. "I like to be judged by my family and friends because they know me. If they think I'm being an asshole I'd like them to tell me, but if I'm fat or something I'm like, 'Well, so? Ok? Great!' It doesn't even matter; it's like, What if I am fat? Does it matter? I understand physicality is a huge part of my job, but I'm not trying to satisfy anybody but myself and the role that I'm playing, and also, I'm a grown woman and sometimes, I might be a little fat, you know! Am I alone there? Not really!"
The car weaves across lanes, the driver stepping on the gas in order to get Meester to the airport on time. Outside, brakes screech and horns honk. "Wowza! I hope we get there alive," she says, straightening up in her seat. Nearing the departure gate, she pulls an oversized gray rib knit beanie down low over her head. "I learned a lot about dealing with insecurity [from Country Strong]. Chiles is powerless all the time, and you have to give that up," she muses. "In my life I don't care about power that much, because that part has taught me a lot about wearing your heart on your sleeve and being kind. And just being the way you are—what you see is what you get." She delivers this statement with utter conviction, a picture of composure and nonchalance. "I really don't give a shit about being a pretty girl," she says. "The Prettiest Girl In The Room...that's not really the title I care to seek at the moment." And with that she hops out of the car, scoops up her sleepy puppy, and flashes me that cherubic mega-watt smile. She may not give a damn about beauty or power, but in an industry where one so often equates the other, Meester is very powerful indeed. -- NATALIE SHUKUR