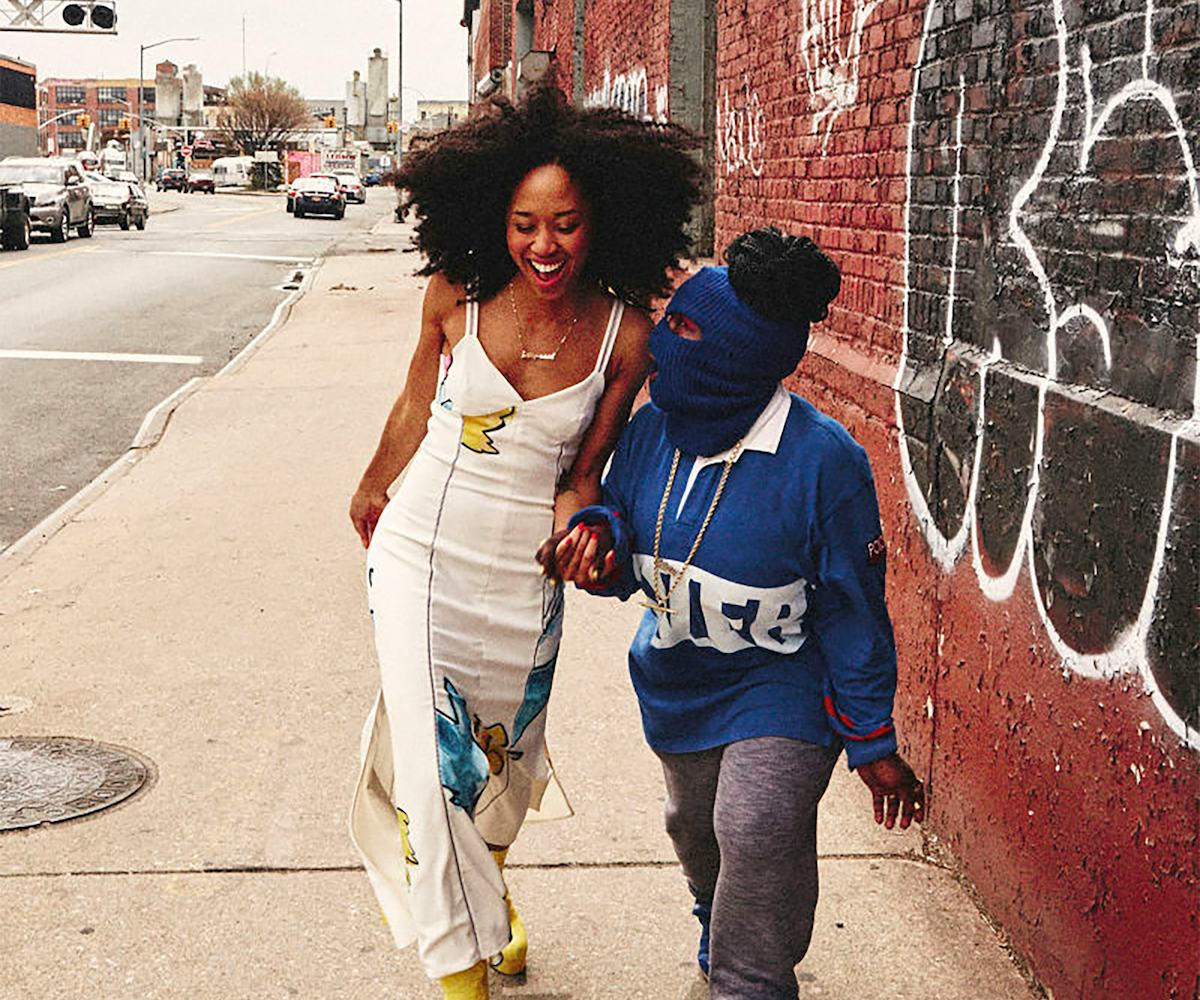 Photographed by Brayden Olson.
Leikeli47 and Kitty Cash Talk Music And Their Favorite Beauty Products
Uncovering the wonders of lip balm
The following feature appears in the June/July 2016 issue of NYLON.
ON MUSIC:
Leikeli47: I don't know about you, but I've always done music; I've never not done music. Music as a whole inspires me. There are so many legends that I've looked up to who have helped shaped me—Michael [Jackson], Prince, Stevie Wonder, Bob Dylan—so many. How did you get started, and who first inspired you?
Kitty Cash: I was helping Kilo Kish as her DJ on tour. And then it became a passion. Music helped me find myself again and reinvent a new part of me I didn't even know was there. But in terms of who inspires me when I DJ, I definitely have to say Janet Jackson, Lauryn Hill, and Lil' Kim. I love all R&B from the '90s and 2000s. I feel like there are certain gems that can take you back to that specific moment in time—TLC, Aaliyah, Mya. When I hear them, I could tell you exactly what I was wearing in my house, trying to mimic their dance moves on MTV. When I started my Love the Free mixtape it allowed people to pay attention to what my musical taste was and what I was into, which was alternative, hip-hop, indie, new-wave R&B, and new-wave hip-hop.
L47: And that's exactly why I like you, because that's exactly what I get—I just get music, I don't get a set genre. Like myself, I've never—
KC: Confined yourself?
L47: Yeah. I was never taught genres growing up. I didn't know, "This is rock and this is alternative." It was just all beautiful—
KC: Like a feeling.
L47: Yeah, all beautiful sounds, all beautiful feelings. I knew I wanted to do this since the age of six. I've been in studios since I was nine years old, and I've never done anything else. I've sacrificed a lot just to be able to sit here and talk to you about music. It's all the same though; the only difference is that I found my passion earlier. We both have a passion for this, and I love passionate people no matter what it is. 
Click through the gallery to read the rest of the feature.
KC: So, Miss Thing, tell me why you choose to wear a mask and why you stick with it.
L47: Strictly to keep it on the art. It's not about my race or my gender—of course I'm a brown girl and I love it—I love being black. I'm black and I'm proud, but you know what this mask represents? It represents you, it represents everyone. It's a genderless, faceless, colorless, sexless way to get out there and say, "Have fun, dance, don't look at me." Just listen, focus, and hone in on that versus all of the other superficial things out there. I'm definitely a tomboy, girly-girl—but the mask represents freedom for you to be who you are. In this mask I'm whoever the hell I want to be and talk about what I want to talk about.
KC: I think that's powerful. I think right now beauty is something I talk about so much. People don't understand what beauty is anymore because of social media and because of the lines being crossed between ages, and innocence being lost with the youth. A lot of people are like, "I need to look like this to be beautiful," so I think it's a powerful message that you can take a stand and say, "I don't even want to focus on that shit, I want to focus on my art and I want you to take that and make that beautiful."
ON BEAUTY:
L47: What are some products you can't live without?
KC: I'm just now starting to get a regimen together. I use witch hazel in the morning to make sure I don't have any craziness in my pores, but recently my mom gave me this vitamin C serum—dude, it's magical—and it's not super fancy or anything. I also use the Glossier Milky Jelly Cleanser; their products are so bomb.
L47: We use the same cleanser!
KC: You use the Glossier cleanser, too?!
L47: Yes! That's a really good one. And I love the Dior Miss Dior Moisturizing Body Milk after I shower.
KC: Oh, you fancy!
L47: Yessssss. [Laughs] No! It's really good.
KC: I've been looking for body milk because I tried one from Kiehl's, which was good, but now I'm going to get this one.
L47: Speaking of milk, since Milk Makeup dropped I've been using their Sunshine Oil. They have so many cool products. It's almost like a one-stop shop for everything. They even have cleansers, too.
KC: You know what else I use? Sometimes I get puffy around my eyes, so I like the La Mer The Eye Concentrate.
L47: We are on the same page!
KC: You use that, too?!
L47: Yes, we are on the same page!
KC: [Laughs] Gotta make sure I can afford all of this stuff. But I do think that the La Mer keeps my eye bags under control.
L47: La Mer, every day—especially The Eye Concentrate, it's ridiculously powerful.
KC: It's good. I have to force myself to be on a beauty regimen, because I feel like at one point I was like, "Oh, whatever," and then you start to be like, "Oh, I see something over here, what's going on?"
L47: See, what I like about you is that you're very similar to me. You know what I mean? You're a clean face.
KC: Yeah, I don't like to wear that much makeup.
L47: Your skin is flawless.
KC: I feel like my mom would always be like, "Cash, the way you look every day is the way you should look when you're performing, because that's how younger girls are going to see you." I feel like she instilled that in me. I don't want to look like a totally different person. I want young girls to be able to see me, relate to that, and know that they can be themselves, too. You don't have to have on a whole new face. You can have on your face, and it's going to be fine.
L47: And Cash, you are beautiful.
KC: Thanks—you too.
L47: Thank you! So what would your normal makeup routine versus your nighttime routine be?
KC:My normal everyday makeup consists of the Glossier Concealer, Nars Pigalle lipstick, and Nars Casino bronzer, 'cause it makes me look like I just came from a holiday. At nighttime I add thick eyeliner, and recently I've been obsessed with eyelashes.
L47: Really?! They seem so hard to put on.
KC: Well, I got lash extensions. I feel like they add a pow to your look and you don't need to do that much to your face—that's been a beauty secret of mine. And then maybe a bold lip. I'm down for any lip color: Purple, pink, red, yellow.
L47: I love you.
KC: Aww. What about you?
L47: I stick with the Milk Makeup Concealer.
KC: Oh, you got it with you right now!
L47: As you can see, I've got my Milk Makeup products with me. I also use the Weekend Lash Stain by them, too. I'm very easy—I just throw a little concealer on around the eyes and then some mascara. They have some really fun colors, so here and there I'll play with the Shadow Liner. And then for my lips, I go straight on with the La Mer Lip Balm.
KC: I've never tried their lip balm. Is this going to have my shit glowing?
L47: It will, it really will! It's really moisturizing.
KC: It has a nice scent, too. I'm going to get it. I feel like it's worth it to invest in good skincare products.
L47: This La Mer lip balm—I guarantee you that once you purchase this, you're not going to want to purchase anything else.
KC: Really? Have you tried—now we're really doing grrrl talk [laughs]—the Fresh Sugar Lip Polish?
L47: Let me tell you what you do. When you can't get Fresh, you can just go get sugar.
KC: Brown sugar?
L47: Brown sugar. And you just scrub it on your lips.
KC: This is a beauty secret, this is it right here!
L47: Yes. It's the best exfoliant for your lips. Honestly, sometimes I just go to Whole Foods to get sugar. But when I run out of this La Mer, the Glossier Coconut Balm Dotcom—
KC: I love the Glossier Coconut Balm Dotcom, too! That shit is bomb. It is balm! [Laughs]
L47: I can't live without it. What would be your best beauty advice for girls reading this?
KC: Every woman—young or old—has insecurities or has things about herself that she wants to change, but the best advice my mom gave me was that you need to learn to love the things that you may not like about yourself. It could be your gap teeth or anything—it just may be the most beautiful feature you have.
SOME OF THEIR FAVES:
Nars Cosmetics Semi Matte Lipstick in 'Pigalle,' $28, available at NARS, Glossier Coconut Balm Dotcom, $12, available at Glossier, La Mer the Eye Concentrate, $195, available at Nordstrom, Milk Makeup Weekend Lash Stain, $22, available at Urban Outfitters, Makeup Shadow Liner in 'Working Girl,' $26, available at Urban Outfitters