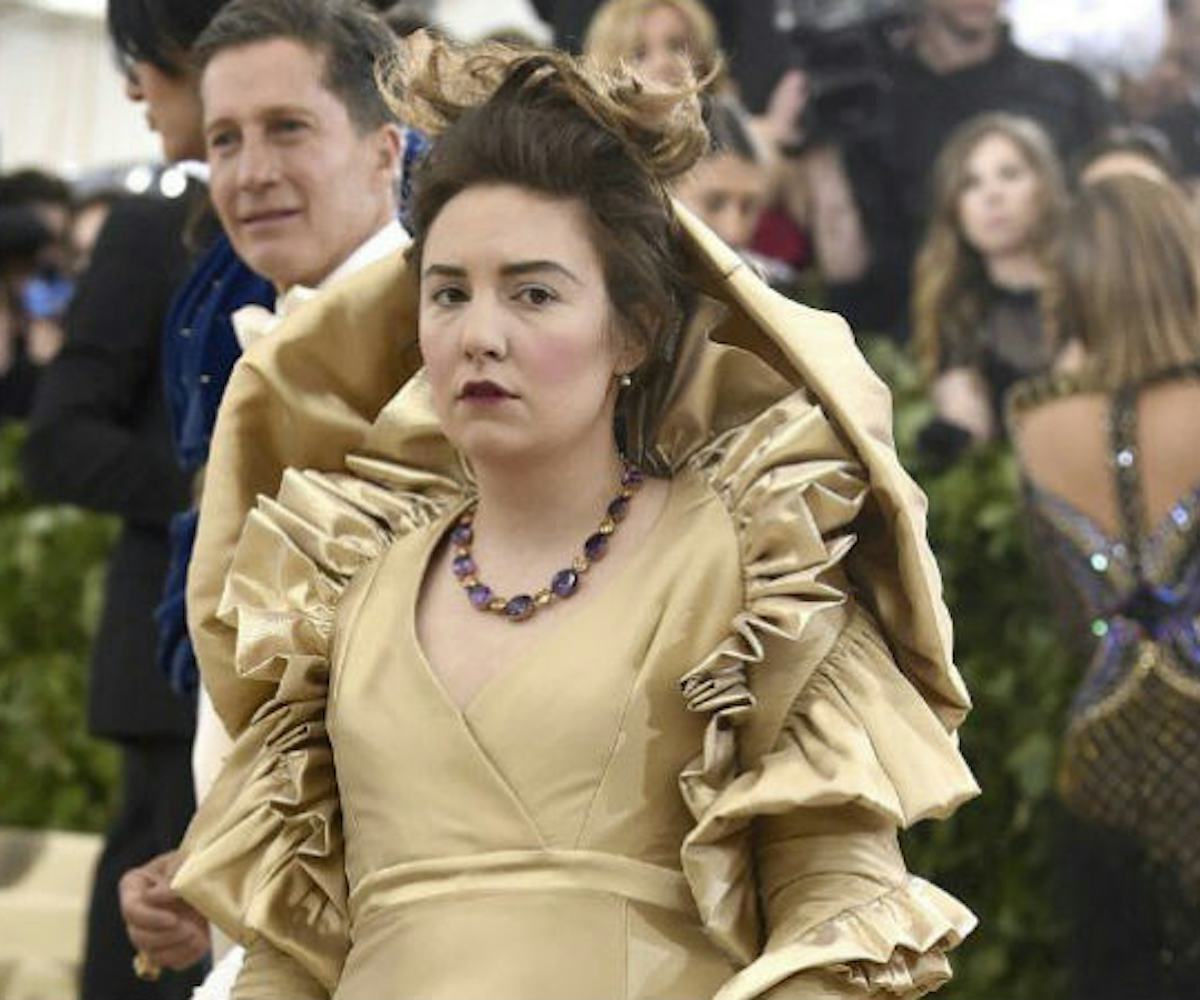 Photo Via @lenadunham.
Despite Criticizing The Met Gala, Lena Dunham Attended Last Night
Did you know Lena Dunham was at the Met Gala last night? Us neither! The actress made it pretty clear that she isn't a fan of the event, and so maybe we all assumed she wouldn't put herself through something she dislikes again? Wrong!
The Girls writer, creator, and star showed out for this year's "Heavenly Bodies" theme in a gold floor-length gown with a high ruffled neck. "Somewhere after 5-ish, floatin in LIKE A PRAYER," she captioned her Instagram post.
Now, she isn't the only celebrity to dislike the Met Gala. Demi Lovato attended her first and last Gala in 2016, which she recounted as "a terrible experience." Gwyneth Paltrow swore in 2013 that it would be the last time she attended. "It was so un-fun. It was boiling. It was too crowded. I did not enjoy it at all," she told USA Today. And Dunham slammed the event two years ago in a piece published on Lenny Letter.
"You and I were literally sitting across from each other at the Met Ball, and it was like a crazy countdown to when we could escape. You were like, 'We're honored to be here. We're honored to be here,'" Dunham told Amy Schumer in the conversational interview. She went on to accuse Odell Beckam Jr. of snubbing her during the night (which she later apologized for): "This should be called the Metropolitan Museum of Getting Rejected by Athletes."
And yet! Dunham attended the event both last year and last night. So, we guess she's either evolved past her hate or made it a point to avoid any and all athletes in attendance.