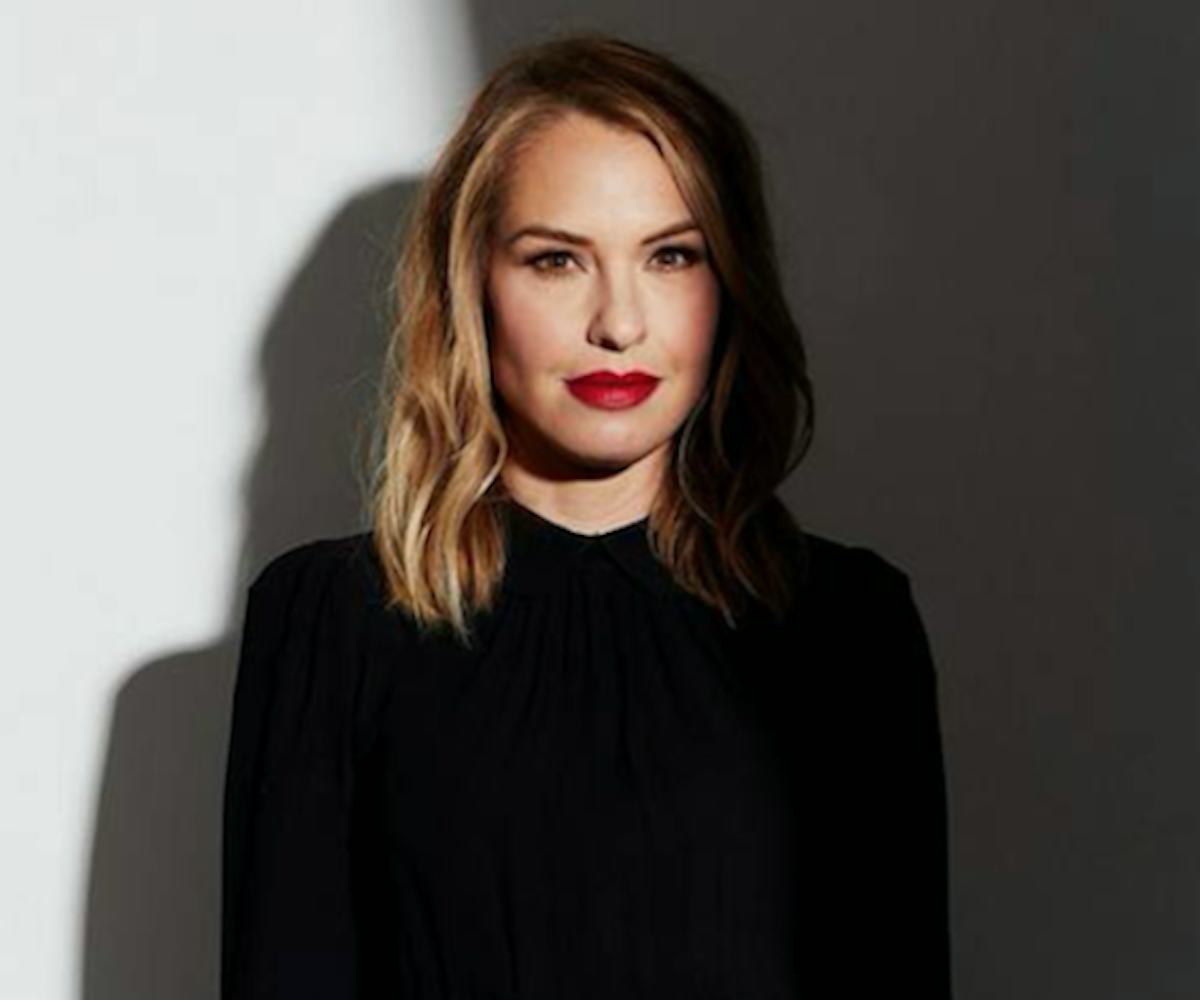 Leslie Grossman On Which Real Housewife Inspired Her 'American Horror Story' Character
Leslie Grossman returns this season to Ryan Murphy's iconic American Horror Story franchise, entering as the elite Coco St. Pierre Vanderbilt. And so, what better time to talk to the fiercely funny, wickedly smart actress than now? Read our interview with Grossman, in which we talk about how Murphy is her guardian angel, why she loves Amy Schumer, and which Real Housewife of New York inspired her AHS character, below.
You've said before that you didn't think you fit into the mold of what it was to be an actress. Has that changed?
Absolutely! We have a long way to go, but I think we have absolutely come so far since I started in the game, in the mid-'90s. If I had Amy Schumer [to look up to] when I was in high school, I would've been like, "Oh, she's super-smart and funny, I can do this." Amy Schumer is gorgeous and lovely and adorable... but, Amy Schumer looks like a normal person. And, I look like a normal person. And that wasn't really reflected back at me when I was growing up on television. I mean, obviously, there are always exceptions to that rule. But, I do think that things are absolutely changing for women. The main difference is women having positions of power behind the camera. Being able to hire and direct and produce. And then we see more of ourselves reflected as opposed to idealized images. If Amy Schumer would've been a thing when I was 13, it would've changed my life. She's a genius.
Sixty percent of this season of American Horror Story was directed by women, including [AHS star] Sarah Paulson. How was it to be directed by her?
This season, it's a real love letter to the fans of the show. And, he [Ryan Murphy] knew Sarah was going to be incredible, and, of course, she was. She's talented in a way that is inborn and very rare. I had not one doubt, for one second, that she was going to be fantastic. And, of course, she's an incredible director. [She] had such an amazing eye and knows how to speak to actors, and has a very clear idea and vision of what she wants. She's also incredibly smart, and those things combined make for really good directing. I'm thrilled that she did it this year. It was really fun to watch that. 
What was the transition like for you to go from comedy-dominated roles to something so dramatic?
I mean, I've done little things here and there. I was on Scandal and Grey's Anatomy, where I had to sort of be more serious. But, this was definitely the most dramatic, serious stuff I had done. Obviously, you know, it still has humor, because Ryan [Murphy] always writes with a lot of dark humor. But I'd never done anything in the horror genre, and I was incredibly intimidated by it. I say this a million times, but it bears repeating: The genius of Ryan, and there are many, many aspects to it, one of them is that he sees things in people that they don't see in themselves. So you say, "I can't possibly do that," and he's like, "You're doing it, so you're going to figure out a way to do it, aren't you?" And then, you think to yourself, He really knows what he's doing, so I guess I should trust him. It's this incredible vote of confidence. 
It's gonna sound cheesy, but, I really am endlessly indebted to him... for many, many things. He gave me my very first role on a television show [on Popular]. I tested for a different part for Popular. I did not get it, but then he wrote the part of Mary Cherry for me. And, he really has been such an unbelievable gift to my career. There's no way I can ever repay him or thank him enough, and he continues to do that for me. Not just simply by giving me work, but giving me challenging, fun, meaty things for me to really sink my teeth into. He's like my guardian angel. As an actor, it's the hardest thing to try to get work. I don't know why he's been so good to me, but I just hope to make him proud and do the best that I can with the gift he's given me. As corny as that sounds, it's incredibly genuine on my part.
With shows like American Horror Story and Pose, he's really touched on things others haven't.
He discusses things and deals with things head-on. I loved Pose so much. It was the most special, unique, fantastic show. I always think about young kids that are struggling, and how important it is for young, transgender youth to see themselves reflected on television. To say, "Oh wait a minute, I can get through this, there's other people like me, I'm not alone, I'm worthy." I just think that's so important. And, it's too easy to be ironically detached and act like you don't care about anything, especially now. 
How important is the political aspect of AHS for you?
I was raised in a family that if you didn't have an opinion to contribute at dinner about what was going on in the world, you just weren't part of the conversation. So, it's something that I was raised with, where I've always been a political junkie and a news junkie, and really cared a lot about what was going on in the world. I love that Cult tackled that head-on. I remember when it first started, people were like, "I'm sick of hearing about Trump and Hillary, I don't wanna hear more about it." And, [the show] really wasn't about them. It was really about fear, and how easy it is to use fear, to weaponize fear, to get people to do what you want. And, we're in such an insane crossroads in our country right now... [But] how can you not say something right now? How can anyone not see what we're seeing right now and not say something? I just can't be quiet about it. 
Twitter for me, for the most part, has been kind of nice to see that there are so many other people who feel the same way that I do, to know that we're not alone. That's why, you know, when people say, "Well, why do people go to marches, it doesn't change anything?" First of all, I disagree. Second of all, it's about the camaraderie that you feel. It's important to keep each other sane.
Okay, one more important topic: The Real Housewives of New York.
Oh! What is more important?
I know you're a fan. What are your opinions on all the women on the show?
These women are the gift that keeps on giving... I have to say: I'm Team Bethenny. I'm gonna be honest, I have to draw my line in the sand. I thought Dorinda's behavior was just beyond the pale. It really, really was—and I really love Dorinda! And I was sad to see how truly nasty she got. But, look, denial is not just a river in Egypt. 
I also thought what Carole did to Tinsley was so awful. She threw Tinsley under the bus... I was horrified. And, by the way, I like Tinsley. And, here's a little scoop I can give you: There are shades of Tinsley in my character this season, and there were moments where I thought of Tinsley when I was doing things. I think Tinsley is misunderstood; I think she is incredibly sweet and I felt terribly for her about what happened at that reunion.
Watch American Horror Story: Apocalypse on Wednesdays at 10PM on FX.