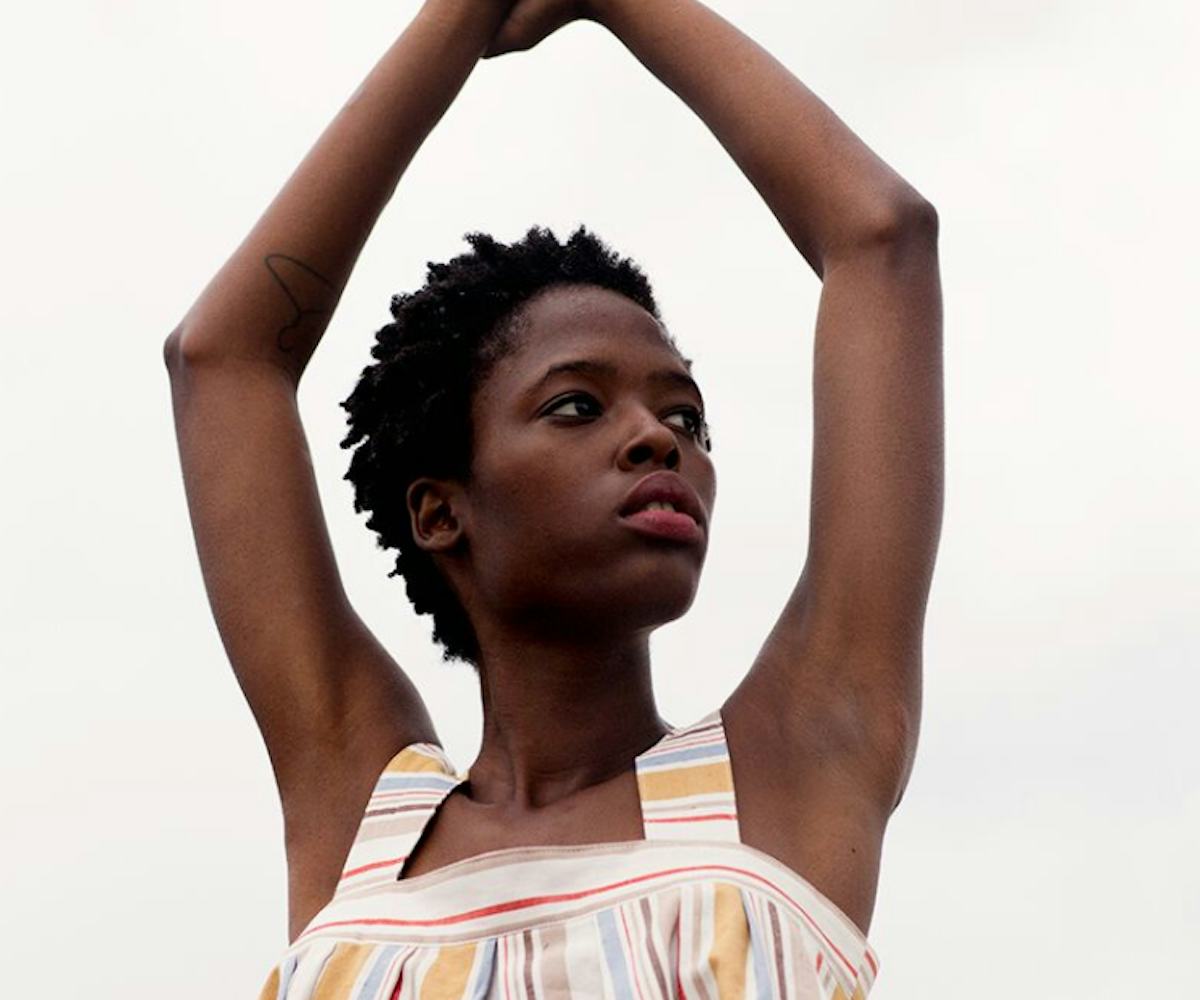 All Photos by Tory Rust
Liam of York Makes Ultra-Wearable Clothes With A Fine Art Sensibility
File under: lines we love
It all started for me with a mere slip of fabric; a summery top with an elegant drawstring-tied neckline and a body patterned with tiny flowers on a field of marigold yellow, so rich in its color that I felt like I could taste the buttery hue on my tongue. Although most definitely a warm-weather piece, I found myself wearing this top all year long—layered over dark turtlenecks and under knit cardigans, with short skirts and floor-scraping pants, alike. What impressed me most was not just that I wanted to wear this shirt with everything, but that I could wear it with everything. For someone like me, who mostly dresses in pattern-free blacks and grays and whites, the idea that a boldly patterned, brightly colored item would become a staple in my wardrobe, just waiting to be mixed and matched and worn every day, was startling. It was like I'd learned a new way to dress. And it was all thanks to Liam of York.
Founded by designer Rebecca Wolsten, Liam of York is a young Brooklyn, New York-based (Wolsten operates out of her home studio in the Clinton Hill neighborhood, not far from the Pratt Institute of Design) fashion line which makes incredibly wearable clothes that nevertheless manage to feel like individual works of art. This finely tuned aesthetic sensibility isn't much of a surprise considering Wolsten's fine art background, but it is what makes her designs stand out. Wolsten sources her textiles from all over the world, from Asia to Africa, but all are made using traditional, heritage techniques. Wolsten even hand-dyes all her silk pieces, giving each item a subtly distinct look.
Most of the pieces feature striking patterns, whether ikats or stripes, shibori or florals, and they're almost all done in bright blues, vivid greens, brick reds, or that rich buttery marigold yellow I love so much. And yet, despite how much of an impact each individual piece has, they all lend themselves to layering, whether with each other or different, neutral pieces. The cuts are rarely body hugging, though there's a simple seductiveness to many of the pieces, thanks to exposed shoulders or buttoned up side slits which can, you know, be unbuttoned. They all have an ineffably cool quality to them, though; this is something reflected in Wolsten herself, who combines her pieces with an enviable facility—she's the kind of person who you always want to stop on the street and ask, "What are you wearing?"
Below, I talk to Wolsten about her line, where she finds inspiration (hint: expect to see some island influence come Spring 2018), and what the challenges of being an independent designer are. You can also click through the slideshow below to see many of Liam of York's Spring 2017 looks, and check them out at the Liam of York website here.
Your clothes are super easy to wear, and yet donning them can feel like putting on fine art. How do you design pieces that achieve that equilibrium?
When designing, it's very important to think about the details; the details are what make a garment feel special and elevated. I focus on beautiful textiles in easy-to-wear silhouettes, so it's a balancing act. 
Where do you find inspiration?
My inspirations are more like a mood and are more intuitive. First I source fabrics, then I design based on the silhouettes I am feeling at the moment. For Fall 2017 I was thinking about Rosie the Riveter and the election when I was designing in October. I am headed to Cuba this week and am sure my trip will seep into my designs for Spring 2018. As an artist, I am always looking for inspiration everywhere, a place, a feeling. 
How do you decide on a concept for a whole collection? 
The concept for each season is chosen more intuitively. Spring 2017 was inspired by a trip to the Outer Banks in North Carolina. 
What are some of the challenges and pleasures of being an independent designer? 
A big challenge for me has been getting my products visible to a large scale audience. I am lucky I was recently picked up by Anthropologie, which has been a great experience. The biggest pleasure for me is the process and seeing a concept through to an actual piece that exists that someone wants to wear. I also love working with mom and pop retail shops, like Kaight and O.N.A in Brooklyn, and Isobel and Cleo in Nantucket, Massachusetts. These shops grind it out and know their customer personally, what they like and dislike. I appreciate getting feedback, since most of the time I am designing in a kind of a bubble. 
What are some of your favorite pieces in your upcoming collection? 
For Spring 2017 I am really excited about the striped jumpsuit and the mandarin collar shirt dress. 
What kind of person do you imagine wearing your clothes? 
My girl is creative with eclectic tastes and doesn't mind standing out in a crowd.