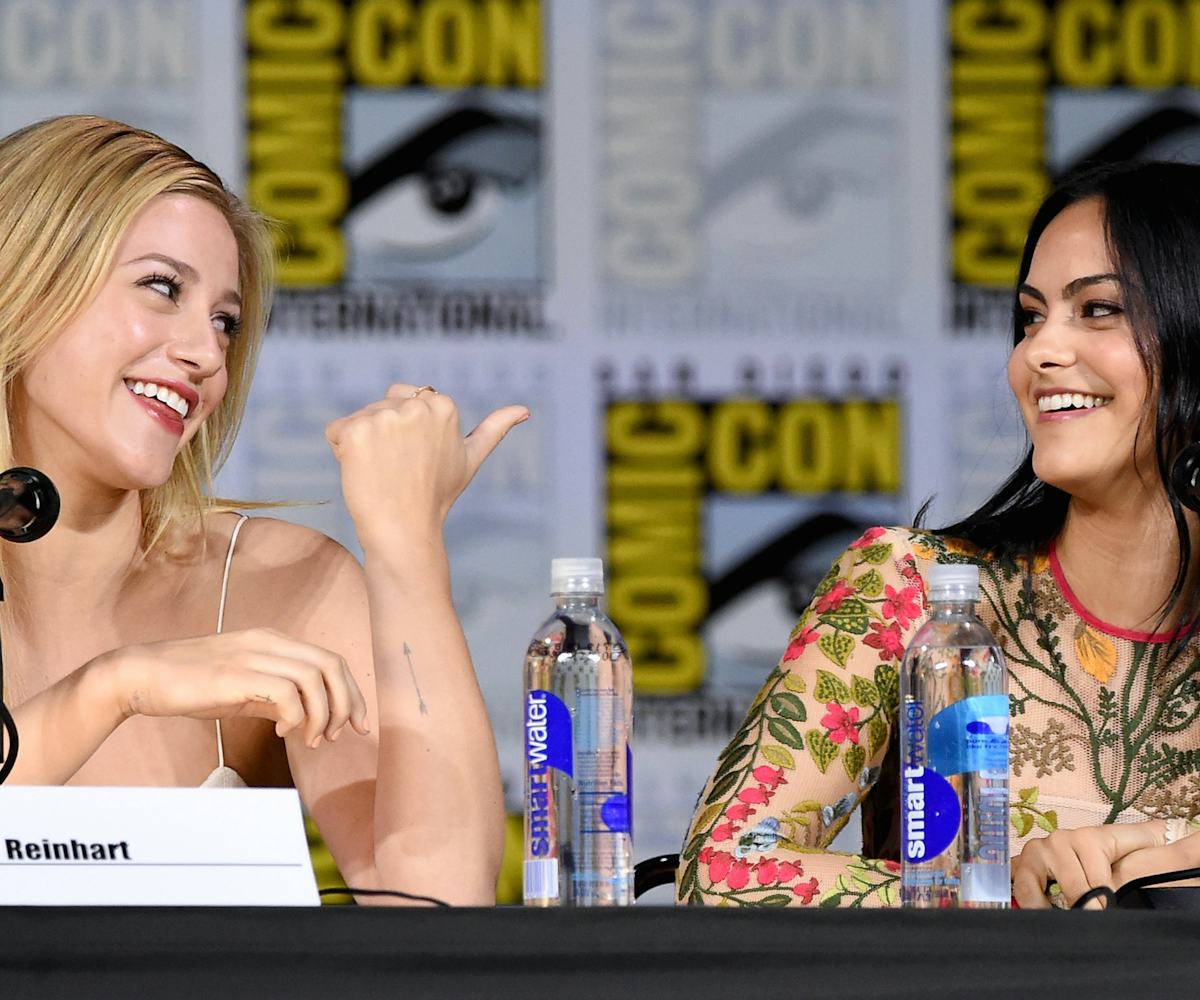 Photo by Mike Coppola/Getty Images
Lili Reinhart And Camila Mendes Slam Magazine For Photoshopping Them
The 'Riverdale' stars refuse to "hide behind Photoshop to conform to beauty standards"
Riverdale stars Lili Reinhart and Camila Mendes have taken to their Instagram accounts to call out Philippines' Cosmopolitan magazine for editing their bodies in a photo shoot. 
The photos were originally taken for a U.S. Cosmopolitan cover story earlier this year, which both stars have praised since the release. However, when the Philippines edition of the magazine came out, the stars noticed that the same photos were significantly Photoshopped to make their waists appear slimmer. Reinhart was the first to take the mag to task, uploading the two versions of the same picture to her Instagram stories in order to highlight the stark difference in her waistline. She also included a photo of Mendes, whose waist was also slimmed down. 
Noting that it was International Women's Day, Reinhart pointed out that there is obviously still a long way to go. "Camila and I have worked incredibly hard to feel confident and comfortable in the bodies that we have," she said. "It's an every day battle, sometimes. And to see our bodies become so distorted in an editing process is a perfect example of the obstacles we have yet to overcome."
She continued in her next story by writing, "So we cannot stop fighting. Out battle has only just begun. We are fucking powerful, beautiful, and strong...we aren't going to hide behind Photoshop to conform to beauty standards... That's why I'm calling out @Cosmopolitan_Philippines. It's sad that you felt our bodies needed to be slimmed down. But Camila and I are fucking beautiful. As is. And you can't 'fix' us." 
Mendes also followed up on her own account later, by reiterating Reinhart's sentiment.
"@lilireinhart and I feel disrespected and disturbed by the sight of our photoshopped bodies in @cosmolitan_philippines," she said in an Instagram story text post. "We want their readers to know that those bodies are not ours; they have been distorted from their natural beauty. We prefer to see our bodies the way they actually are. I'm not interested in having a slimmer waist, I'm more satisfied with the one that I already have."
Both actors also commended the U.S. version of Cosmopolitan for not digitally altering their bodies, with Mendes confirming that they used "our natural silhouettes, and we're relieved that they didn't see our waistlines as something that needed tweaking." 
That said, both Mendes and Reinhart have been extremely vocal about their struggles with eating disorders and depression, respectively. Mendes has also previously taken to her Instagram to post about the importance of loving yourself, writing, "Our minds can get so contaminated with endless images of perfection, and even if you don't suffer from an eating disorder, it can't hurt to incorporate a little body positivity into your routine."