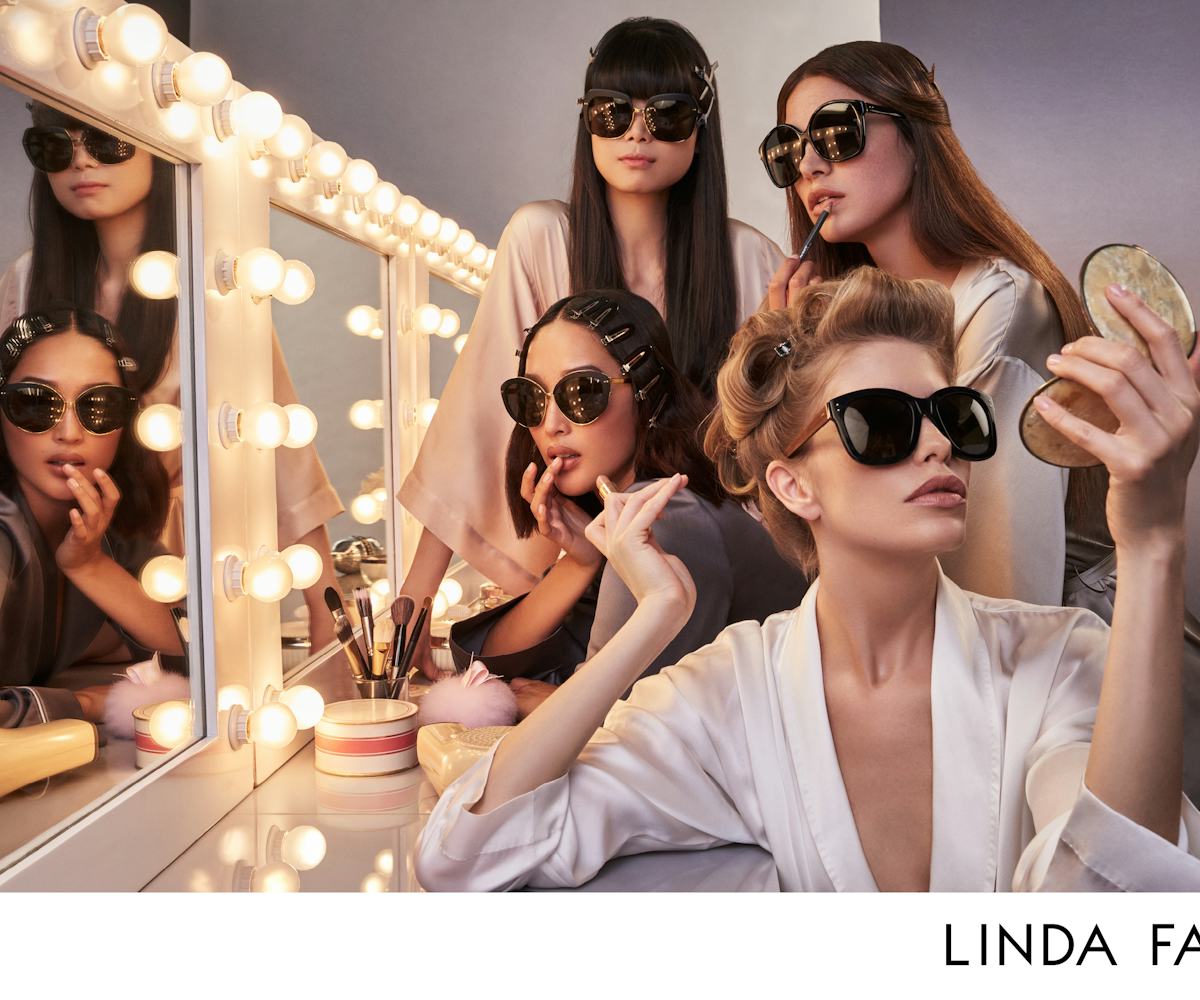 Photograph by Mariano Vivanco.
Linda Farrow Taps Four It Girls To Head Its Latest Campaign
Linda Farrow has always been ahead of the pack when it comes to collaborations. Not convinced? Dries Van Noten, Jeremy Scott, and 3.1 Philip Lim are just some of the designers the luxury U.K. eyewear label has paired up with long before collaborations were a seeming prerequisite for every fashion label. The common denominator tying each of the collections: unabashedly innovative sunglasses in modern shapes and featuring exquisite details.
With a massive celebrity following—which includes the likes of Kendall Jenner, Gigi Hadid, and Miranda Kerr—and established relationships with fashion designers (not to mention rave reviews following each drop), Linda Farrow could have its pick of collaborators to work with. Therefore, it speaks volumes that this year the fashion-forward label has decided to tap digital influencers Nicole Warne, Elena Perminova, Leaf Greener, and Negin Mirsalehi to front its Spring/Summer 2017 eyewear collection.
"We decided to work with these influencers as we felt they represented our customer base. Our global customer is fashionable, educated, creative, and individual. We feel these girls represent all of that," Simon Jablon, founder and creative director of Linda Farrow, tells us of the collection which features several new styles, four of which were designed by the campaign stars. "We felt that the mix well represented our identity, but, at the same time, complemented one another. Each has their own style and take on fashion, but even with those geographical and taste differences, they all come together in this campaign to show their individual spirit within a similar framework."
With that in mind, Linda Farrow's creative team worked with each influencer to create a pair of sunglasses that was reflective of their personal style but still felt like part of the brand's collective aesthetic. According to Jablon, Warne wanted to design a pair of sunglasses that would cater to the Asian market (but also appeal to the rest of the world) and feel luxurious, Mirsalehi a vintage-esque pair with see-through colored lenses, Greener a contemporary version of a round '70s frame with platinum lenses, and Perminova a classic and timeless acetate style with updated temples in ebony wood. The result? Four distinctly unique pairs of sunglasses that feel just as at home at one Linda Farrow's futuristic, museum-like boutiques (the latest having opened last month in Manhattan's SoHo) as they do in any fashionista's purse.
"We brought them into our world and showed them the direction we were going; it was important they loved our moods and ideas. Once they were engaged with our world and spirit, they were all able to put their own spin and personalize their pair to match them and their personality," says Jablon. "They were all so easy and fun to work with, so it made the whole process fun and enjoyable." Shot by Mariano Vivanco, the quirky campaign, inspired by "global togetherness and the idea of everyone having a voice," features the models in relaxedly unfiltered settings, lounging in lingerie, men's shirts, and robes, that we typically don't see the social media stars in.
With more than 6 million followers combined on Instagram alone, it was, of course, a smart move on Jablon's part, who views social media as integral to the modern-day fashion industry. "It has changed the demand from clients. See now, buy now is a byproduct of social media as brands can promote this information faster at the same time quenching the clients' thirst for more," he says. "With social media and digital, we all get feedback that is faster and more accurate than ever."
But at the end of the day, this collaboration, like most of Linda Farrow's projects, is about allowing consumers to engage with their individuality and embrace their own personal style. "We aimed to show how we all have our own way of dressing and different ideas on shape, color, and style. But you can make Linda Farrow work for you as well, fitting into our world and lifestyle."
Ahead, see shots from the campaign, shop each style of sunglasses, and get to know the influencers.
Elena Perminova, model, founder of charity auction SOS By Lena Perminova, and socialite
On collaborating with Linda Farrow: I have always loved sunglasses. I think they can go with any outfit whether you are on the beaches of Formentera or in the middle of nowhere in Botswana. So, for me, collaborating with such an amazing high fashion brand is an ideal fit. 
On first fashion splurge: I remember my first trip to New York with Alexander [Lebedev, Perminova's husband]. I remember him telling me to go to Bergdorf and buy something that I liked. When I arrived I couldn't believe how much choice I had, I was overwhelmed. So I just bought some jeans and wore his hooded sweatshirt and his Stephen Webster cross. As I walked around New York, I saw people looking at me and it was at that point I understood what I wanted and how what I was wearing was best for New York. 
On people she admires: I have couple of amazing people that I look up to. One of them is Giambattista Valli. His collections are both haute couture and ready to wear, which I love. A woman who I also truly admire is Miroslava Duma. She's an amazing woman who has achieved so much at such a young age; having started her own digital company, I find it fascinating and so interesting how she has managed to fuse together fashion and technology, truly amazing. Mira and I are very close and we have worked closely in the past on many fashion collaborations. 
On personal style: I wouldn't say that my style or personality can be summed up perfectly, as I have many components that makes me the person that I am. People say that I can pull off outfits that no one else could dream up, be it a plaid shorts suit with an oversize fur-trimmed houndstooth coat by Tommy Hilfiger, or head-to-toe geometrics by Valli. I often pair things together which people wouldn't think would work such as a casual Kenzo tiger sweatshirt with minuscule cutoff Levi's. I think people are always surprised by me and I love to keep the guessing.
Linda Farrow, 513 C5 Oversized Sunglasses, $619, available at $619, available at Linda Farrow.
Leaf Greener, fashion stylist and reporter and founder of LEAF magazine
On the frames she designed: I've always liked the '70s round lens styles, but to make them more modern I used mirror lenses. 
On working with brands: When I work with different brands I like to appreciate the brand's philosophy, what is going on behind the scenes of a brand and what is the culture of the brand. I have a really specific taste, so I would only work with certain brands. They would need to connect with my personal style. I think that I am a bridge that can bring western culture to Chinese customers. 
On favorite photographer to have worked with: Definitely Karl Lagerfeld. I still remember clearly when I worked with him. He doesn't do shooting in the daytime; he only works during the night. So everybody has to be outside waiting for him to arrive. He is very professional, and for his age he has such an energy. What I liked about when I worked with him is he really listens to his team. He is open-minded, he is about teamwork. That is very different from my work with other photographers. 
On favorite city to see fashion shows: I would say Paris definitely. The fashion culture there is so rich. Paris fashion is totally different to the other cities. People totally believe in it. 
Linda Farrow, 565 C2 Round Sunglasses, $1,215, available at Linda Farrow.
Negin Mirsalehi, digital influencer and lifestyle blogger
On the collaboration: I always wear Linda Farrow sunglasses, so it was a really natural process to collaborate. Linda Farrow's collections and collaborations are always so unique and special. The frames I designed are very much vintage inspired, which is a trend you see a lot nowadays, from fashion to interior design and art. 
On her influences: I think it's fun to get inspired by different places and to let the town or city you are in influence your style choices. I immediately notice that when I'm in Paris I dress more Parisian chic. Traveling pushes me to adapt my style to new locations and experiment a bit more, which is always a joy! 
On favorite place: Currently my favorite place is Amsterdam. It never gets old and it has exactly the right amount of hectic city life. It's not as hectic as New York at all, but still gives off the same sort of energetic vibe that's unique to Amsterdam.
On most valuable beauty advice: That's actually from my mom who taught me a lot about hair. The best advice given was to not experiment too much and to really take care of your hair. She always tells me healthy hair is beautiful hair. 
Linda Farrow, 567 C5 Oversized Sunglasses, $750, available at Linda Farrow.
Nicole Warne, founder of Gary Pepper Girl blog
On Linda Farrow: I met Simon and Tracy of Linda Farrow a few years ago through a mutual friend. I was in London for a few days and we all went for a beautiful dinner in a cozy corner at Chiltern Firehouse. That was the same night I met Mariano Vivanco, who was also at the dinner, so it felt natural and so special to all be collaborating as friends years later. 
On the frames she designed: I'm half Japanese and half South Korean, so I have quite a wide face. I wanted to design a pair of oversized sunglasses that would cater to the Asian market, but also appeal to the rest of the world. I wanted my glasses to feel luxurious, so I knew from the very beginning they had to be all gold.
On most liked post: My most like photo was when I announced my engagement on Instagram. It was an incredible photo of us floating on a lake full of cherry blossom trees, which was taken just before Luke proposed. I think it received over 5,000 comments and nearly 100,000 likes. 
What she would never board an airplane without: My satin eye mask, Rescue Balm Face Mask by Cosmedix, and my water bottle. I take my beauty regime very seriously when I'm flying. 
Linda Farrow, 566 C1 Cat Eye Sunglasses, $1,105, available at Linda Farrow.