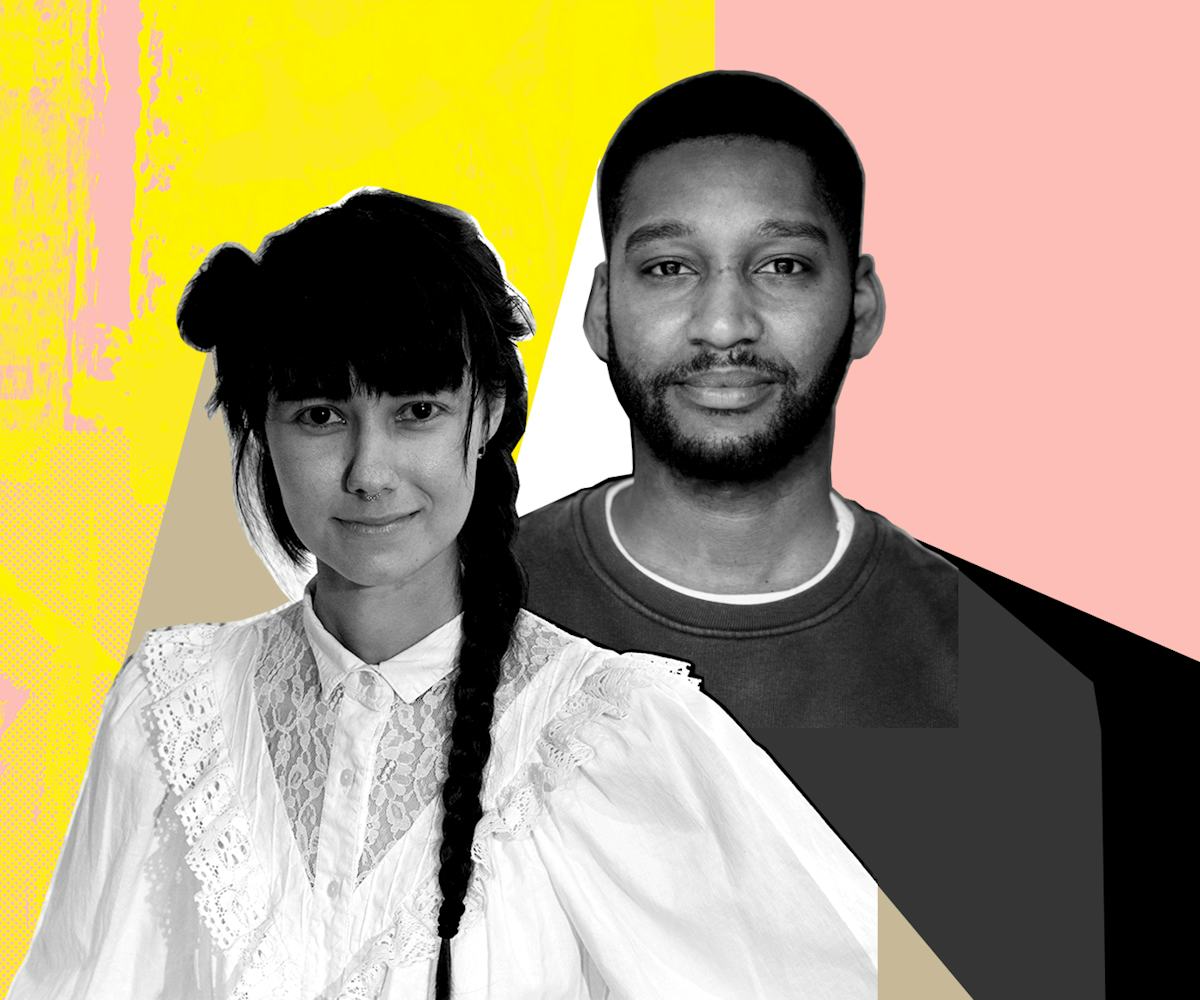 Veteran Designer Lindsay Degen And Newcomer Rushemy Botter Talk The Ins And Outs of NYFW
A conversation between two fashion obsessives
New York Fashion Week is a lot of things, but it would be nothing without the designers. They're the obsessives and the creatives, the ones fixated all year on the fashion that we toast over one whirlwind week. And ever since its inception in 1993—the year the CFDA transformed it into more or less the NYFW we know today—it's been home to designers at various stages of their careers, from untested rookies with boundless potential to proven veterans building and burnishing their legacies.  
Dutch designer Rushemy Botter is one of the young bloods, an imaginative, rule-breaking new voice who showed his first, androgynous collection last Wednesday. Botter, who recently graduated from the Royal Academy of Fine Arts in Antwerp, Belgium, where he is still based, was one of the five finalists selected for VFILES' annual show. Botter, who back home was mentored by Walter Van Beirendonck, showed clothes that featured slogans like "Enemy of Terrorism," and had a viral moment when the rapper Young Thug—who was wearing one of Botter's jackets—stepped onto the runway to fix a model's coat.  
Lindsay Degen, on the other hand, has been showing her youthful knitwear designs for eight seasons, usually holding them in the Meatpacking District or at Industria studios in the West Village. But for her Spring/Summer 17 presentation at the South Street Seaport, Degen, a designer with a loud progressive streak, went with an act of both art and activism, showing an eight-foot-long, large-scale knit sculpture named "Construct" which she made with nine other artists, and created using repurposed materials thrown out by other brands, highlighting the need for more sustainable practices in the fashion industry.
Earlier this week, we got Botter and Degen on the phone for a conversation about starting out your fashion career at New York Fashion Week, the importance of venues, and the differences between presentations and runway shows. 
What was the night before your first NYFW show like? How nervous were you?
Lindsay Degen: For me, I was really nervous, but I also didn't have a huge amount of experience, so I didn't really know what to expect because my experience before that was only backstage helping at VPL.
Rushemy Botter: It was all a good vibe. I really wanted the world to see my clothes, and I couldn't wait to let it all on the catwalk.
Does it usually go the way that you expect it to go?
LD: Luckily, I've never had any sort of wardrobe malfunction, so on the models and clothes side it always pretty much goes how I hope. But in terms of the attendance, that's a big unknown. You never know who's going come, even if there's a great RSVP list. So that part, the unknown, makes me a little nervous every time. But also, it's a little freeing, because it is what it is. You get to the point where you are proud of what you made, and then the rest is not up to you anymore.
RB: For me, It was better than I expected, because the last one that I had, there were a couple of mistakes, things happened that I didn't expect. Now, I expected things to happen. But everything went really smooth, and I was really really happy with the results and how everything went—how the models looked, how the music went with the show. 
LD: You had that cool moment with Young Thug on the runway, right? That was pretty sick.
RB: Yeah, that was really cool because, like five hours before the show, his stylist came to the studio and wanted something for Young Thug to wear to the show. But she wanted to see my work, and she brought it to his hotel to see whether he liked it or not. And he really liked it, and he came to the show. He said to the stylist, "I want to do something for him," so he stood up, walked to the model, and sort of straightened the jacket. The jacket was already straight, but he wanted to be there for me to show how he respected that he could borrow my jacket.
LD: So cool, I love that. I saw that a lot of the imagery you were using was kind of a reference to military and war and stuff like that, but contrasted with a kind of feminine motif and floral prints. Where was the inspiration or concept behind that?
RB: I had a few inspirations. It's almost like a collage in a kind of way, and it all comes together at the end—like things that are not matching normally, that in the end are all matching. It's inspired by the by the Mighty Mongrel Mob, which is a very violent biker gang from New Zealand. And I see them as a sort of tribe, but in this society now, and they've got their own rules and their own failures, but I made it sort of my own kind of tribe, that was my own beliefs, my own rules and the things that I believe in. And for me, I've always had sort of a feminine kind of side, but I'd rather call it elegant because to me any man can be elegant. So that's kind of the way I like to work.
LD: There were two looks, in particular, that kind of had blown-up garments as part of them; there was the blazer that you kind of wore above your head and it was larger than life, and there was a similar look that had pants. What was your idea behind those?
RB: Before I started with my school here, I went to the Dominican Republic, because my girlfriend is from there. I got a lot of inspiration there from the people on the street. For me, it's a genius kind of way that they dress. So we were walking on the street to the store, and there was one kid that was wearing two sweaters, and he has one sweater to cover up his upper body, and the second sweater he was using as his pants. And I found it to be a genius kind of thing, so I integrated the classical blazer on the top, and then I integrated it going to the bottom like a coat. The other thing that you're asking about is, like, pantaloons. There also was a kid on the street, and he was wearing track pants, but he wore only the track pants which he stretched out over his shoulder. So I took classical pantaloons and stretched it out like a gym suit kind of thing. 
Lindsay, what separates NYFW to you from other fashion weeks? Is there anything that's distinct about it?
LD: To me, there's something that's distinctly negative, which is people only seem to care about commercial wearability. That would be the biggest difference in my eyes, unfortunately. I think the VFILES runway show is really great about doing something different about that.
How so?
LD: Just the looks are not commercially friendly at all, and most of their collection doesn't even have one single piece that you could even do a variation on that would be commercial. It's really about the art, which is something I appreciate.
Rushemy, how did VFILES help you get your first show off the ground?
RB: For me, it was a big help, the best help. I don't have any experience with putting on my own show, and it was like a dream come true and a huge step. I'll always be thankful for VFILES because, without them, I wouldn't know how to begin.
LD: Did you have any say in anything in the VFILES show? Could you pick the models, could you pick the makeup, could you pick the music? What were you able to do with them?
RB: Yes, we can do anything because you really feel like you're collaborating together. I could choose my own models, I could choose my own music—but with the music, I had to come to the middle a bit because I have a different kind of music taste and because we are showing in New York, and it has a different vibe from Europe. So we had to change the music a bit, but I was really glad that I did that.
Lindsay, how important is choosing the venue when you're doing your shows? What was your first venue and how do you go about choosing a venue each year?
LD: My first venue ever was a private gallery in the home of an art collector, and it was a very fortunate connection that was through my publicist that I could arrange the space. We weren't expecting a massive turnout, so we weren't concerned about having a ton of space. That was really great because it was really intimate and people could come and really view the work. Since then, I've always shown at either Pier 59 or Industria, because, to me, not only is the space important, but its proximity to other shows is important when you're a young designer.
It was great to have the blank space to work with because it's a photo studio, but more than anything, we were concerned about getting people there, and thus we showed kind of in the Meatpacking District. This season, I did not show in the Meatpacking District, though. I showed at South Street Seaport, which I had arranged before I even knew Tommy was showing down there. I have to say, it's kind of liberating to do what you feel is best, so it was really nice to show in the space I showed and not being limited to photo studio space.
Does it get easier to put on shows the more you do it?
LD: I really feel like it's season to season and pretty economy-centric, to be honest. As the economy gets bad, the sponsorship dollars disappear immediately, then obviously, it's harder to put on a show because the average space you can rent is about $15,000 for three hours. Without sponsorship money, as an independent designer, it's almost impossible to show in a bad economic climate.
Lindsay, you traditionally do presentations, whereas Rushemy, your first show was a runway show. What are the differences and why do you guys prefer one over the other?
LD: For me, I prefer presentation because if I'm going to pay that much for a space, I want people to be able to look at it for the full hour that I'm allotted. To me, I just spent so much money and I want the people to have a moment to take a look at all of the small details that I just put into the collection. Also, I like to really create a set and an atmosphere where the viewer walks in and feels like it doesn't matter what they were feeling before they walked in, but they have a whole new mentality when they walk into a space that has a feeling, so that's why I do presentations.
RB: I would like doing a presentation and I'm very open to that. For me, now, the runway is terrific because you create a brief moment and it's like you're creating it for a few minutes, and then it's gone. Then you have this curiosity about it. You're going to think about it, philosophize about it.  You want to know more about it, you want to feel more about it. I've never done a presentation, but I'm sure I will do it someday. For now, I only do runway and I really like it. I have no negative feelings about it.
Rushemy, is there anything you want to ask Lindsay?
RB:You do your presentations on your own, right?
LD: Yeah.
RB:  Where did you start? How long have you been an independent designer, and how did you get to this point all by yourself? Because I think it's great.
LD: Thank you! This is my eighth season. I just looked back and saw that, and, oh my god, I can't believe it's season number eight! I've always done it alone, so I don't know any better; I assume that it would be way easier if I did not do it alone. I'm always looking for a business partner, I haven't found one yet, but ideally the end goal would be to do it with a partner. The question being, "How did I do it alone?" I just wanted to do it, so I figured out how to do it and I think that's a really important attitude.