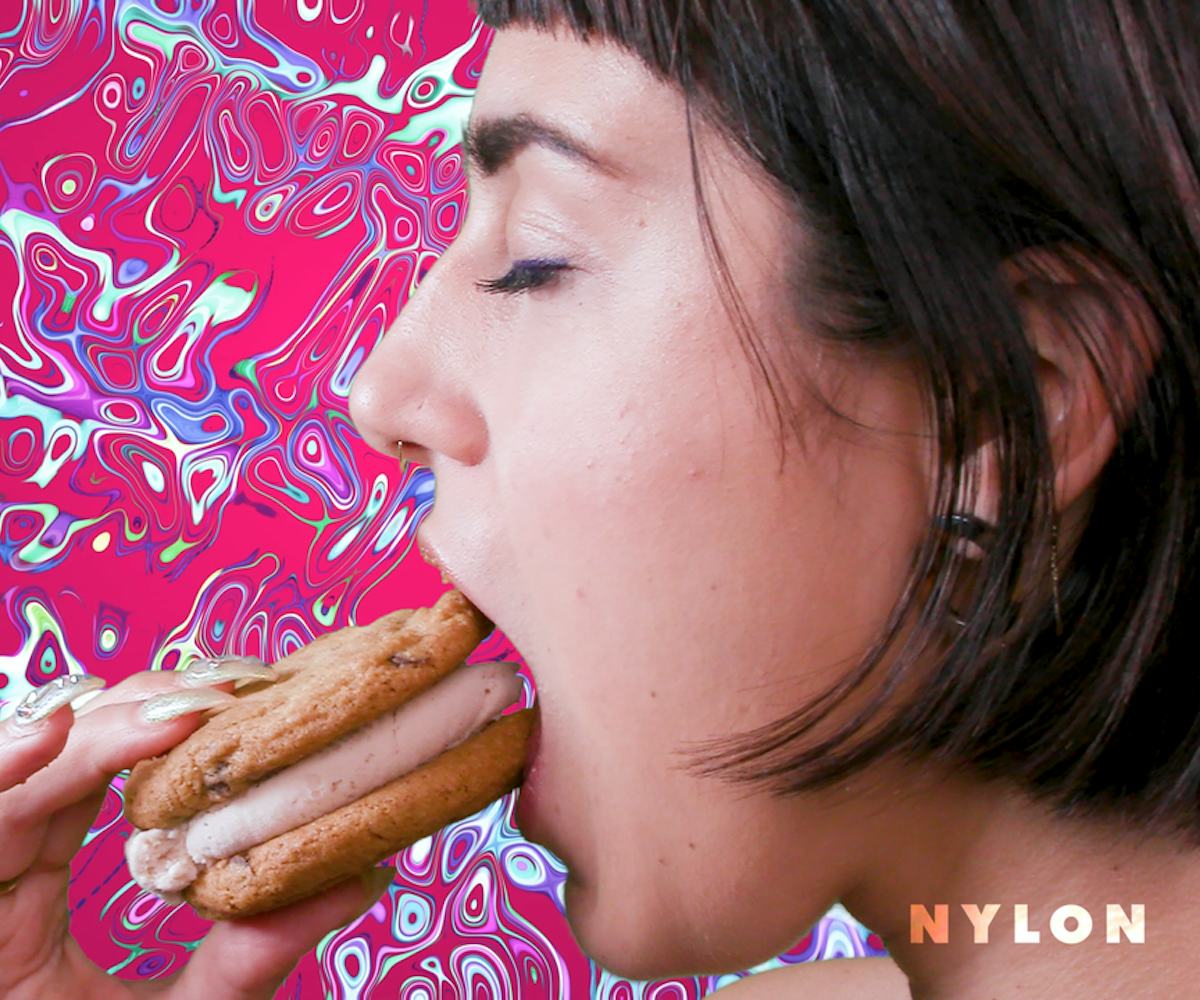 Lip Gloss Vs. Ice Cream Sandwiches: A Very Sticky Showdown
Which lip gloss will last the longest?
Behold, the answer to your burning question: Can lip gloss survive a battle with an ice cream sandwich? We put a bunch of new lip glosses to the test by teaming them up against some boozy treats courtesy of Tipsy Scoop, and the outcome was divided. But, the good thing about boozy ice cream is that after you're done you don't really care what your makeup looks like.
Watch above for the showdown, and read below to see which lip glosses worked best.
Credits:
Produced by Alexandra Hsie
Shot by Dani Okon and Charlotte Prager
Edited by Charlotte Prager
Sarah Lutkenhaus, Design Director
"I would say that [my lip gloss] Daisy Love going up against this ice cream sandwich was like a small flower in a monsoon. Perhaps it was still there afterward, but it was not its best self."
Marc Jacobs Beauty, Enamored Hi-Shine Gloss Lip Lacquer in 'Daisy Love,' $28, available at Marc Jacobs Beauty.
Bailey Calfee, Staff Writer
"Okay, so does any dark lipgloss actually get through a snack unscathed? I would say no. I tried not to be too messy, but ice cream sandwiches don't play that way. But I can't say something mean about a gloss with the same name as my sign. Us Scorpios have got to stick together."
Wet N Wild, Color Icon Lip Gloss in 'Scorpio,' $2.93, available at Walmart.
Jenna Igneri, Associate Fashion & Beauty Editor
"While this new gloss is definitely glamorous, it didn't hold up so well to this boozy ice cream-chocolate chip cookie combo. While I appreciate this glimmery formula for not being overly sticky and gross, it unfortunately melted away with each bite. I'll save this shade for sipping cocktails, rather than scarfing down a sandwich."
Christian Louboutin, Metalinudes Loubilaque Lip Lacquer in 'Preciosa,' $85, available at Neiman Marcus.
Erin Parker, Associate Social Media Editor
"Even after completely devouring the ice cream sandwich and making a mess of myself and my surroundings, there was still a hint of holographic luster and sheen left over."
Buxom, Plumping Lip Polish in 'Jordan,' $21, available at Sephora.
Allison Stubblebine, Editorial Assistant
"While lipgloss all over my chin is always a serious #look, it's not necessarily what I was going for. I'll take the tequila ice cream anytime—even if it means everything in close proximity to my face ends up doused in violet glittery goo—just gimme a makeup wipe stat."
Too Faced, Comfort Lip Glaze in 'Plum Crazy!,' $20, available at Ulta.
Dani Okon, Video Editor
"This is a must-have for pretty much every occasion this fall—boozy-ice-cream-scarfing included. Durability aside, this gloss glistens beautifully under all kinds of light and smells so good you'll want to eat it."
M.A.C, Grand Illusion Glossy Liquid LipColour in It's Just Candy!, $21, available at M.A.C.