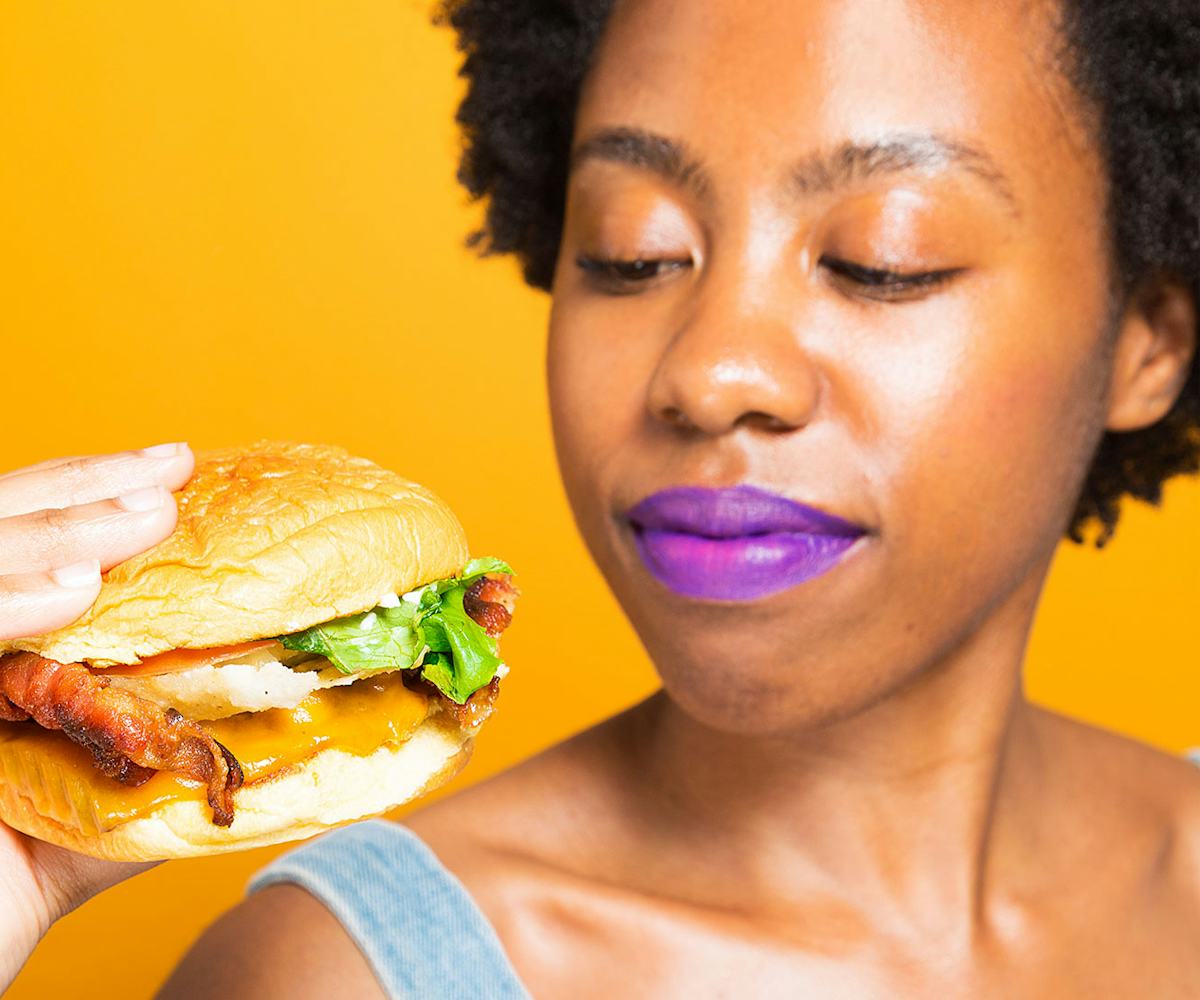 Photographed by Collins Nai. Assisted by Garrett Erwin.
Lipstick Vs. Burgers: Take A Bite Of This
Summertime is all about BBQs, block parties, and smooching galore. (Summer loving, anyone?) Naturally, everything heats up during this time of year—from the weather to the romantic chemistry—so we thought we should alter our seasonal lipstick experiment by throwing lip gloss into the mix as well. In honor of National Hamburger Day, we called up our friends over at Black Tap and asked them to whip us up a batch of burgers. Thanks to us, now you'll know what to slather on your lips for the next big cookout on your schedule. Eat it all up in the gallery, below.
Sydney Gore, assistant digital editor
Despite my resistance to the color orange as a teen, I've found myself being drawn to the shade much more as of late. I'm also all for the lip gloss revival, so I was really excited to test out 'Call Me!,' the perfect statement shade from Marc Jacobs' new collection. It's a dream color if you're looking for something outside of the red realm. Plus, the gloss glides on smoothly and has a refreshing scent.
When it comes to hamburgers, I'm as simple as it gets so I chose the classic American burger. There's no cute way to eat a hamburger, so I charged into it, totally unsure whether my gloss would last. But while the shade only stayed put about halfway through my burger, it didn't get all over my face, so I consider that a mini victory! Once I stopped dripping ketchup everywhere and wiped all evidence of this experiment off my mouth, I applied more gloss on my lips because I liked it so much.
Marc Jacobs, Hi-Shine Gloss Lip Lacquer Enamored in 'Call Me!,' $28, available at Sephora.
Hafeezah Nazim, digital assistant
My lips tend to get dry quickly, so I usually avoid wearing lipstick unless it's a special occasion. Even then, I end up wiping it off by the end of the night and opt for a quick swipe of Burt's Bees for moisture relief. But after I applied this Marc Jacobs gel lipstick, I was surprised by how hydrating the formula was. Its lightweight consistency glided on smoothly, which made it easy for a lipstick newbie like me to feel comfortable wearing it.
I knew in the back of my head that the lipstick's creamy consistency was no match for the pizza burger. Regardless, I ate to my tummy's content, my new lipstick losing a battle to the burger's delicious marinara sauce. But this time, when I was finished, I pocketed my handy chapstick, instead reaching to reapply my new favorite lippie.
Marc Jacobs, New Nudes Sheer Gel Lipstick in 'Hey, Stranger,' $30, available at Marc Jacobs.
Jenna Igneri, assistant digital editor
I was never really much of a lip gloss person. Too many memories of my overly flat-ironed hair sticking to my mouth every time the wind blew at age 13 urged me to trade in the sticky substance for traditional lipstick once I entered high school. However, once I tried Anastasia Beverly Hills' version, that all changed. The light, non-sticky formula delivered a punch of pigment, stayed put for hours, and smelled a bit like cake. (I like cake.)
When I was faced with eating a veggie burger whilst rocking my favorite shade, 'Rum,' I was curious to see whether it would actually hold up. Unfortunately, I discovered that tahini dressing can double as a makeup remover. While 'Rum' didn't make it through our little experiment, this is a gloss I don't mind reapplying after eating—especially since it smells like dessert.  
Anastasia Beverly Hills, Lip Gloss in 'Rum,' $16, available at Anastasia Beverly Hills.
Katherine Martinez, e-commerce director
Holographic lip gloss brings back memories of middle school dances when girls and boys stared longingly across the room from each other, chit-chatting amongst themselves, completely clueless as how to make contact with a foreign entity. Meanwhile, I would be in the center, grinding on some stone-faced boy who was ill-equipped to handle my sweet 12-year-old dance moves.  
I haven't been freak-a-leekin' or donning much lip gloss lately due to my recent Invisalign adventure (read: guaranteed to smear lip color all over your teeth), but after a few swipes (three layers did the trick) of this wonderfully dark 'Bite Beauty' shade I was ready to face off with my California burger. An unexpected infusion of truffle oil caught me off guard and made me bite into the creamy avocado more aggressively than normal. While the lip gloss didn't maintain its original intensity, there was still a hint of shimmer left. Well played, burger. 
Bite Beauty, Prismatic Pearl Crème Lip Gloss In 'Peacock Pearl,' $22, available at Sephora.
Taylor Bryant, web editor
I'm not a purple lipstick person by any means. Well, I am, but the shade I prefer is more plum than pastel/neon. But, I love a good liquid lipstick, and I'm a lover of Kat Von D's products, so I decided to step very cautiously out of my comfort zone this time around.
'Roxy' is a great eye-catching color and it's an even better formula. Most liquid lipsticks dry very quickly, making it hard to apply evenly and seamlessly. Kat Von D's version, though, takes a couple of seconds to set, which is an underrated gift. It also doesn't dry your lips out over time, something else liquid lipsticks are infamous for doing. It's similar to a lipstick on both of these accounts, but the one department where it differs is that it does not budge. 
For the shoot, because I am a monster, I reached for the heaviest burger offered: the Texas, which includes cheddar, bacon, fried onions, BBQ sauce, tomatoes, and lettuce. Basically, everything I probably shouldn't have been eating. But, pro tip, there's no better way to test the quality of a product that claims to stay flawless through drinking, making up, breaking up, and mouthing off, than with a big chunk of grease. 
And, it did stay; through the first bites and beyond. I felt like crap after I finished eating, but you know what remained flawless? My lipstick.  
Kat Von D, Everlasting Liquid Lipstick in 'Roxy,' $20, available at Kat Von D.
Angela Lashbrook, social media editor
I'm a major lipstick person, but I'm also incredibly picky, so despite owning nearly 150 lipsticks, I probably only wear a handful. Most lipsticks are too drying, or if they're emollient, they smudge; many aren't opaque enough to my liking, or the formula is thick and pasty. So, I was pretty excited to try one I'd heard such great things about, the Lancôme Matte Shaker, while consuming that most trying of foods, a gigantic "Mexican-style" hamburger (note: The hamburger was delicious, but "Mexican-style" translated to pickled jalapeños and an onion ring).
The lipstick itself is pretty unique. True to its name, you shake it to emulsify the thin pigment, then apply via the pointed cushion applicator. I tried shade 'Red'y in 5' and it applied smoothly and evenly, and was, as expected, thin and paint-like the way many other liquid lipsticks are. Unlike classic liquids like Kat Von D's Everlasting Liquid Lipstick, though, it never quite dried down, retaining the somewhat tacky texture of a more traditional lipstick.
When I took my first bite, the lipstick stayed put. So far, so good. But as I continued to destroy my burger, it migrated to the bun, and I was left with that tell-tale rim of pigment around my lips. As beautiful as this lipstick is, it's probably best left to drinks night, not dinner.
Lancôme, Matte Shaker High Pigment Liquid Lipstick in 'Red'y in 5,' $22 at Lancôme.
Tina Vaden, senior video editor
I thought it would be fun to skip my usual rainbow lipstick choices and challenge myself with pink. I've got a strong aversion towards the color, which stems from being born and remaining bald for most of my toddler years, and having a mother overly attached to gendering me. I was adorned in pink from head to toe until I declared at three that enough was enough.
But for the sake of this experiment, I went with a multi-layered pink look, using liner and lacquer as base and holographic gloss for texture. I was impressed by how evenly each applied, and how vibrant the colors were, allowing for full coverage on the first swipe. My lips didn't feel goopy and heavy as a result, which was nice.
My gloss extravaganza held up surprisingly well against the vegan burger that awaited; I took multiple bites on camera, ate the rest after (because it was that good), and still had something to speak of on my lips. I was super impressed that crumbs weren't part of that deal, since gloss is usually a magnet for anything from hair to dirt blown in on the wind. 
Kat Von D, Everlasting Lip Liner in 'Lovecraft,' $18, available at Kat Von D.
Marc Jacobs, Enamored Hi-Shine Lip Lacquer in 'Want Me?,' $28, available at Marc Jacobs.
Bite Beauty, Prismatic Pearl Creme Lip Gloss in 'Pink Pearl,' $22, available at Sephora.