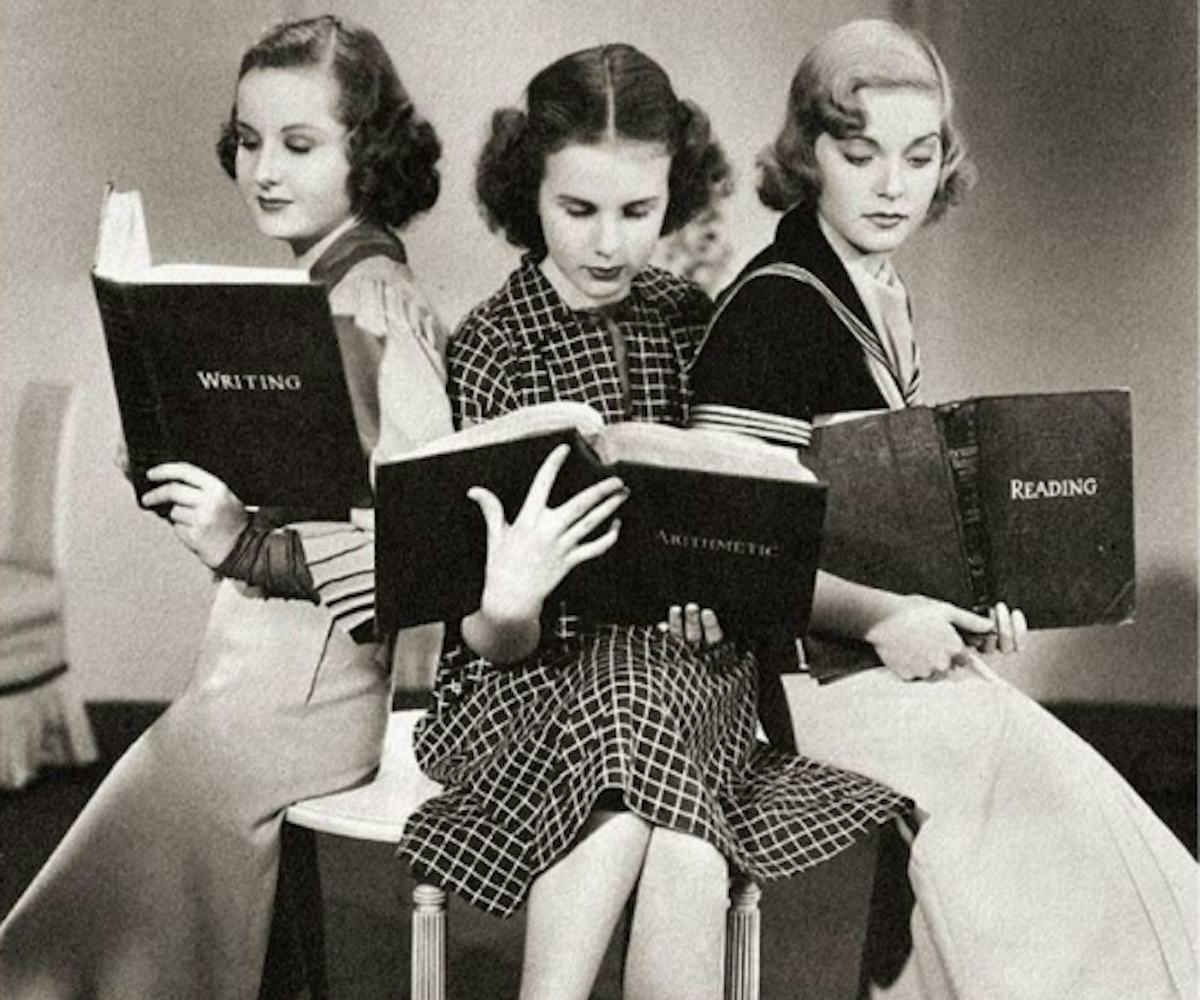 Photo via @thelibrarianlookbook/Instagram
InstaFiles: 15 Page-Turning Literary Accounts To Follow
A picture is worth a thousand words
While scrolling through Instagram, you're usually greeted with an endless supply of filtered selfies and perfectly cropped food pics. Sometimes you'll even run into a cute dog photo or a beautifully crafted Boomerang. All of which are great and necessary and everything, but what if you could kill two birds with one stone on the app, and actually get a little intellectual and culturally relevant content as well as the visually pleasing visuals? 
Guess what? You can. The literary corner of Instagram, a place where you can sift through the virtual shelves of bookstores around the world and practically flip through the digital pages of books, both new and old, is a vibrant part of the social media app, one in which it's super easy for bookworms to spend hours exploring. 
To get you started, here are 15 biblio feeds to inspire you to take a trip to your local bookstore and snap up something good to read. 
Book/Shop is a bookstore with locations in both Oakland, California, and New York City. It carries everything from books themselves to branded totes and pins that say things like "Tell me what you're reading." Plus if you live in either of these two cities, this feed will keep you tuned into their calendar which is filled with readings and fun "show and tell" events. 
The Paris Review is a quarterly literary magazine that dates back to the 1950s. Its feed is filled with excerpts from issues of the publication, and it includes things like poetry and interviews with authors like Joan Didion. 
McSweeney's is a publishing company located in San Francisco. Their Instagram feed is entirely reflective of their eclectic sense of humor and will keep you in tune with the latest in independent literature, from book fairs to parties. 
Well Read Black Girl, a book club founded by Glory Edim, is a much-needed taste of diversity in the literary world. The account documents the club as they celebrate black female authors, one book at a time. 
A Thousand Books happens to be exactly what it sounds like: a collection of photos of, well, thousands of books. The account posts a different book every day and is the perfect source for building a literary wish list. 
Bibliofeed recruits a guest editor each week to take over the account and share their book collections. With each new editor, followers get a look at new favorites and a taste of different genres. 
Last Night's Reading shares illustrations by artist Kate Gavino of literary readings in New York City. On her page, the artist pairs drawings of authors with a quote from their reading; her use of vivid colors makes you feel like you were there. 
The Literary Hub updates followers daily on all areas of contemporary literary life, from news on big publishing houses to non-profits. Plus they have really cool tote bags; sadly, though, as their Instagram bio states, they are not for sale. 
Ice Cream Books brings together two of our favorite things: ice cream and books. And it all looks really, really pretty. What more could you ask for? 
Strand Book Store is a staple of New York City literary culture. But even if you don't live in or near the city, a quick follow will give you an inside look at the Strand's famous shelves and miles upon miles of books. 
Sorrythankyou79 Vintage Books gives followers a glimpse into the world of the noteworthy Etsy shop that curates and creates customized book collections. After scrolling through this colorful and crafty feed, you'll feel inspired to rearrange your own bookshelf. 
Girls at Library, an online journal, offers followers an intimate look at different women's experiences with literature through interviews and recommendations. They are, as they describe it, "about women who read, for women who read." 
Between Two Books is an online book club founded by Florence and the Machine front woman, Florence Welch. The feed will loop you in on their latest literary endeavors and put you on the same page as Welch. 
Hot Dudes Reading, while not necessarily a literary account, does feature books. But more importantly, it also features hot dudes reading them. So it's a win-win. 
The Librarian is a book club and literary archive that is dedicated to "an education in style," as their founder J.B.Taylor puts it. Their Instagram acts as a lookbook component to their website and puts vintage books and old-school on-screen literary moments on your feed.