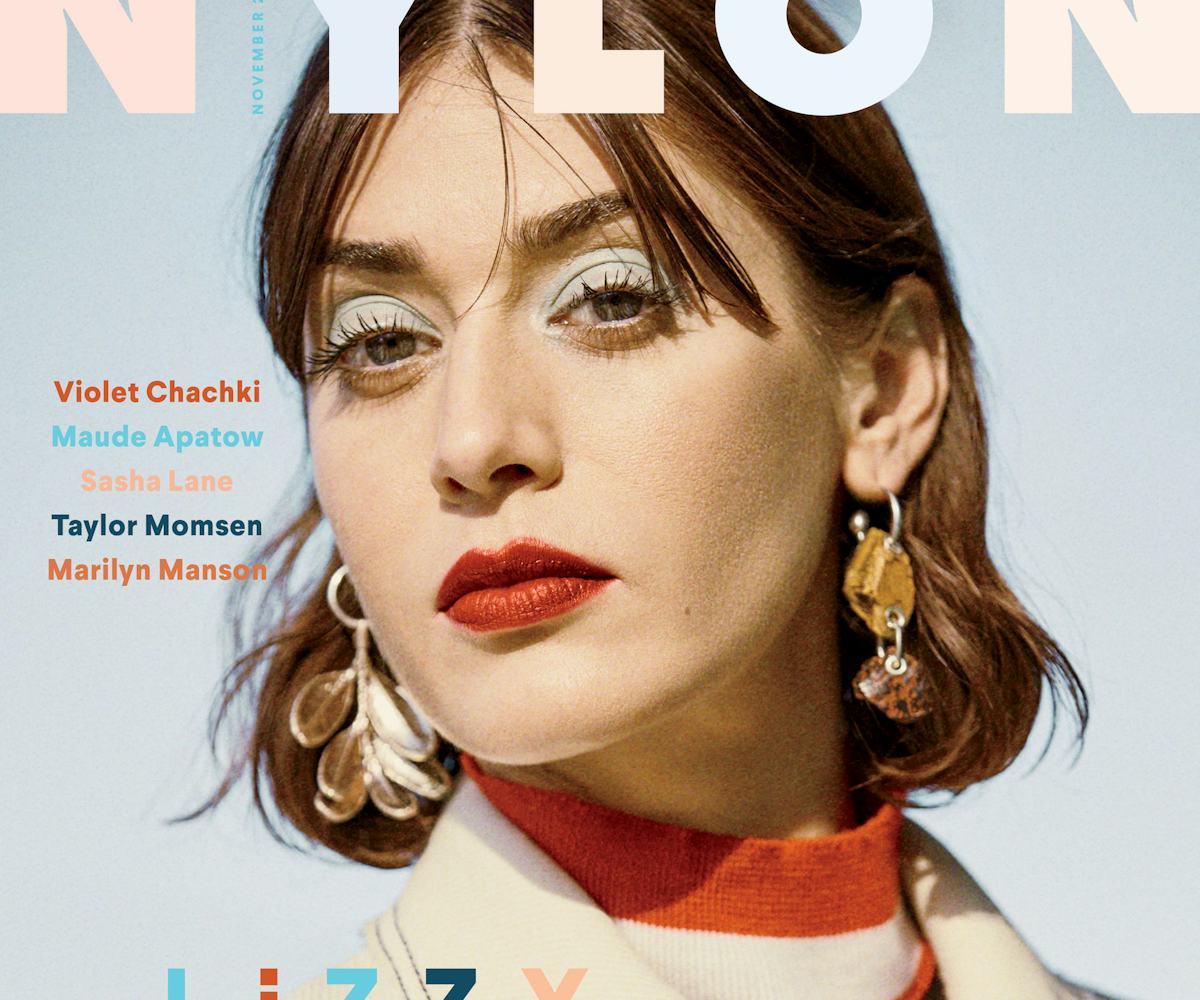 Lizzy Caplan Is Our November Cover Star
From a quirky outcast to a sex expert to a World War II assassin's sister, she's all of us
The following feature appears in the November 2016 issue of NYLON.
Lizzy Caplan wants to paint a dinosaur. Or perhaps she wants to recapture her childhood. The Los Angeles native has chosen to meet at Color Me Mine, a pottery-decorating studio in the Valley that she hasn't visited since she was little. She holds up a large, clay Tyrannosaurus rex and asks the woman at the counter, "Has anybody done this before?" "Mostly kids," she's told. So that settles it.
In a tomato-red sleeveless shirt and denim overalls, the 34-year-old actress looks appropriately dressed for this particular activity. "I don't think I'm going to do standard green, because that would be boring," she says, filling her palette with different shades of blue, pink, and yellow.
I choose orange and green for my pumpkin. "So you're going to stay within the lines, is that what you're saying?" she asks.
Mockery sounds good-natured coming from her. Why is that? Can Lizzy Caplan do no wrong? Despite existing in an era that often builds celebrities up only to tear them down, and when the internet's aegis of anonymity practically encourages insults and rancor, you won't really find anyone saying a sideways thing about the Masters of Sex star.
"That's aided by not being on social media," says Caplan. (She eschews all platforms equally.) "And I haven't reached the level of crazy fame."
Even so, over the past decade, Caplan has accumulated the types of roles that have suspended her in a pop-cultural sweet spot—appealing characters that blur the distinction between Us and Them. She played a sarcastic caterer in the hilarious Starz series Party Down, a monster's snarkiest victim in 2008's Cloverfield, a commitment-averse artist in the affecting 2012 rom-com Save the Date, and a scalding singleton in Leslye Headland's dark comedy Bachelorette (also 2012). And of course few millennials could forget Janis Ian, the outcast who vied to keep Lindsay Lohan weird in 2004's now-classic Mean Girls.
Click through the gallery to read the rest of the feature.
Coat and earrings by Proenza Schouler, dress by Tim Coppens.
Get this issue!
Subscribe and get 10 issues at 60% off the cover price!
"Lizzy makes choices that are a good reflection of who she is as a person," says her close friend Busy Philipps. The two met in 1999 on the set of the beloved, prematurely canceled series Freaks and Geeks, but became tight via Philipps's husband, writer-producer Marc Silverstein. She continues: "She has this effortlessly cool thing about her that is incredibly attractive."
On the other hand, you quickly run out of adjectives to describe Caplan's unconventional persona (mordant, witty, rebellious) in project after project. For most actors, being typecast isn't as bad as, say, studios refusing to insure you because of your drug habit—but it isn't great, either.
Luckily, four years ago Caplan landed a leading role alongside Welsh theater vet Michael Sheen in Showtime's Masters of Sex, currently in its fourth season. She plays Virginia Johnson, a trailblazing sexologist who, beginning in the 1950s, treated no subject as taboo at a time when almost everything that went on in the bedroom was considered off limits. "One of the best results of being on Masters of Sex is that it has kind of gotten rid of the conversation of whether I was too modern," says Caplan.
Case in point: This month, Caplan can be seen in director Robert Zemeckis's romantic thriller Allied. Set during World War II and starring Brad Pitt and Marion Cotillard, it marks her first Oscar-baiting period drama—a far cry from more typical, lighthearted fare like last summer's Now You See Me 2, the sequel to 2013's magician caper. "Lizzy is a terrific actress, and she has a confident, comfortable way of interacting with her co-stars," says Zemeckis. "That It Girl quality shines through in her performance."
Caplan says she and the film's leads mostly chatted about places to eat in the various cities they call home, but their celebrity wattage was impossible to ignore. "They're like creatures from another dimension," says Caplan, adding some squiggly lines to her dino's rib cage. "I saw a few things behind the monitor and I was like, 'Oh, I see. They just glow from within.' Most people would be freaking out that they were hanging around Brad Pitt, but I was fully obsessed with Marion. She's just legit French-girl cool."
The store's clerk returns with more paint and examines Caplan's work. She starts offering sponges, puffy paints, pens—every tool at her disposal to assist in her creation. "I'll take a sponge," Caplan says. After she leaves, Caplan adds, "I really feel like this is coming to life and she's so disappointed."
Coat and dress by Monse, boots by Lacoste.   
Caplan was born and raised in Los Angeles, the youngest of three siblings. Before she became enamored of acting and landed a small part in Freaks, she played classical piano and attended a performing arts high school on the city's west side. At 13, she lost her mom to cancer. "I had a much stricter household when my mom was alive," she says. "And then it was kind of like the lessons that I learned up until that point were the lessons that I took forward in my life. There was no strictness to rebel against so I had to kind of rein it in myself. Like, what can I pull off while still getting good grades?"
Caplan listened to grunge and worshipped Winona Ryder growing up. We briefly discuss the awesomeness of Ryder's first movie, Lucas ("Nobody knows about Lucas!" she says indignantly), which leads to other nostalgic topics including Lili Taylor, Martha Plimpton, and the tragedy of Jennifer Grey's nose job. Suddenly, Caplan has a revelation. "I haven't thought about this until right now, but [back then] they made the boys super pretty," she says. "I mean, River Phoenix was an incredible actor, too, but the girls were, like, offbeat. Somehow that switched back."
She has a point. Janis Ian could have turned Caplan into Ryder's heir apparent, but, she says, "after that movie, I didn't work for a year. There wasn't room for the weirdo girl at that moment in time." When Caplan did work again, she was woefully miscast as the flighty blonde on the WB's 2005 series Related. Like Freaks and The Class, a CBS sitcom co-starring Modern Family's Jesse Tyler Ferguson, Related was axed after one season.
"There was a period of time when she was offered a ton of network pilots, but she really held firm that there was something else she wanted," recalls Philipps. "I admire that. You can't underestimate how difficult it is to say no in this business."
All clothing by Marc Jacobs, earrings by Spinelli Kilcollin for Creatures of the Wind. 
Caplan's patience was rewarded. In 2014, she was nominated for an Emmy for her work on Masters. As depicted on the series, Virginia Johnson (who passed away before the pilot aired) is a complex figure—a negligent mother, an increasingly bitter lover—and this season she feels increasingly threatened by the sexually liberated '60s. "Virginia's always been this ahead-of-her-time woman," Caplan explains. "Now the world is catching up with her and she's a mess."
Johnson is exactly the type of flawed character who raises the thorny issue of "likability," a subjective appraisal that seems to disproportionately diminish one gender, fictional or otherwise. "People turn on men, but not as much or as quickly as they do on women," says Caplan. But she adds a caveat: "I can't claim that likability is not what my job is about. It's funny how seriously we take being an actor and making movies, but it really lives and dies with how much people like watching you."
Caplan is a huge fan of Howard Stern's Sirius radio show and talk turns to a recent interview he did with Knocked Up star Katherine Heigl in which Heigl apologized for calling Judd Apatow's 2007 movie "a little sexist." It's a criticism that might have more traction in the wake of Lean In and #squads but which, at the time, helped seal Heigl's fate as a difficult actress. Co-star Seth Rogen later told Stern he was nonplussed by her mea culpa.
Dress by Thom Browne, boots by Lacoste, earrings by Spinelli Kilcollin for Creatures of the Wind.   
"I don't know Judd and Seth as mean men, and I believe they thought she hated them," says Caplan, who worked with Apatow on Freaks, and Rogen in both that and 2014's The Interview (aka the movie that possibly prompted North Korea to hack Sony). "I'm the first one to defend girls all the time, but I don't know Katherine Heigl. I will say, a woman in a bad mood—that's your reputation for the next 10 years."
Has she ever been displeased with a project and wanted to say something, but felt like she couldn't for fear of retaliation? "Definitely," she says, without offering specifics. "I'm a pretty opinionated person, and there are so many assholes, and you're weirdly expected to protect them publicly. But the reason I don't roll my eyes and throw people under the bus is because the thing I'm least interested in doing with my day is having a public feud."
There's a rock on Caplan's left hand, which I'm not going to acknowledge because talking about diamond cuts and carats doesn't sound like something she would be interested in. But when I give the clerk my last name, she cheerfully offers, "I'm going to be a Riley, too." This past May, Caplan got engaged to English actor Tom Riley. The couple now divide their time between London and Los Angeles, which sounds blissful aside from concerns relating to the transportation of Buns, their dog, and Brexit. ("This is the death throes of white men in power," says Caplan, who is rooting hard for Hillary. "It's so embarrassing.")
In fact, Caplan refers to her fiancé several times throughout our chat, which is surprising only because she dated Friends star Matthew Perry for six years and hardly anybody knew about it until long after they'd split. "I don't want people to know much about who I am," she explains. "I want them to be able to believe I am who I'm pretending to be at work."
Coat and earrings by Proenza Schouler, dress by Tim Coppens.
Caplan turns the T. rex on its side. "I'm painting his vagina right now," she says. "It gets lots of coats." While she concentrates, I lob a few random questions at her:
Most badass teen heroine: Angela Chase on My So-Called Life, Lindsay Weir on Freaks and Geeks, or Audrey Horne on Twin Peaks? 
"I watched Twin Peaks when I was a kid with my family. It could very well be Audrey, but there are a lot of similarities between the other two. I would say Lindsay, just to give a shout-out. And she wasn't just lusting after a guy. She was lusting after a whole life."
If you could go back and un-cancel one show you were on, would it be Freaks, Party Down, The Class, or Related?
"Financially, it would be kind of crazy if The Class were still on. I could buy all the ceramics in here. But I think I'd have to give it to Party Down, because that felt like a job we could do forever."
You've worked with both James and Dave Franco. Who's the superior Franco brother?
"I'll always pick the younger child. And Davey's a close buddy of mine."
What's more difficult, acting drunk or doing sex scenes?
"Acting drunk. But Kirsten Dunst taught me a really good trick on Bachelorette where you spin around a bunch beforehand." 
Speaking of the latter, gigs on both HBO's True Blood and Masters have required nudity, which means Caplan has had to develop an ad hoc philosophy on the subject. "Any time the show requires it and it makes sense, I'm the first one to bravely sign up," she deadpans, and then more seriously says: "I would be shocked if I ever considered doing nudity for a comedy. Dicks are funny, I guess, but I'm very happy we're past that Porky's mentality. And I don't think [Masters] requires me to prove myself in that way any longer. Let's bring in some new butts and boobs." 
Coat, dress, and gloves by Marc Jacobs, turtleneck by Cinq à Sept, earrings by Eddie Borgo.
Caplan, along with Sheen, is a producer on the series, which has allowed her a degree of creative control that she very much enjoys and wants to further explore. Coming up, she'll produce and star in Friend of Bill, a largely female-driven project about an alcoholic woman who returns to her hometown to dry out.
Given her unassailable reputation and low-key popularity, Caplan seems like a solid candidate to expand her brand with a book or blog, yet at the same time you can picture her cringing at the word brand. I bring it up; she cringes. "You won't see me baking cookies and selling you $700 blankets," she says. "Writing a book is interesting, but I don't foresee that in my future. It just goes back to the idea that I believe I can be better at my job the less you know about me personally."
The T. rex has evolved. It's gone from a tasteful gray-blue to a multicolored patchwork of colors and black squiggles. Caplan hastily initials his left foot. She doesn't want to be late to take her goddaughter (Philipps's eldest girl, Birdie) to pick up some adopted kittens. "I'm sure my decor will really come together with this guy," she jokes. The sales assistant and I assure her it's great, a true original. Caplan's not having it. "Guys, I appreciate it," she says, "but it's going to end up in the closet, OK?"
Coat by Lacoste, top and pants by Monse, boots by Paul Andrew, earrings by Spinelli Kilcollin for Creatures of the Wind, Necklace by Jennifer Fisher.
Photo assistant: Brook Keegan. Stylist's assistant: Raina Silberstein. Hair: Nikki Providence at Forward Artists using Bumble and Bumble. Makeup: Rachel Goodwin at Starworks Group using Chanel Makeup. Manicurist: Chelsea King at Celestine Agency using Revlon. Digital tech: Dustin Edwards at Factory Digital.