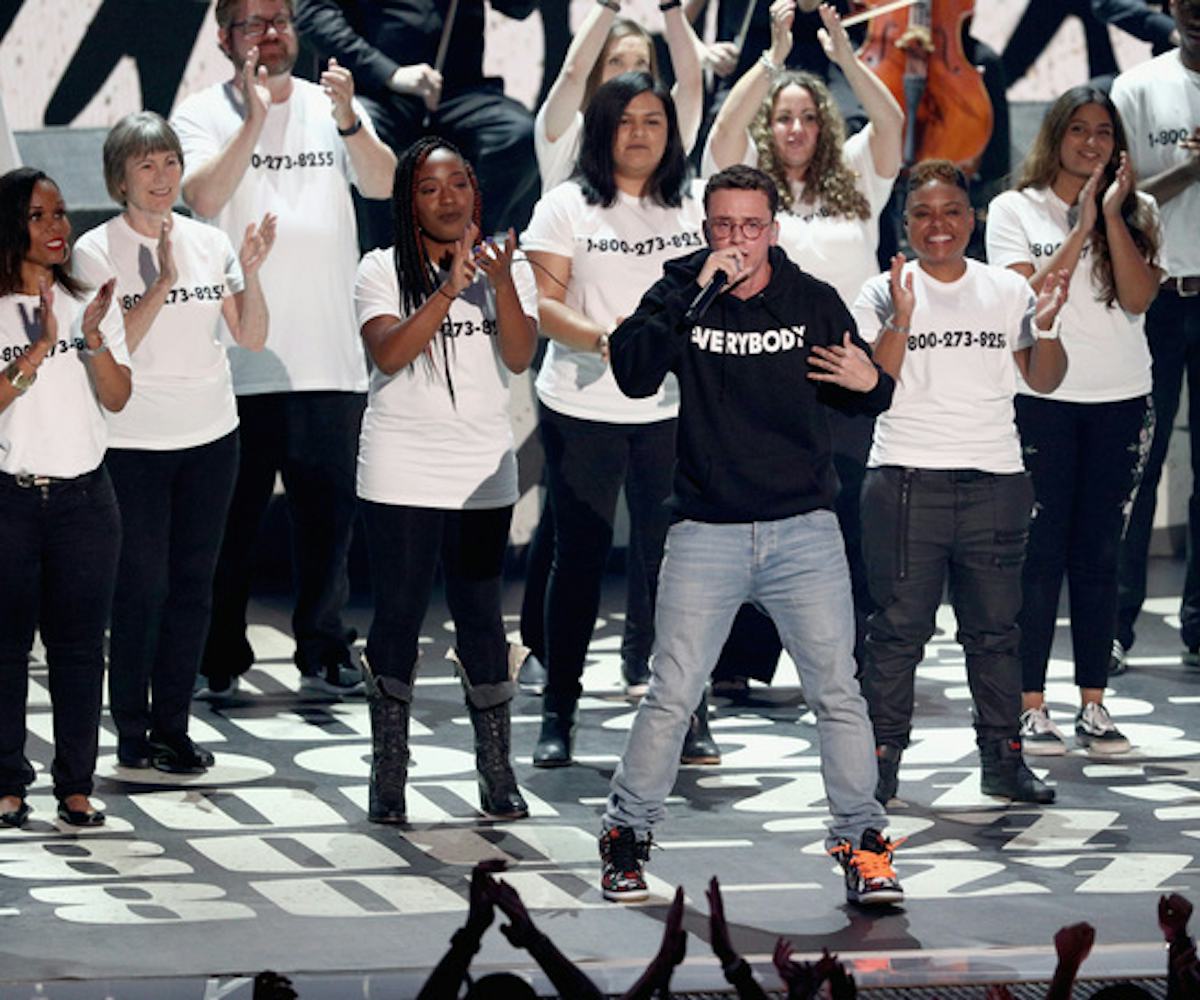 Photo by Frederick M. Brown / Getty Images
Logic Just Delivered The Most Emotional VMA Performance Of The Night
He shared the stage with attempt survivors
The MTV Video Music Awards are usually a place where some of the most pop culture-y pop culture moments happen. Britney Spears and Madonna kissing, Kanye West interrupting Taylor Swift during her acceptance speech, Beyoncé revealing her first pregnancy. Then, there are more somber happenings that make you pause, pay attention, and listen. One such moment happened tonight during Logic, Alessia Cara, and Khalid's performance of "1-800-273-8255."
The single, which is also the suicide prevention hotline, packs a powerful punch on its own. But, after being introduced by Kesha, Logic launched into a rendition that included a feature from Cara, Khalid, and a group of attempt survivors who wore T-shirts with the message "You Are Not Alone" written on the back.
It's what Logic had to say afterward that rounded out an already moving act. "I just want to take a moment right now so much for giving me a platform to talk about something that mainstream media doesn't want to talk about," he preached. "Mental health, anxiety, suicide, depression, and so much more that I talk about on this album… I don't give a damn if you're black, white, or any color in between; I don't care if you're Christian, you're Muslim, you're gay, you're straight, I am going to fight for your equality because I believe that we are all born equal, but we are not treated equally, and that is why we must fight."
You can watch the full performance, below. And, if you haven't already, you should also check out the music video for "1-800-273-8255." That is, if your tear ducts will allow.