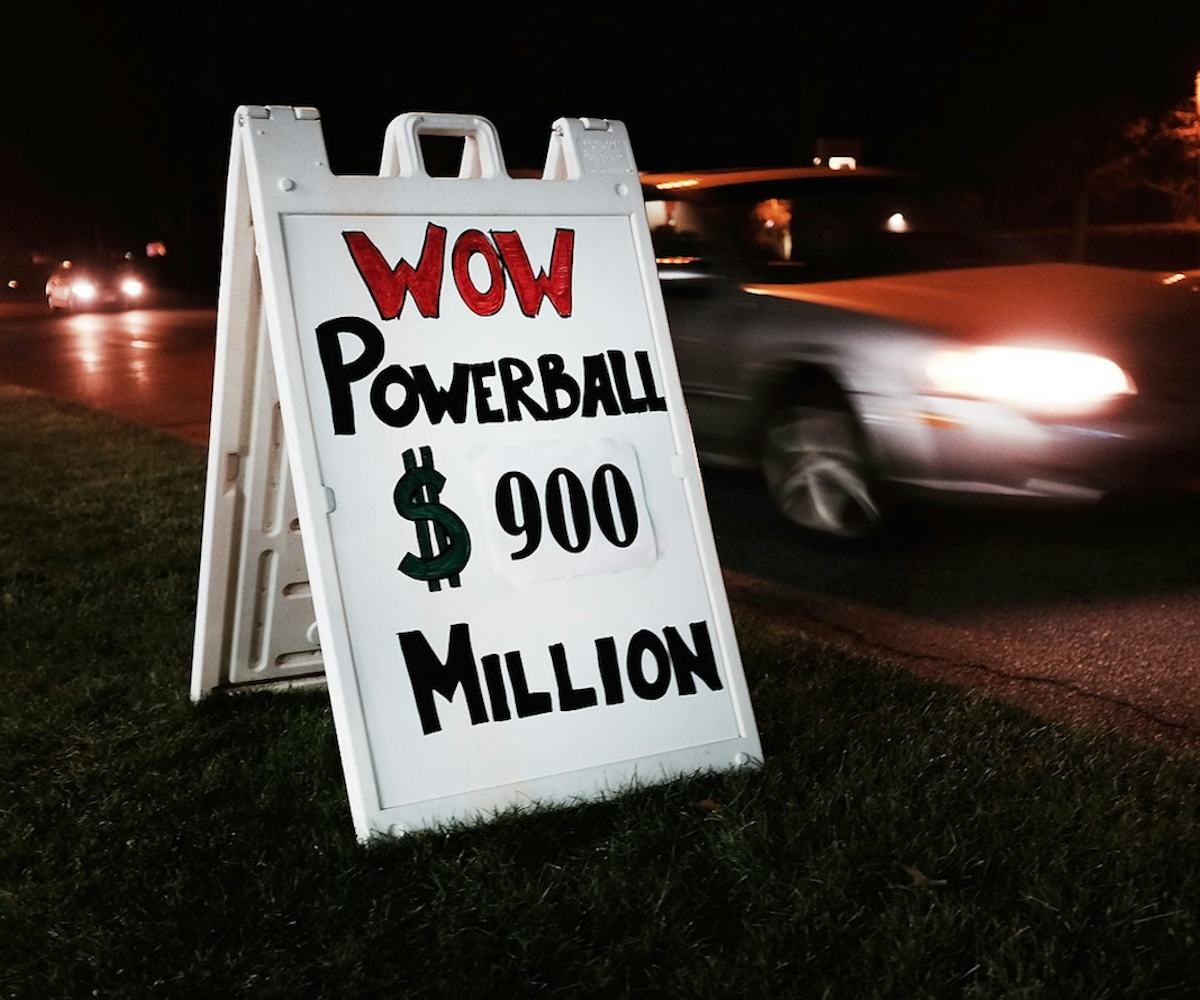 Photo by Spencer Platt/Getty Images.
Hoping to Win Powerball? These Horror Stories Might Change Your Mind
If everything goes according to plan, the world is about to welcome a brand new billionaire. Tonight's Powerball jackpot is set at $1.5 billion, and the historic amount has captured the public's imagination in a way the lottery hasn't before. The chances are, several people you know—including yourself—have bought tickets and guessed the numbers in the hopes of changing your life for the better. But is that what really happens after winning the lottery? This report on Good Morning America brings up the great point that whoever wins the money will most likely become an instant celebrity, perhaps painting an unwanted target on their back. When you're that rich, everybody wants something from you, from distant relatives to complete strangers. As the following stories illustrate, the gift of unfathomable wealth can suddenly become a curse.
James Whittaker
"I wish I'd torn that ticket up." That was the lament of Jack Whittaker, who in 2002 won $315 million in the Powerball, and claims that soon after his life began to crumble thanks to a series of very unfortunate events. Whittaker, who claimed he wanted to use his money to build churches and help the less fortunate (he did end up donating $15 million to the construction of two churches), told ABC News that strangers began reaching out to him, wanting "new carpet, people wanting entertainment systems, people wanting Hummers, people wanting houses," and could not go out in public without being harassed. He eventually developed a drinking problem thanks to his newfound notoriety, but that didn't compare to what happened to Whittaker's granddaughter, who developed a crippling drug problem before she disappeared. She was eventually found dead, a fate Whittaker blames on the curse of his winnings.
Callie Rogers
Some people just aren't ready to have millions of dollars at their disposal, and Britain's youngest lottery winner ever, Callie Rogers, falls firmly into that category. Rogers won £1,875,000 (about three million in U.S dollars) when she was 16 years old, and claims she spent $380,000 on cocaine, and had two breast augmentation surgeries. It's a far cry from what she told the Telegraph shortly after she won, saying "I'm going to take some advice and see an accountant. Hopefully I will make us all comfortable. I want to help my family, but I won't change. I just want a normal home; nothing posh." Today, all of her money is gone, and that's just the way she likes it. "I try to forget the ups and downs I've been through and just feel like a normal person," she says. "It was too much money for someone so young. Even if you say your life won't change, it does and often not for the better."
Abraham Shakespeare
This 47-year-old lottery winner from Florida's last name turned out to be prophetic, since his life ended in tragedy. By all accounts, Shakespeare was an illiterate but kind-hearted man who, after winning $30 million in the lottery, struggled to curb the flow of shady characters who began circling him like sharks. One of those people was Dee Dee Moore, who befriended Shakespeare in 2007 and bought lavish presents for herself with money he gave her. It wasn't long after that his body was found under a slab of concrete in the backyard of Moore's boyfriend. She was eventually charged with his murder and sentenced to life in prison. "I'd have been better off broke," Shakespeare told a friend before his death.
Jeffrey Dampier
In 1996, Jeffrey Dampier won $20 million in the lottery. He used part of the money to invest in Kassie's Gourmet Popcorn, a store in Tampa Bay's entertainment district. It's a perfectly reasonable thing to do. But Dampier was also having an affair with his sister-in-law—not a sensible thing to do—and began pampering her with lavish gifts. In 2005, with the help of her boyfriend, Jackson put a bullet in the back of Dampier's head, presumably for his winnings, and is now spending the rest of her life in jail. Poor guy.
Evelyn Adams
What makes the story of Evelyn Adams so bewildering is that she didn't win the lottery once, but twice—in back-to-back years. The New Jersey woman pulled in approximately $5.4 million from wins in 1985 and 1986, which would be all well and good if Adams wasn't already nursing a gambling problem that was compounded by her sudden windfall. "I was a big time gambler," she says. "I didn't drop a million dollars, but it was a lot of money." Today, Evelyn Adams lives in a trailer, with nothing to show for all that money she once had.