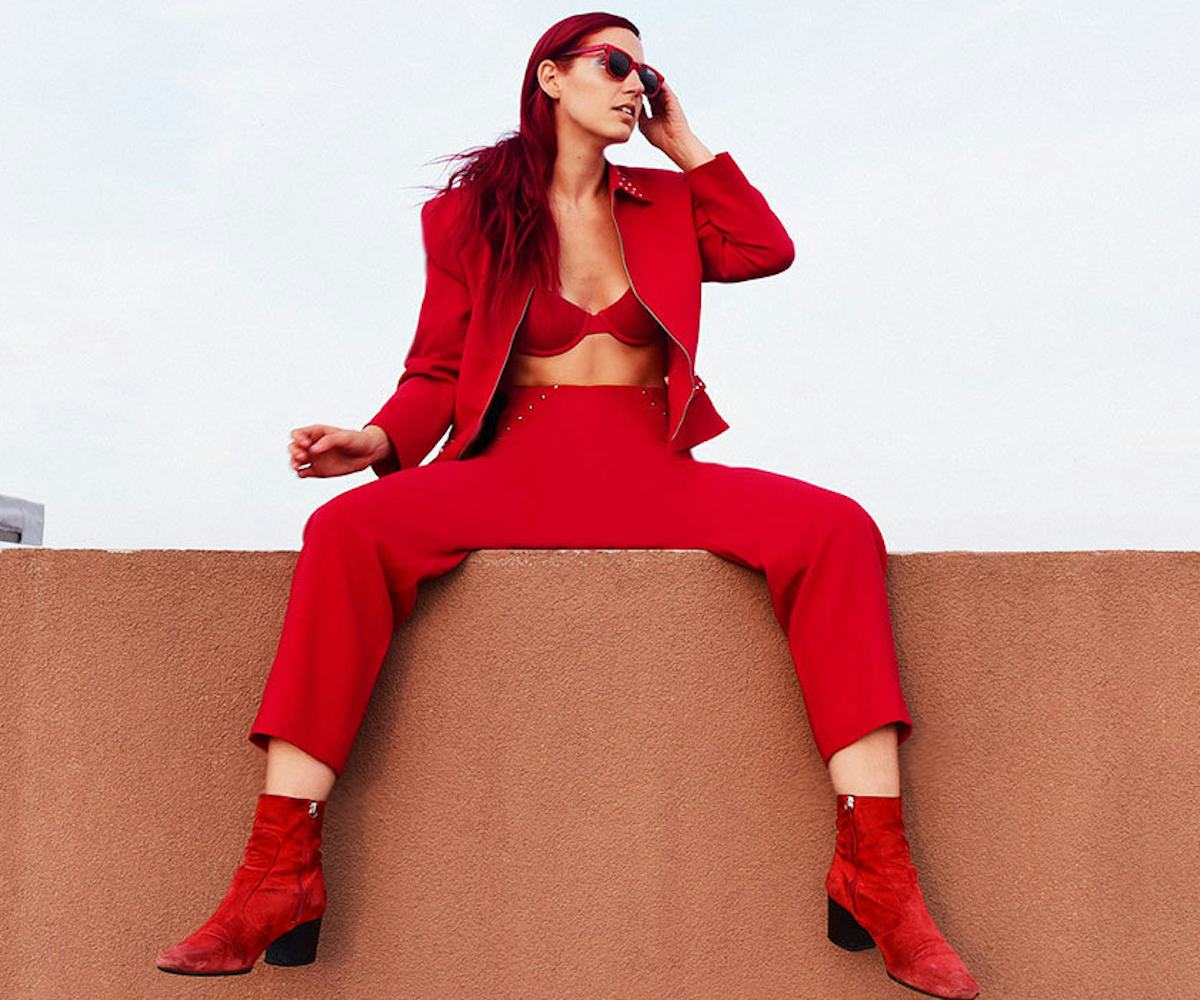 Photo by Shervin Lainez
LPX Takes Us Through Her Electrifying Debut EP
Listen to 'Bolt In The Blue' here
Grit and guts make glory on LPX's debut EP, Bolt In The Blue. Lizzy Plapinger's first project outside of MS MR takes off with a jolt of distorted guitar and doesn't stop until the final bite of snare. Each of LPX's six songs shines with the sweat of a successful night downtown. Even the tender moments, like those on the EP's title track, pulse with an attitude few can muster. We're talking Karen O tenderness, folks: piercing, relentless, and magnetic. Throw on your prized leather jacket and slip on those killer boots—you know, the ones that click-clack just so on the sidewalks?—because LPX will rock and roll you. (Pre-order the EP here.)
"Tightrope"
This was the first song I wrote for LPX, and it perfectly crystalized my vision for the project and laid the foundation musically for everything to follow. It came out of a wild writing session with my friend and collaborator James Flanningan (who also executively produced the EP) while we were working in the jungle in Nicaragua. He started ripping that main guitar line, and I got on the mic and started stream-of-consciousness screaming into the mic—most of the final vocals we used were from that very first moment. The whole thing was like a magical out-of-body experience. Ultimately it's a song about wholly throwing yourself toward someone or something regardless of whether you succeed or fail.
"Tremble"
This is possibly my favorite song I've written to date. It's so incredibly painful and personal that allowing myself to translate that into the music and vocals was a real breakthrough moment for me. I've never been more direct and raw in both my lyrics and delivery than I am here. It was liberating to channel so much aggression and vulnerability in such a bold and earnest way so that even in its most tortured moments, there's still an element of strength and power in it.
"Slide"
I wrote this song with Jen Decilveo (who also produced the track), and it was one of my first experiences ever working with just me and another woman in the studio (something that should not be as rare as it is!). I was struggling with withdrawal from someone who had been so paramount to my world. I was equal parts elated to have experienced a kind of once-in-a-lifetime connection while also being confused as to how they could have walked away from it, and "let it slide." Jen pushed me to really dig into all the nuances of euphoric agony which I think she really captured in the track. (It's heavily inspired by the Yeah Yeah Yeahs and Le Tigre.) We originally wrote the whole thing on the piano as a ballad, but we were honestly having so much fun in the studio that it ended up turning into a banger.
"Bolt In The Blue"
Trump had just won the election, and I was a mess, like most other people in the country and world. I was so consumed by my anger and disappointment that it took me a minute before I could get myself back in the studio. When I finally did, I wanted to write a personal riot anthem to remind myself (and hopefully others) to keep fighting and pushing back. I was able to collaborate on this song with Zac Carper, the lead singer and guitarist of one of my favorite punk bands, FIDLAR, which was incredible. He has such an amazing ear and creativity for guitar tones and parts, and the combination of him, James, and I in the studio was a wild one. He brought this sort of seductive and aggressive NIN vibe to the track that pushed it over the edge to become the kind of powerhouse tune it needed to be.
"The Fog And The Fear"
I'm such a highly visual person that often the visual or the video comes to me before the song does, and this was one of those instances. In the wake of the election, I felt the enormous divide of family and friends who didn't see the world, and our country, eye-to-eye. I had a visual in my mind of eyeball veins that, as you drew in closer, started to look like electricity and as you continued to zoom in, looked like a wall of lit up fog with people standing on either side of it. At first, they can't see it, but as they do, they start to try and peel away at it to try and see through to the other side. This song and story developed from there.
"Red Queen"
I'm not one to usually write an ego song, but this particular track came out of an experimental writing session with friend and producer, Guy Connelly. He had already produced the track, and I immediately fell in love with it for the way it merges electro, pop, and rock all at once in a way that reminded me of the Klaxons. I scatted over it three times, and then we took all our favorite sections and pieced them together like a jigsaw puzzle—something I've never done before. It was so interesting to see my subconscious reflected back at me. This song is about power dynamics rooted in ego. It's sometimes falsely apologetic and mildly sarcastic, but ultimately, it's about a kind of female strength.