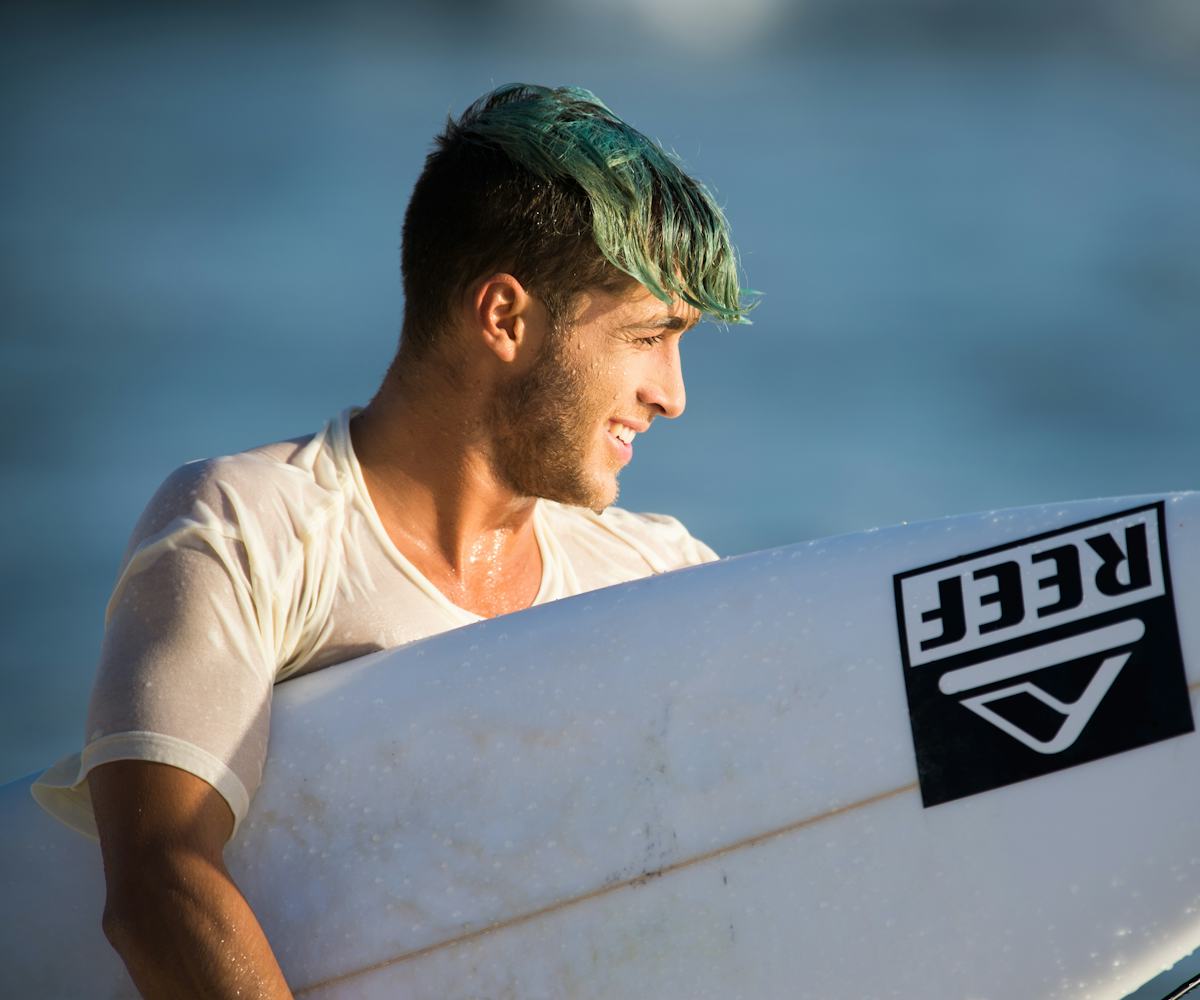 photo courtesy reef
interview with the merman: talking to surfer luke davis
"Merman Hair" is unquestionably a thing (particularly for those in the audience who get all kinds of hot looking at pictures like
). Yet, for the official-unofficial 
, pro surfer Luke Davis, this whole thing barely even registers. 
Davis is far too busy riding waves, traveling the big, blue world as a ambassador for surf liifestyle apparel and footwear brand  Reef, and basically living the perfect life, to bother with memes. (If you want to get a taste of what that's like, book yourself a half hour to watch this.)
And his hair color? Hate to disappoint, but the 22-year-old Cali native spools through shades as quickly as he changes beaches. He's done merman blue and green, of course—but
, , and
as well. When we hung with him and the Reef team at the Surf Shack in Montauk, he'd dyed his locks
. 
Honestly, dye jobs are really the least remarkable thing about Davis. Instead, it was his charm, dedication to surfing, openness, and amazing lifestyle that impressed us. When we chatted, we realized we actually were talking to a merman—it just had nothing to do with his hair
How did you first get into surfing?
Through my dad—he was a surfer. He first took me out when I was, like, three. He exposed me to it super young. 
Wow. Can you remember that?
I think so. Well, my first wave I remember, I think. I was with my dad at a break that's kind of legendary in San Clemente, where I'm from. He paddled out with me hanging around his neck—I was very tiny at the time—and I was wearing a Mickey Mouse lifejacket. And then this wave comes and he pops me over his shoulder and puts me on the front of the board and we ride all the way in. 
Was he a pro surfer?
No, he wasn't, but he respected the life. 
photo: courtesy reef
So, you got an early start surfing for yourself, but when did you first realize that people could get paid for surfing as you do now?
I'm not really sure. See, I started traveling for surfing when I was like 12 years old, so I already dealing with money and, like, a travel budget at that age. So I was really exposed to that transition real early. Like, there's no real transition for some people, there's no real end for that amateur stuff. For me, it was a real smooth rollover into the professional. 
You told me once that you were homeschooled. Were you balancing those lessons while you were traveling as a teen?
Kinda. My dad would come along with me on trips when I was super young and he would do those with me. So, yeah, there was always, like, a balance. When I was young I wanted to travel even way more than I did, even though I was able to travel around the world at 12. My parents would try to, like, always get my schoolwork done so I could actually go and do trips. I mean, I was just trying to get out of high school as quickly as possible so that I would have open reign to do whatever. With no school, I could just travel like I do now. I could travel as much as I want, which is, really, just awesome.
Now, the people taking you around the world right now are your footwear and apparel sponsors, Reef. How did you first hook up with them?
Well, I think we hooked up first for a footwear sponsorship first when I was, like, 15, maybe. Yeah, I rode for them for, like, three years for footwear before I started working with them for apparel.
So you're only 22, but you've been with them for seven years—like a third of your life. What's been your best tour experience for Reef?
I don't know, man. It's hard to say because they do really cool trips every year. Indonesia this year was super fun. We had a really cool base to stay and would go off on these kind of secret surf missions every week or so.
And how much of your time on tour with Reef is actually spent surfing and how much of it is, like, hanging out with press like me or doing photo shoots and stuff like that?
It really depends. Sometimes we'll be on a Reef campaign and a lot of it's like lifestyle stuff, which is kinda different. I mean, not much surfing with that. But if I'm going on a trip where we're, like, filming or for magazines—I mean, you're flying around the world just surfing as much as you humanly can. 
And how much of your life is spent out there on those trips?
I'm probably home in San Clemente like, 25, 20 days out of the year—I'm either out on the road or spending most of my time in L.A.
Is there any stress involved in living out of a backpack essentially 350 days out of the year?
Oh, it's pretty low stress. Besides, I don't pay rent when I'm at home or in L.A. so…
Wait—are you still with your parents in San Clemente?
Yeah, I still have a room there. It's like, I don't want my own place because, one, I don't want to pay rent, and two, I don't want to get too comfortable, because then I'll just get homesick. I want to be out there on the road getting work done. That's when all the magic happens, when you're traveling.
photo: courtesy reef
And when you're not traveling?
It's pretty mellow. I wake up, get coffee, check the waves, surf, do yoga, eat lunch, check the waves, surf, hang out with friends.
And what's your living situation like in L.A.? 
Well, my friend has this company BYRD—hair products and stuff like that—and he has this compound called "The Byrd's Nest". It's in Culver City and it's kind of like a meeting place for all of our group of friends who surf. It's kind of our home base. 
And what has being a world-hopping brand ambassador taught you about yourself?
Well, I know that I want to keep surfing as long as I can because I don't think I could work behind a desk.
And what would you want people to know about this perfect lifestyle, this career you have?
It's weird, all I do is travel around the world and get paid for it. It's pretty bizarre. I'm living the dream. I mean, I know a lot of people just call this a "dream job"—but it really is. But you really do have to work hard at it. It's not going to keep happening if you just sit around on your ass doing nothing. You have to put in the work and put in the time to make it happen.