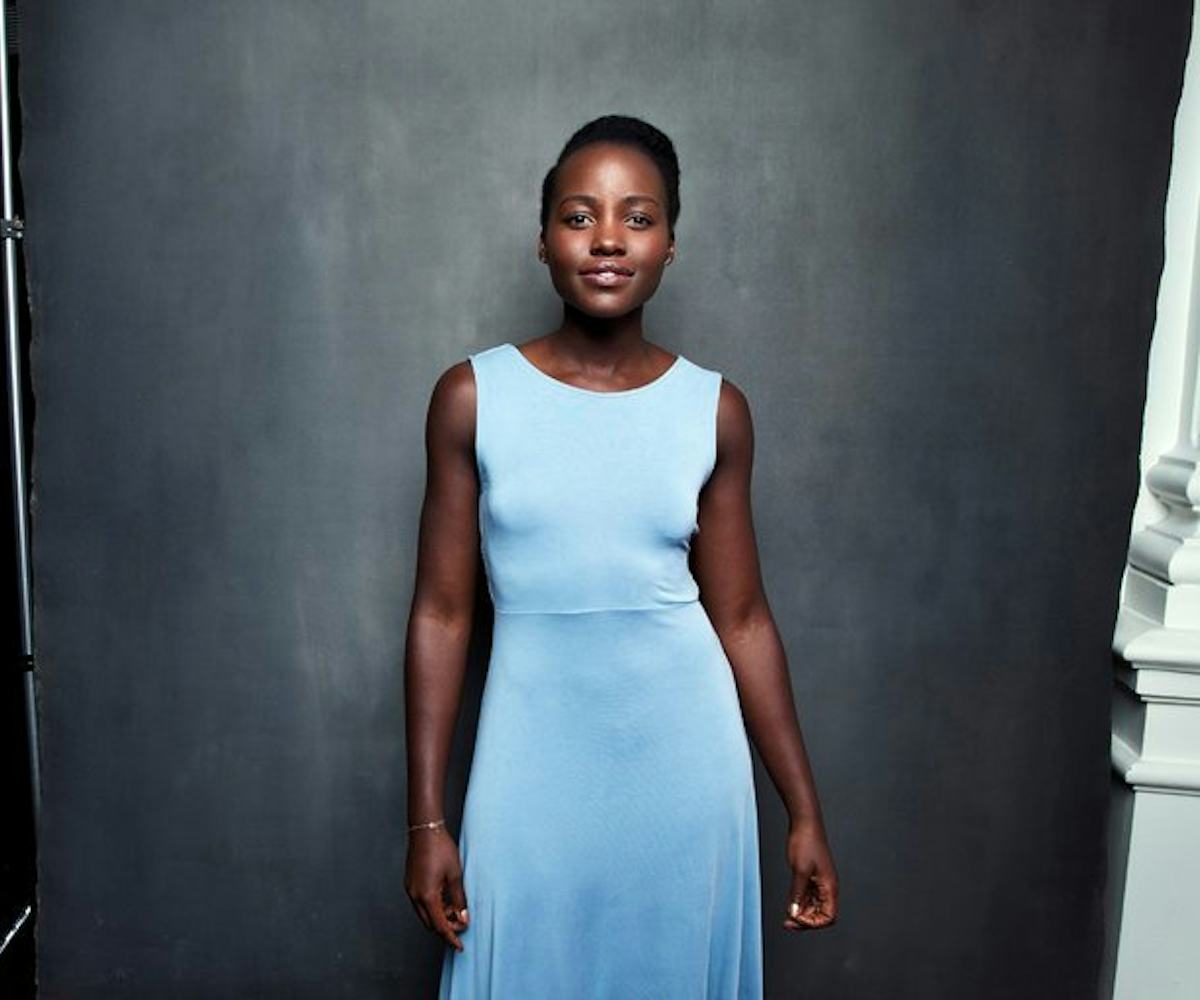 photo via newyorktimes.com
Lupita Nyong'o Reveals Her Horrifying Encounters With Harvey Weinstein
"I have not been able to avoid the memories resurfacing"
Over the course of the past two weeks, women in Hollywood have been coming forward with stories of sexual assault and rape at the hands of the disgraced producer Harvey Weinstein. And in a new op-ed for The New York Times, Lupita Nyong'o opened up about several (!) horrifying experiences she had with the producer while she was a student at the Yale School of Drama.
She writes that she met the producer in Berlin during an awards ceremony, where she was introduced to him by a mutual friend. They exchanged contact information and Weinstein invited her to a screening in his home in Westport, Connecticut, where he said they would be "watching it with his family." But before attending the screening, the two met for lunch, where he forced the waiter to bring her a vodka and diet soda instead of the juice she ordered for herself.
I declined and said I wanted the juice. We went back and forth until finally he turned to the waiter and said, "Get her what I tell you to get her. I'm the one paying the bill." I smiled and remained silent. The waiter left and returned with a vodka and diet soda for me. He placed it on the table beside my water. I drank the water. Harvey told me that I needed to drink the vodka and diet soda. I informed him that I would not.
She adds that this experience taught her that the director was "pushy and idiosyncratic more than anything." Unfortunately, his pushing didn't stop there.
She later attended the screening, during which she was given a brief tour of his home and even introduced to his children and domestic staff. Fifteen minutes into the film, Weinstein told her he'd like to "show her something." "I protested that I wanted to finish the film first, but he insisted I go with him, laying down the law as though I too was one of his children," she writes. "I did not want another back-and-forth in front of his kids, so I complied and left the room with him. I explained that I really wanted to see the film. He said we'd go back shortly." She continues:
Harvey led me into a bedroom—his bedroom—and announced that he wanted to give me a massage. I thought he was joking at first. He was not. For the first time since I met him, I felt unsafe. I panicked a little and thought quickly to offer to give him one instead: It would allow me to be in control physically, to know exactly where his hands were at all times.
She noted that even though the request was "bizarre," and made her feel "extremely uncomfortable," she tried to rationalize it, since giving body massages at Yale was part of her drama curriculum, to help actors understand the connection between mind, body, and emotion. She writes that she "began to massage his back to buy myself time to figure out how to extricate myself from this undesirable situation," and that "before long he said he wanted to take off his pants." She goes on to write:
I told him not to do that and informed him that it would make me extremely uncomfortable. He got up anyway to do so and I headed for the door, saying that I was not at all comfortable with that. "If we're not going to watch the film, I really should head back to school," I said. I opened the door and stood by the frame. He put his shirt on and again mentioned how stubborn I was. 
After the incident, Nyong'o sent the director an invite to one of her school productions, hoping that he would "really see what I had to offer, and he would see my colleagues, too." Weinstein ended up not being able to make the show but said he'd "make it up to her," and ended up inviting her to a staged reading of his then-new Broadway show, Finding Neverland. She debated whether or not to go, and when Weinstein gave her the green light to "come with whomever you want to come with," Nyong'o brought along two of her trusted male friends. But at dinner after the reading, Weinstein sat her at his table, away from her friends, with another actress. "He was charming and funny once more, and I felt confused about the discomfort I had previously experienced," she recounts. "I looked at the actress who I was informed had just worked with him on a project, searching her face for any sort of indication that she too had been made to feel uncomfortable by this powerful man, but of course I saw nothing."
A few months later, Weinstein invited Nyong'o to a screening of W.E. She writes that she accepted the invitation and went alone because she felt, "confident about the new sense of boundaries that we had established in our last meeting." After the screening, the two met at the Tribeca Grill, where Weinstein suggested they take their dinner to his room upstairs:
Before the starters arrived, he announced: "Let's cut to the chase. I have a private room upstairs where we can have the rest of our meal." I was stunned. I told him I preferred to eat in the restaurant. He told me not to be so naïve. If I wanted to be an actress, then I had to be willing to do this sort of thing. He said he had dated Famous Actress X and Y and look where that had gotten them. I was silent for a while before I mustered up the courage to politely decline his offer. "You have no idea what you are passing up," he said. "With all due respect, I would not be able to sleep at night if I did what you are asking, so I must pass," I replied. His whole demeanor changed at that point. "Then I guess we are two ships passing in the night." I had never heard that saying before, so I remember asking him what it meant. "It means just that," he said. "We are two ships going in two different directions."
"Yes, I guess we are."
"So we are done here," he said. "You can leave."
Nyong'o notes that her heart was "beating very fast" as he led her out of the restaurant and into a cab. Not wanting to "destroy my chances in the business even before I got there," Nyong'o asked Weinstein if they were good. "'I don't know about your career, but you'll be fine,'" he said. It felt like both a threat and a reassurance at the same time; of what," she wrote, "I couldn't be sure." Toward the end of her letter, Nyong'o cites that these incidents with Weinstein were the only ones she experienced in the industry:
Fortunately for me, I have not dealt with any such incidents in the business since. And I think it is because all the projects I have been a part of have had women in positions of power, along with men who are feminists in their own right who have not abused their power. What I am most interested in now is combating the shame we go through that keeps us isolated and allows for harm to continue to be done. I wish I had known that there were women in the business I could have talked to. I wish I had known that there were ears to hear me. That justice could be served. There is clearly power in numbers. I thank the women who have spoken up and given me the strength to revisit this unfortunate moment in my past.
You can read her op-ed in full here.