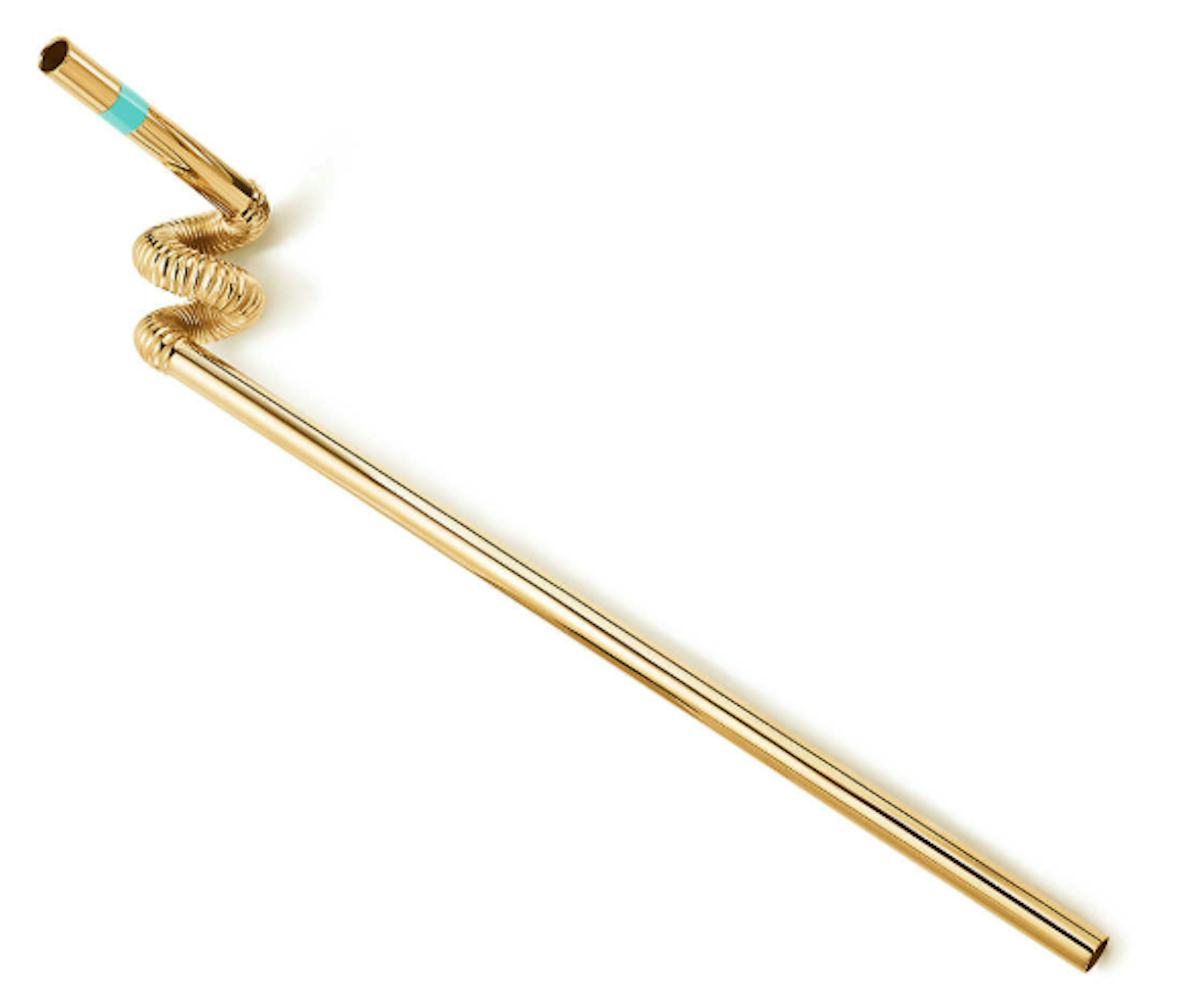 Photo courtesy of Tiffany & Co.
Plastic Straws Are Out, $1,000 Solid Gold Straws Are In
Luxury brands are jumping on the reusable straw trend
In the wake of the plastic straw defamation, companies like Starbucks, American Airlines, and Disney are taking measures to eliminate their use of plastic straws. Seattle, Washington, became the first U.S. city to ban them; California and Hawaii are exploring passing bills to ban the utensils as well. Now, it looks like luxury retailers are hopping on the reusable straw trend to offer "more sustainable options" for their lavish customers who don't want to sip straight from the cup.
Tiffany introduced its version of a reusable straw, which features a curlicue at the top, as well as a Tiffany blue band around the mouthpiece. It's offered in sterling silver and yellow and rose gold vermeil, and retails for $250 to $350 depending on your desired finish. Tiffany's chief sustainability officer, Anisa Kamadoli Costa, told Women's Wear Daily that, "As plastic waste continues to pose a serious threat to our oceans, we're proud to offer these enduring and finely crafted precious metal straws as an ocean-friendly alternative for sipping in style."
Accessories brand Miansai also hopped on the trend, offering a four-piece set of brass or copper "artisanal straws" that retails for $100. They've also released a premium version of pure sterling silver straws with colored enamel stripes, which go for $100 apiece or $325 for a set of four. The brand's founder and creative director, Michael Saiger, is also considering producing solid gold iterations, which would cost about $1,000 per set.
In the world of the rich, it's not cheap being eco-friendly.