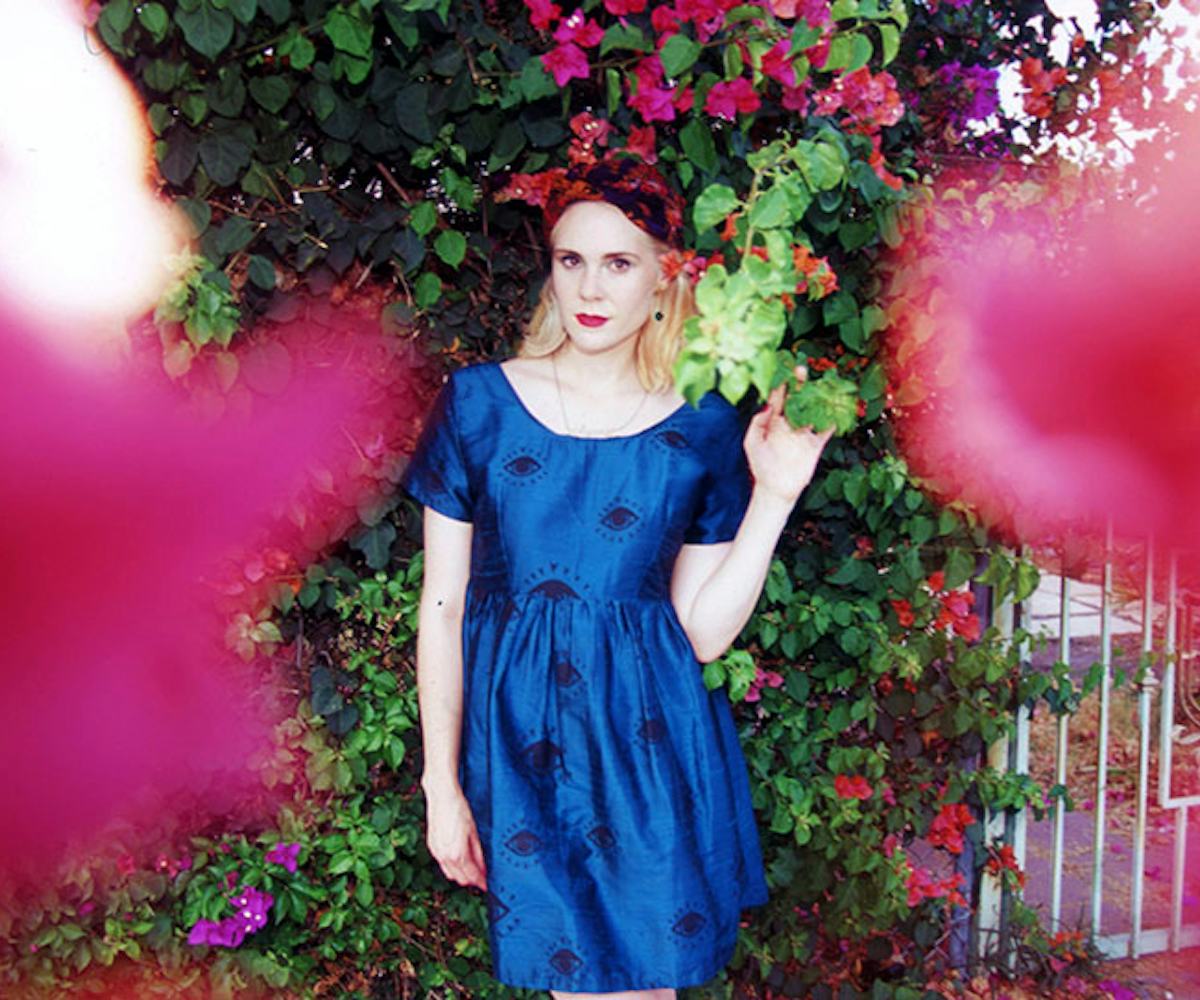 all photos by hana haley, clothes and styling by jemma swatek/lykke wulff
the girl gang you need to join
fronted by kate nash + regalia by lykke wullf.
There are exactly two music videos I watch before I go out for a night on the town with my BFFs. Both involve badass black ensembles, lipstick, and major girl power. I'm talking about "City Grrrl" by CSS and "Girl Gang" by Kate Nash.
We all know that the latter musician and Brit singer-songwriter has a girl gang all her own—weekly meetings in Nash's garage where her and her girl friends sit around and chat about everything, from dudes, to music, to the world—and it's totally legit.
But it's true that every girl gang needs her own regalia, and this time, the ultimate attire comes in the form of velvet overalls, fur coats, royal blue kimonos, and a must-have accessory…Corona. You can thank LA-based brand Lykke Wullf for that, seeing as its leader, Jemma Swatek, designs and produces collections fit for any member (including Kate Nash). I think that's why it makes total sense for the musician and fashion designer to have collaborated together on a dreamy, totally cool photoshoot, whose images act as inspiration for girl gang leaders everywhere.
I had the chance to chat with Swatek about what it was like working with Kate Nash, who makes up her own personal girl gang, and her favorite old-school starlets.
How did the idea for this photoshoot come about?
It was just kind of like, all of us got together and thought, "This might be fun!" We went with a bunch of stuff I had from different collections and just wanted to style it more casually and normal-girl-hanging-out-in-Highland-Park style. It was just a really fun project. I like to do that kind of thing a lot because I come out with so many collections.
How did you get Kate Nash to come on board for your shoot?
I had a trunk show at my friend's store and she [Kate Nash] came in and bought a bunch of stuff from my new collection, and I was like, "Oh, hey, you should post a picture on Instagram!" and then she did and I was like, "Oh, wait, that's Kate Nash." She's so cute. Then, I went to see my friends DJ one night and she was hanging out with them. It turned out we had mutual friends and we thought it would be cool to do a photoshoot together. Then I talked to my friend Hana [Hana Haley] who was like, "I love Kate Nash!" and Kate Nash was like, "I love Hana!" Then I was like, "OK this is perfect." It was really cute.
Had you worked with celebrities before?
I make custom stuff for musicians. I actually just made some overalls for the drummer of the Allah-Lahs. I just did some stuff for Kelsey Bulkin, too.
"I'm really inspired by my friends a lot. For some reason they're all major babes and I just want to dress them all up and take pictures of them."
What was your inspiration behind this shoot specifically?
For this one I was really just inspired by Kate Nash. She's so cute and girly, but also tough and down to earth. It was really just about her and the neighborhood and getting that kind of vibe of a normal girl hanging out in Highland Park. I know she's a celebrity, but I just wanted to dress her up in different looks. It was so hot that day, it was like 120 degrees. We were just drinking Coronas and hanging out. She's really great and really sweet. Hopefully I'm going to make her some stage outfits which would be really fun. I always have muses. I'm really inspired by my friends a lot. For some reason they're all major babes and I just want to dress them all up and take pictures of them.
How did your brand come about?
I've been sewing since I was in third grade. I used to make a lot of hats when Blossom was really big. Like velvet hats that flipped up with roses on them. But more recently I was at a fabric store in Berkeley and they had this Pendleton x Opening Ceremony fabric that I was obsessed with and I was like, "Oh my god I need all of this." So I decided to make myself some ponchos out if it and then that became my first collection. It was just me in my kitchen. I'm really inspired by vintage, I have an insane vintage collection. A lot of times I'll make my patterns inspired by vintage pieces I have. So that collection was like, this weird denim vest I had then I made it out of the Pendleton fabric. I don't really pay attention to trends or anything like that. I'm really in my own head and inspired by fabric or vintage stuff I have. I just make what I want in my closet.
Where do you get most of your fabric from?
I try to buy stuff that's made in the US. All of my stuff is made in LA. I do a lot of hand-dying of my own stuff with indigo dyes. I was doing a bunch of ikats with hand-woven fabric from South America. I just really try to know where my stuff is coming from or support smaller artisans. It's hard as a small designer because some places have like 10,000 yard minimums and I'm like, "Umm."
Where do you find most of your vintage pieces?
Kind of everywhere. I love Painted Bird, which is a store in San Francisco that I shopped at a lot. Here in LA I love Kime Buzzelli, she has a store called The End in Yucca Valley, then my friend Shana has a vintage thing called Trustfund21. A lot of my friends sell vintage, but I also go to flea markets.
Where do you get the name for your products?
Usually it's from musicians that I like. I'm inspired by old movies and groupie girls from those times. My whole idea is that I want to make things that are cool and that are maybe a little more expensive, but you can have them forever and they'll still be cool. Those people for me are never not going to be cool. I'm still looking at them from the '60s and '70s, and you're like, that's still rad.
"I just make what I want in my closet."
What are you favorite movies from back then?
My new fall/holiday collection was based on Performance with Mick Jagger and Anita Pallenberg. I just really liked the vibe and the mood. The style in the movie is just so amazing.
What's the story behind that NBB Girl Gang patch on your site?
NBB = No Basic Bitch. So basically me and my friend came up with that because our logo is a wolf, and wolves are bitches. That's kind of like my girl gang, all my friends wear the patches. My friends will come over and we'll hang out and I'll sew them on for them. I'm like, "Everyone needs to be in the girl gang!"
Go join the Lykke Wullf girl gang by shopping their awesome collections here.
PHOTOSHOOT CREDITS
Model: Kate Nash
Clothes: Lykke Wullf
Stylist: Jemma Swatek of Lykke Wullf
Photographer: Hana Haley
Makeup & Hair: Jennifer Alden
Location: Possession Vintage