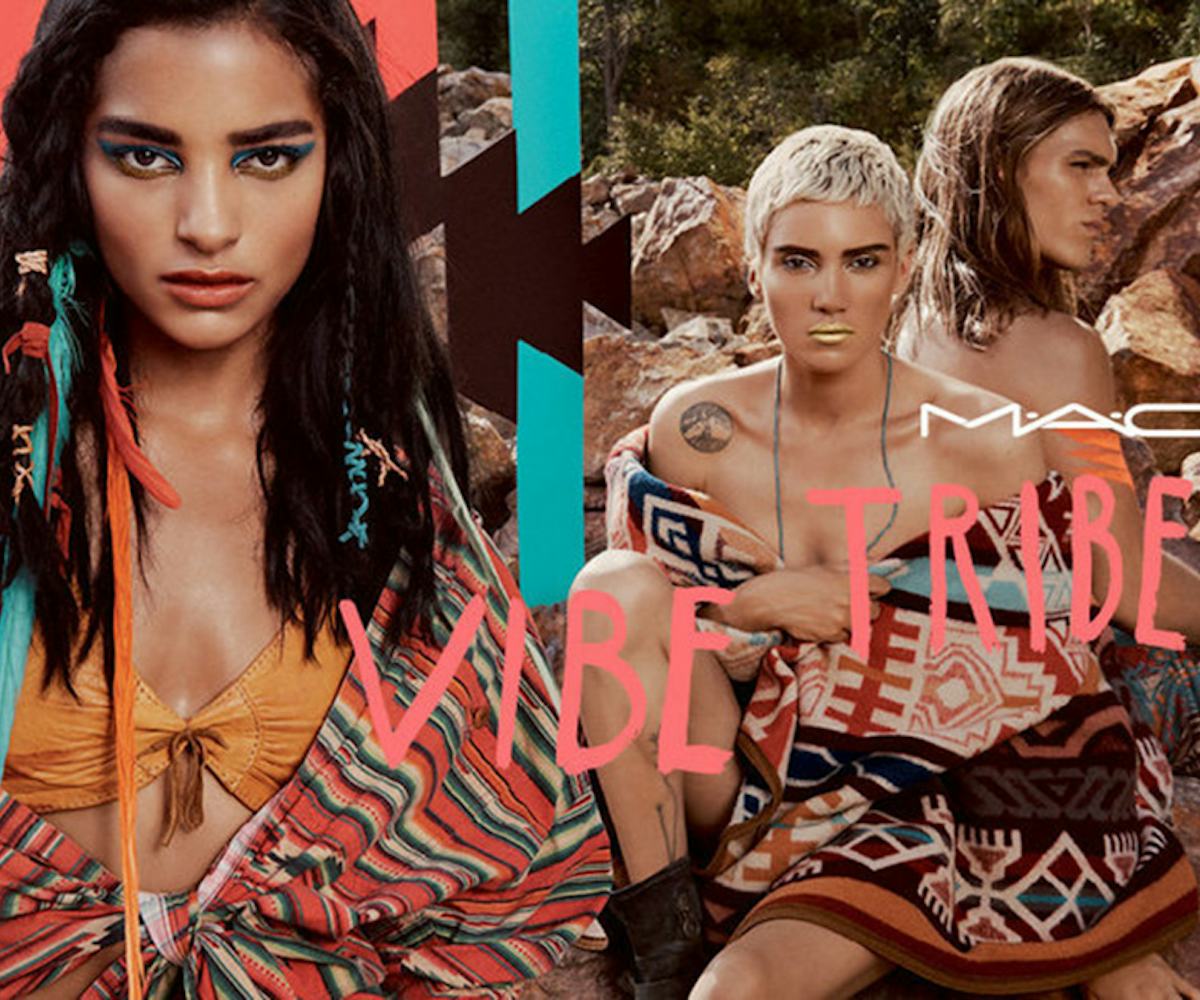 Image via MAC Cosmetics
MAC Claims Its 'Vibe Tribe' Collection Isn't Cultural Appropriation
This just isn't acceptable
The year is 2016 and yes, somehow, some way, Native American "tribal" is still considered a trend. At least, that's how MAC Cosmetics framed its "Vibe Tribe" collection, which was met with shock and complaints by the Internet. However, MAC stood firmly in its statement to the Huffington Post saying that the new release "has absolutely no connection to nor was it inspired by the Native American cultures," but instead was "inspired by art, outdoor music festivals and the colours of the desert."
It's hard to believe the company could be this naive when the very patterns used on the product packaging appear to be Chinle and Ganado designs—traditional Navajo weaving patterns—rooted in generations of history.
The word "tribe" is also closely linked to Native American culture, making the collection seem iffy even by first glance, never mind when MAC's refute is taken into equation. Additionally, the names of some of the products themselves also raise eyebrows—naming a lipstick shade "Arrowhead," for instance, is cringeworthy at best, especially when you deny there being any link.
So, the collection uses traditional Navajo designs and "tribal" marketing—but it claims to be inspired by music festivals, which have long been breeding grounds for cultural appropriation. How many times have Coachella-goers been chastised for wearing war bonnets? How many times have shops curated festival style sections filled with "tribal" print galore? By claiming that the collection is soley festival-oriented and not derived from Native American history, the company completely disregards the sad truth that stereotypical festival fashion is usually pretty problematic, and tosses an entire culture to the wayside—so maybe a "festival"-inspired collection is not the best thing to create, at least when the inspiration you're actually using is clearly Native American.
The circular nature of this appropriation shows a lack of understanding on MAC's part, especially when their attitude towards it being pointed out is to remain steadfast in their disconnect. One reddit user named beanieandpeach explained their issue with the collection:
"I'm really grossed out by the fact that they'll be benefiting from Native designs and 'vibes,' and I don't imagine any of the proceeds will be going to any of the First Nations, and I'd be surprised if there were any Native models in their ad campaigns... My personal history is tribal, and it's not just a cute design for me, it's my fucking culture. And my culture is dying, my people are dying, and it's because of a history of mass genocide and forced sterilization and plagues and poverty and broken treaties—and it actually hurts to imagine that someday, the word 'tribe' might live on on the faceplate of some MAC cosmetic, long after the last native speaker of the Nimiípuu is gone."