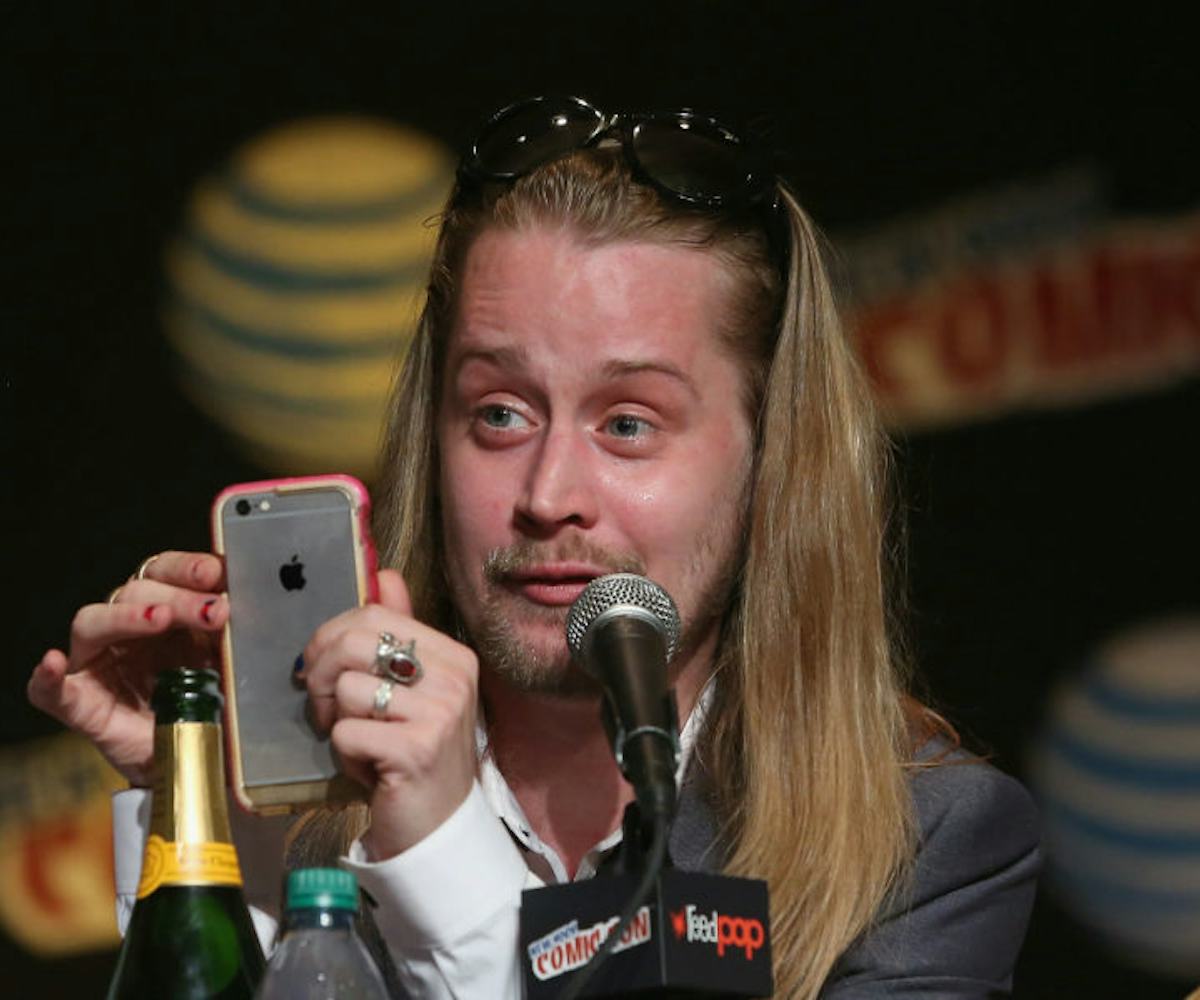 Photo by Cindy Ord/Getty Images For Turner.
Macaulay Culkin Gets Candid In Rare New Interview
He talks Michael Jackson, living in Paris, and his relationship with his abusive father
Every year around December, Macaulay Culkin re-enters the pop culture lexicon, when the Home Alone films play in millions of homes around the world, and then disappears just as quickly as he arrives.
That's how Culkin likes it, though. He's pretty much evaded the limelight and has stayed hidden for the past 20 years. Outside of an occasional paparazzi shot, he's managed to escape the soul-sucking world of Hollywood and, as we've outlined before, is living his best life. Now, the 37-year-old is sharing what his world looks like in a candid interview with Marc Maron for his WTF Podcast.
They cover a lot of territory—including being "retired" from acting, living in both New York City and Paris, Michael Jackson, and his toxic relationship with his father. Read on for some highlights. You can also listen to his new podcast Bunny Ears if you want to keep up with the star.
On living in Paris for the past four years: "I was going [to Paris] for a little while and it was one of those things… I thought nobody recognized me but what it was was, 'no, we recognize you, we just don't care.' I was like, 'Where have you been my whole life?'" he said. "I get all of the benefits and a lot less of the negatives." On the actual city, he says: "The food sucks, the wine's terrible, and the women are ugly but, otherwise, I live well out there." He also reveals that he's been doing some abstract painting, writing, and experimenting with charcoal and still life. "I'm a 30-something retired person walking around with a baguette under my arm," he says. "I'm living a good life."
On Michael Jackson: He mentions they met when he was eight when he was doing the "Nutcracker" at Lincoln Center. He came backstage after the show with Donald Trump. "We were friends. We were actually best friends for a stretch of time while I was growing up. It was a legitimate friendship," Culkin recalls. "He enjoyed my youthfulness. He liked being a kid with me. He liked being around kids, and it never struck me as odd." He also notes that he's close to Jackson's daughter, Paris. "I'm very protective of her," he says. "She is beloved by me."
On his toxic relationship with his estranged father: "He was a bad man. He was abusive. Physically and mentally," he says. "After I did Richie Rich in '93 or '94, my father and mother called it quits, which is one of the best things to ever happen to me. I was able to walk away from the business. I was able to say, 'I hope you made all your money, because there's no more coming from me.'" 
On the end of Pizza Underground, his pizza-themed Velvet Underground cover band: "I was a little tired of it, to be completely honest. I'm very casual about everything I pursue."