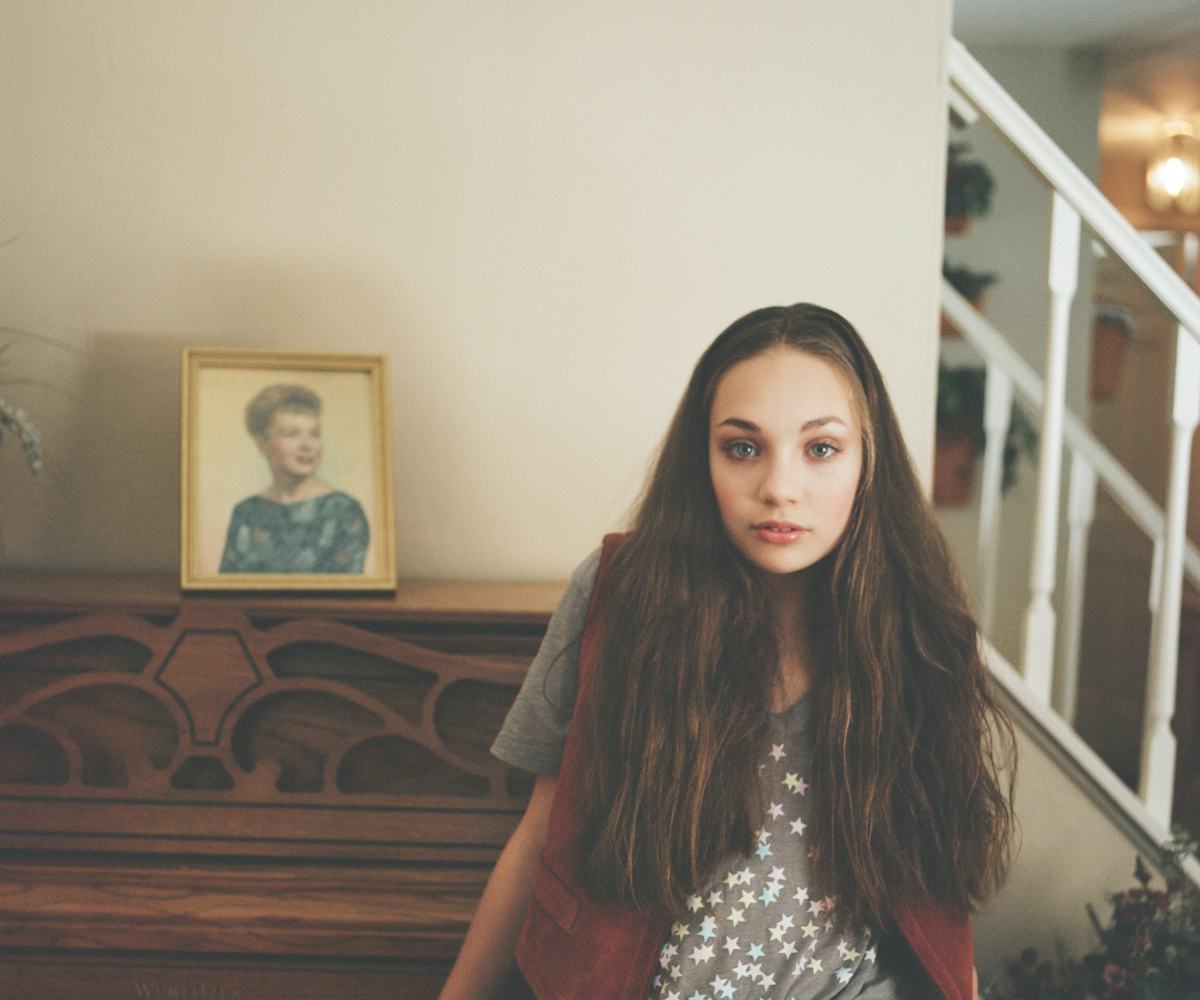 photo by beth garrabrant
Dancing Queen Maddie Ziegler's Next Big Role
the 12-year-old has big aspirations
Driving through Murrysville, Pennsylvania, a charming town on the outskirts of Pittsburgh, is a lot like driving through most towns bordering major metropolises—mom-and-pop restaurants, churches, and tree-lined streets dotted by brick homes as far as the eye can see. 
In other words: super normal. In fact, the only thing that distinguishes today's red-brick destination from the nearly identical homes on either side of it is the black SUV with tinted windows parked outside, manned by a security guard 24/7. Why, you ask? Well, because inside lives Madison "Maddie" Ziegler, quite possibly the most famous 12-year-old in the history of America's competitive dance circuit. 
Click through the gallery to read the entire story and see exclusive outtakes.
"I started dancing when I was two or three years old, and I just did it as a fun activity," says Ziegler, sitting crisscross-applesauce on her bed, a calm island of fluffy pink pillows in a room teeming with first-place trophies, medals, crowns, and banners. "After my first recital, I came offstage crying. I don't remember this because I was so young, but my mom told me I was sad because I wanted to go back onstage." 
By now, even if you aren't one of the nearly two million viewers who tuned in this past January to watch the season five premiere of Dance Moms, the Lifetime reality series that follows the day-to-day lives of Ziegler and her fellow Abby Lee Dance Company Junior Elite Competition Team members, you've at least seen her dancing in the now-ubiquitous videos for Sia's "Chandelier" and "Elastic Heart," which, combined, boast nearly a billion views on YouTube. Ziegler performed her dance for the former onstage at the Grammys this past February alongside Kristen Wiig, while Sia, who takes pains to keep her visage hidden, sang with her face to a wall. Ziegler became close with Sia during the making of the videos. "I love hanging out with her because she's super funny and is always having a laugh with everyone," says Ziegler. "When I'm with her, I have no worries in the world." The singer also offered the young dancer some advice: "She said that when she was younger, she was a songwriter and getting burnt out because she kept going and going. So she always tells me to make sure I'm having fun, because she doesn't want me to keep working and working and then start hating what I do."
But back to Dance Moms. Ziegler says that in the beginning, the show was just a docu-series with about six episodes. "We didn't even know if they would pick that up," she says. Four years later, the show is going strong, fueled by a near-manic fan base. But Ziegler maintains that she still has a "real life": "My friends and I on the show, we don't consider ourselves to be famous. We act like normal kids, but sometimes it's hard for us if we go out for ice cream, or go shopping at the mall, because a big group of people will stop us and ask for photos. We just want to live normal lives, but that's hard to do sometimes." 
Serving as main protector of this sense of normalcy is Ziegler's mom, Melissa, one of the "dance moms" for whom the show is named. Her mother's decision to keep the family in Murrysville helps Ziegler stay "grounded," the young dancer says: "Everyone's like, 'Oh, you must live in L.A., the glamorous life,' and I really don't. I'm in a small house, in Pittsburgh, in the snow." A ball of welcoming energy, the matriarch carries the family's dog, Maliboo, while giving a tour of the home, which features an upright piano, tan carpeted stairs, and, like the house's exterior, nothing out of the ordinary that might signify its occupants' massive fame. (Sadly, Ziegler's younger sister, Mackenzie, also a member of Team Junior Elite, is absent the day of our interview.) 
Sitting opposite Ziegler on her bed and staring into her big, blue eyes, sans caked-on stage makeup or blonde wig and beige leotard, all that's visible is a very confident, beautiful young girl. It's not surprising to hear she's called an "old soul" often—"that's what everyone says, it's so weird!"—because only occasionally does her age become apparent. While sifting through a pile of clothes NYLON pulled for her photo shoot, a vintage Britney Spears tee prompts Ziegler to ask, "What does this mean? 'Oops, I did it again?' Is it a song or something?" 
While she might not be familiar with Spears's discography (granted, she was two when "Oops" hit the charts), Ziegler is well on her way to making a similar transition from child star to stratospheric celebrity. "I want to be an actress, so I've been auditioning lately," she says. "I'd love to be on scripted TV shows and movies, but not just one—I want to be in a lot of them! I'd also love to sing, and possibly be on Broadway. I want to do it all." Right now she's obsessed with TV dramas like Pretty Little Liars and film series like The Hunger Games. "I can't watch scary movies, but I'd love to act in one of them!" she says. "I want to audition for roles that are super creepy and eerie." 
But when she's not busy plotting her Hollywood takeover, Ziegler likes to watch makeup videos on YouTube. "I love Michelle Phan!" she says, upon which our conversation devolves into a mild freak-out over our mutual favorite beauty brands—Urban Decay, M.A.C, Napoleon Perdis, etc. As we wrap up the interview, I offer to touch up Ziegler's lip gloss before heading downstairs for the shoot. Meanwhile, her mom is yelling up to us from the kitchen: "Maddie! You just got certified on Instagram! You know, that little blue check thing!" Ziegler doesn't flinch. "I don't really care about that stuff," she says softly, smacking her lips to distribute the gloss. And she doesn't really have to. Blue check or no blue check, Maddie Ziegler is a certified star.