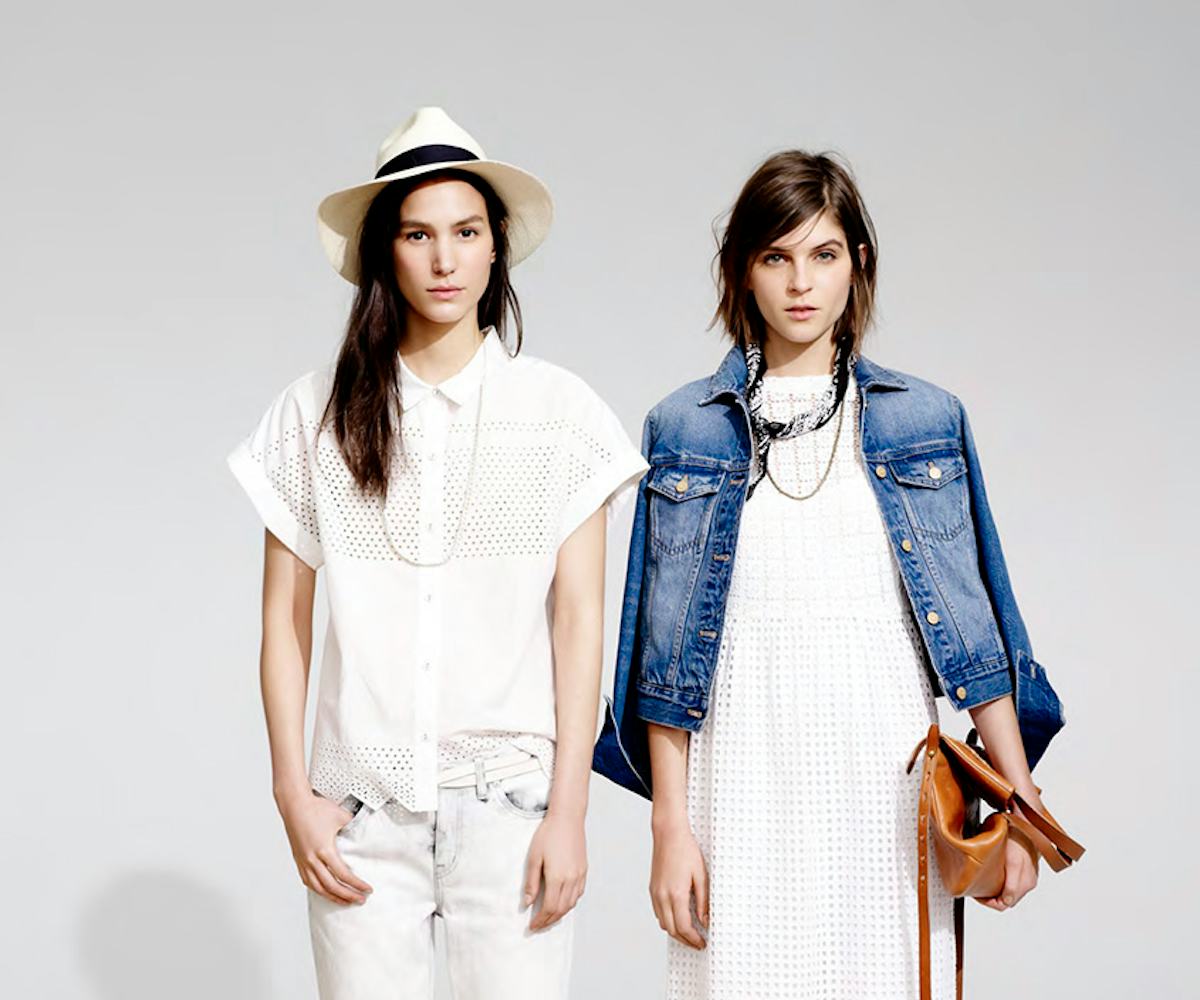 photos courtesy of madewell
madewell styling 101
how to create the perfect 15 spring outfits.
by liza darwin and steff yotka
The Madewell spring '14 lookbook is here! And like always, it's predictably awesome. One word of advice? After seeing the overalls and printed T-shirts coming your way very soon, you should probably prepare your credit card--because you're going to want it all. 
We love the clothes, but until the items hit shelves, we're going to adopt the genius styling tips we learned after days obsessing over the brand's cool new twists on denim-on-denim, pajama dressing, and breezy sundresses. What tips, you ask? Check out the gallery to see for yourself!
STYLING LESSON: Wearing a blazer over overalls isn't crazy. All you need to make it work are low-heeled sandals, a chic center part, and un-brushed hair.
STYLING LESSON: Do all-white everything without worrying about matching the shade perfectly.
STYLING LESSON: Forget everything you know about capri pants--cropped beige trousers are your friend. Seriously.
STYLING LESSON: Madewell Life Lesson #563: Always hold your bag from the bottom, never lace your Oxfords, and throw your denim jacket over your shoulders like you're Jenna Lyons. 
STYLING LESSON: The "laundry day" look is in, as long as your layers are light and you have the coolest bag ever as an accent.
STYLING LESSON: You can do the menswear look to the extreme, just add some heels.
STYLING LESSON: Leather vests are surprisingly versatile. In addiction from channeling Daisy Lowe you can also pair it with menswear inspired staples.
STYLING LESSON: When in doubt, add a baseball cap and wear your jacket as a cape.
STYLING LESSON: Awkward can be good sometimes. See: Just-below-the-knee skirts and satchels worn at the hip.
STYLING LESSON: Slept in? Throw on your coolest mismatched pajamas, do the half tuck, and add skate shoes--because if you're late, you're gonna have to run to the subway.
STYLING LESSON: Meet the Canadian tuxedo's cooler younger cousin. Comprised of stuff you already have in your closet (like a chambray T-shirt and dark wash jeans), it's made more awesome, thanks to a half tucked necklace and a striped sweatshirt around the waist.
STYLING LESSON: All you need to make a nude dress cool is even cooler accessories, and a leather jacket for contrast.
STYLING LESSON: A slim quilted bomber jacket and pale blouse just might be the loophole into incorporating your denim shorts into your work wardrobe.
STYLING LESSON: Not all paisley prints are made equal, but that doesn't mean you can't mix and match them.
STYLING LESSON: A printed tank, flannel tied like Angela Chase, and railroad jeans make for the coolest outfit ever. Meet your new uniform.