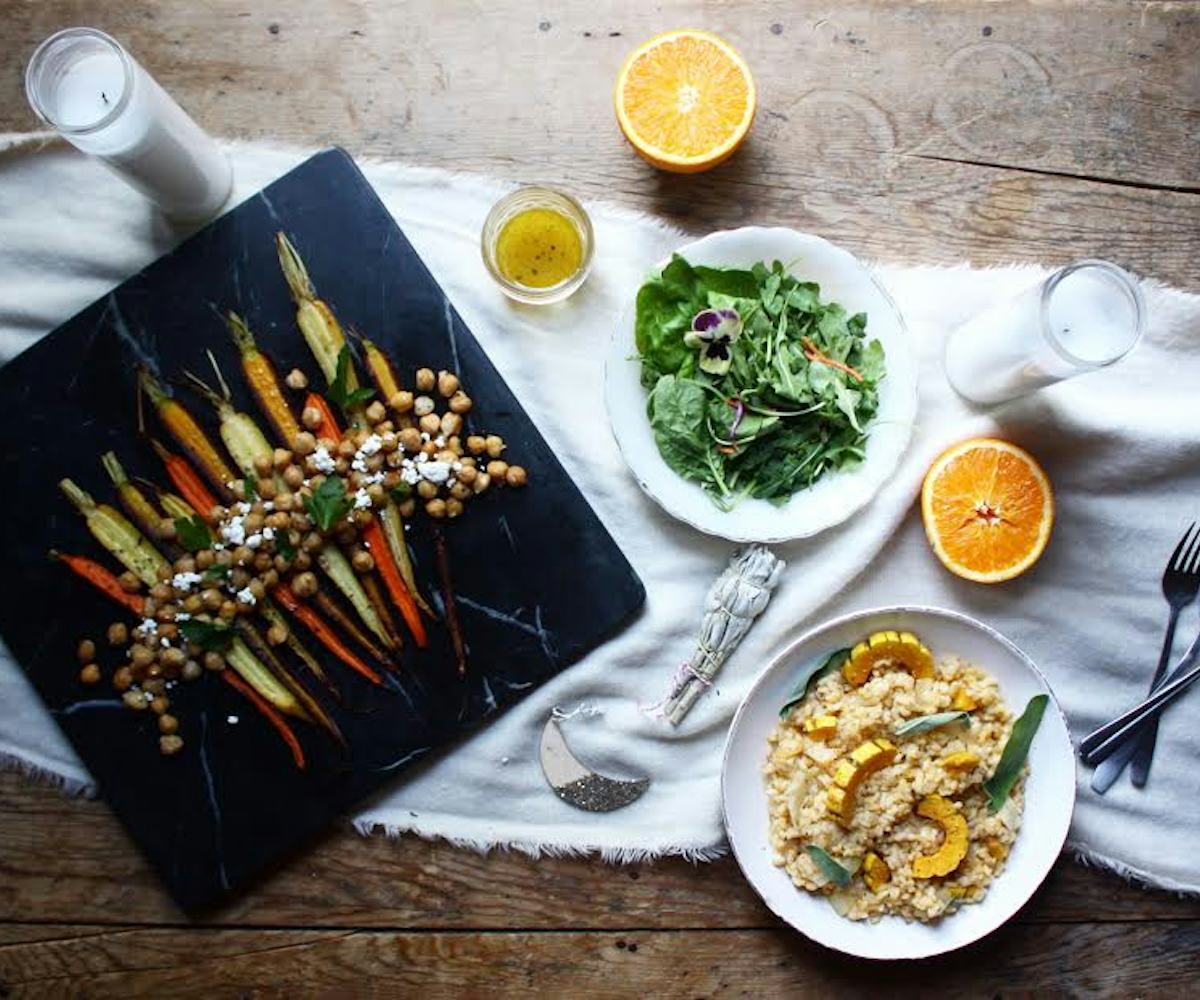 Photo by Brittany Bennett
How To Make Dinner More Magickal
Tonight is going to be wicked
Ever notice that food "made with love" tastes better? That's because the secret ingredient is magic. And lucky for you, you don't have to go to Hogwarts to find it. Magic can be found at the local market.
Pots and pans make perfectly good cauldrons, and your whisk can be considered a wand. Trade your chef's hat in for a witch's hat and cast a spell (the good kind that Glinda would be proud of) in the comfort of your own kitchen.
While love, prosperity, and protection are not ingredients typically sold at Trader Joe's, their energy and symbolism are represented in the food that does come with a price tag. Charms can be conjured using unassuming pantry staples. So whether you gather your ingredients from a superstore or your rooftop garden, cook with intent. Ask yourself what you'd like to bring into your life. If you're in need of a cleanse, peeling potato skins can be more like discarding negativity than just the menial task your mom always asks you to do on Thanksgiving morning.
Before getting into brewing, create the ritual which all cooking is rooted in. Set the scene—one that doesn't involve taking the Halloween decorations out of storage. Light a candle, take a deep breath, turn on Nina Simone, shimmy and twirl from fridge to oven, and make your kitchen space a haven that invites positivity.
Chew on love and invite positivity, prosperity, the moon, and universe to the dinner table. Discover the magic in you—literally, in your digestive system—tonight.
Roasted Carrots and Roasted Chickpeas with Feta
Taste the sweetness of carrots when you need a spike in passion and fertility. The olive oil you toss the carrots in brings about luck. This dish is essentially a baby maker.
Ingredients:
1 bundle of carrots
1 1/2 tbsp olive oil
1 tbsp dried thyme
salt and pepper to taste
For the Roasted Chickpeas
1 can of chickpeas, drained and rinsed
1 tbsp olive oil
salt and pepper to taste
For garnish:
Feta cheese
Directions
Pre-heat oven to 400 degrees F.
Wash carrots of their dirt using a vegetable scrubber or the sheer force of your own hands. For tough spots, like around the stem, use a pairing knife to dig out dirt. Slice washed carrots down the middle, leaving about an inch of the stem at the top.
Spread carrots out on a sheet pan or baking sheet and toss in olive oil, dried thyme, and a pinch of salt and pepper. Set aside.
Dry the drained chickpeas between two dish towels. Once they're dry, spread out on a separate sheet pan. Toss in olive oil, salt, and pepper.
Bake the carrots for 25 to 30 minutes, or until fork tender.
Bake the chickpeas for 20 minutes, rotating the pan at the ten minutes. 
Serve together with a helping of feta cheese.
Orange-Ginger Dressing
Orange is considered the sun's fruit. Its light, citrus scent induces happiness; its uplifting properties will elevate not only your salad but also your spirits. Ginger spices up this dressing, as well as your love life. Munch on this salad for happy Bumble swiping.
Ingredients:
1 tbsp apple cider vinegar
2 tbsp olive oil
¼ tsp fresh ginger, peeled and grated
¼ tsp orange zest
½ tsp honey
1 tbsp orange juice
salt and pepper to taste
Directions
In a small bowl, combine apple cider vinegar, olive oil, ginger, orange zest, honey, orange juice, salt, and pepper. Whisk and serve over a bed of greens.
Delicata Squash and Sage Risotto
Rice is a grain that can be found in plenty. Therefore, cooking with rice carries a weight of abundance. Add fresh sage to represent the green of cash money to enhance its flow to your bank account. Sage can also be used for protection. Squash also represents prosperity. If you're looking to get an advance on that direct deposit or are starting a business, dig a fork into this risotto.
Ingredients:
6-7 cups vegetable stock
9 sage leaves, divided
1 tbsp oil
1 small delicata squash, cubed
2 tbsp butter
1 medium onion, diced
1 fennel bulb, chopped
2 cups Arborio rice
1 cup dry white wine
1 cup freshly grated parmesan
salt and pepper to taste
Directions:
Simmer vegetable stock over low heat. You'll want the stock to be heated when mixing into the rice.
Coarsely chop three sage leaves. Heat oil in a cast iron skillet or pan. Add the squash and chopped sage leaves and season with a sprinkling of salt and pepper. Cook over medium heat until the squash is cooked through, about seven minutes.
In a saucepan—using a Dutch oven here would be ideal—heat the butter over medium heat. Add diced onion and fennel. Cook until translucent, about three to five minutes, stirring occasionally.
Add the rice, stirring constantly, until the rice lightens, about two minutes. Turn heat to high and add the white wine. Stir until the wine is absorbed and then lower heat to medium-low.
Add the vegetable broth one cup at a time, allowing the rice to absorb each cup of liquid before adding another. Keep the rice simmering, stirring occasionally. Once all the broth has been absorbed, mix in the cooked delicata squash and sage. Season with salt and pepper and cook for one more minute. Add the freshly grated parmesan until combined and you almost get mac and cheese vibes.
Serve with parmesan and a sprinkle of salt and black pepper.