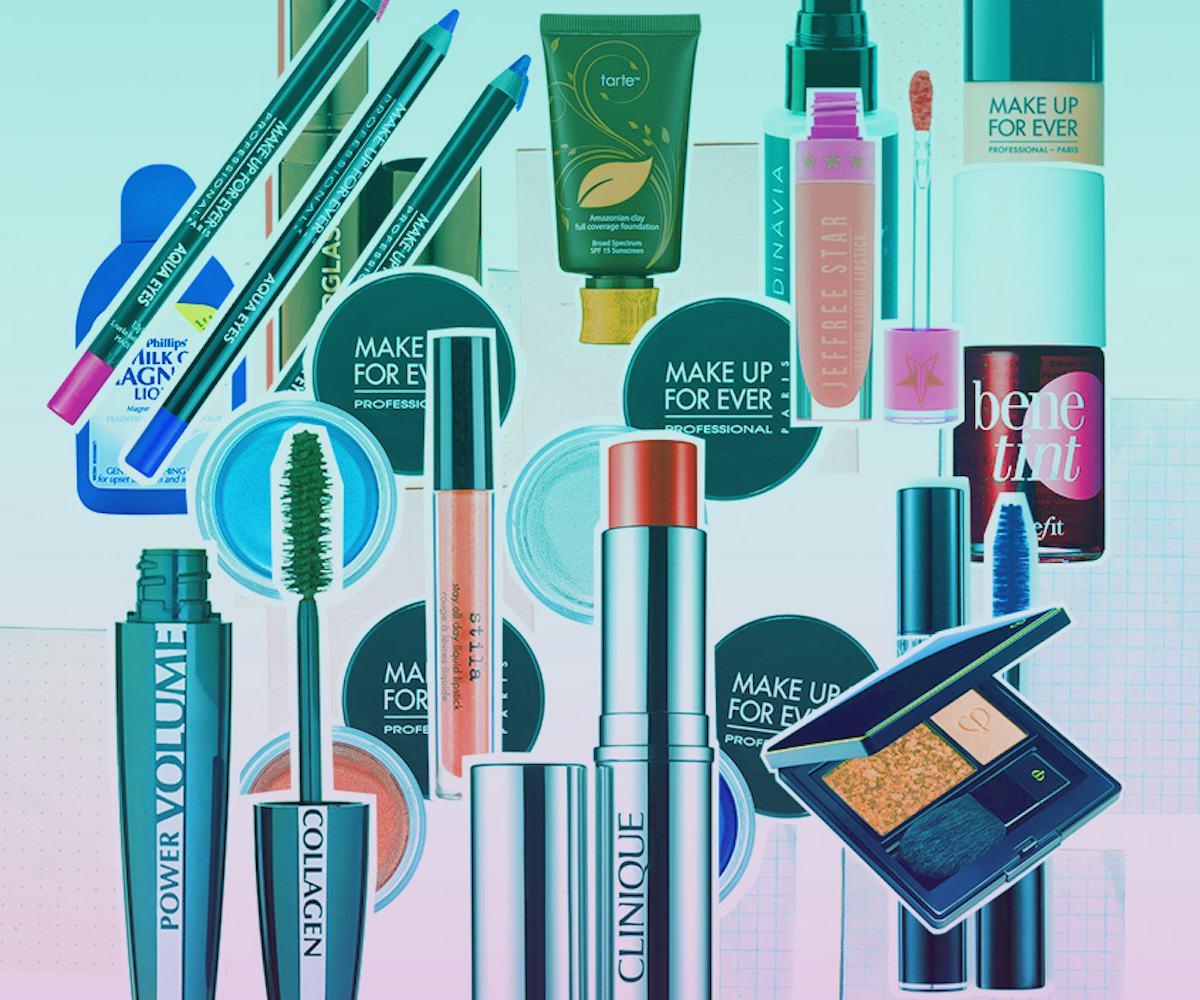 makeup that can withstand the heat
When the sky starts darting sunbeam lasers and summer festivals steer us toward oceans of body heat, makeup tips begin to lean toward the "stay bare and natural" variety. But you can still go full-coverage, all out and seriously glam on a scorching day. As celebrity makeup artist Stella Kae, who's worked with Alyssa Milano and Patricia Arquette, gloriously declares, "Hell, wear heavy makeup all the time or never wear makeup at all; I promise you're beautiful either way. Don't let media or the weather restrict the way you choose to express yourself!"
With that said, click through the gallery to see three celebrity makeup artists' tips to meltproof your makeup—so you can channel your inner Rita Ora in blistering heat.
Plan in advance
Makeup artist Jane Cohen, who's worked with Sophia Bush, tells us to prepare ourselves for periodic check-ins. "Keep a few Q-tips handy to do spot touch-ups under the eyes. I would also suggest carrying a good translucent powder in your purse to lightly dust over the face after using the blotting paper." Just remember to blot the powder lest you rub away your precious artwork.
Foundation
To avoid a facial meltdown, a primer, the right foundation, and setting powder are key. Stella Kae says, "I have a friend who actually uses milk of magnesia as a primer. Said friend did my wedding makeup with it, and it for sure stayed put until late the next day when I was finally able to pull my hungover corpse upright." Did we just tell you to use constipation meds on your face? Well, it works!
Celeb makeup artist Melissa Hibbert, who's glammed up Vanessa Williams, adds, "Use a finishing/setting spray after you've applied your makeup. Use Skindinavia finish spray; it holds your makeup in place for up to 16 hours." For stay-put foundation, our makeup pros suggest Tarte Amazonian Clay 12-Hour Full Coverage Foundation or Makeup Forever Mat Velvet Foundation.
Concealer
A mid-day reemergence of a zit after meticulous concealing—this scenario is more than likely when you're shrouded in heat and humidity. Prevent concealer evaporation by applying it after foundation, dabbing it on instead of gliding, then setting it with a powder. Oh, and a great concealer helps too. Jane Cohen recommends the Hourglass Hidden Corrective Concealer. "It really stays put with some great shades for a variety of skin tones."
Blush
Blush is a mainstay for glam makeup, but a neon tangerine or hot pink makes streaking and fading that much more noticeable. Try Stella Kae's secret "blush cocktail" recipe: "After foundation but before powder, I apply a cream blush to the apple of the cheek using my fingers or a foundation brush. Then, I set everything with a finely milled translucent powder and dust a beautifully pigmented powder blush on top of everything." Melissa Hibbert also swears by cream blush, but if you're on a budget, she recommends using a creamy, full-coverage lipstick as an alternative. "Just be sure to blend it well by rubbing on the tip of your index finger before applying to cheeks." Try the Clé de Peau Powder Blush or Clinique Blushwear Cream Stick.
Eyeliner
Eyeliner might be the most difficult to meltproof, but it's also one of the most creative ways to get versatile. Jane Cohen says, "With the strong eyeliner trends this summer, including the cat eye, and soft, metallic smoky eye, there are some really great waterproof products out there, like Makeup Forever Aqua Eyes waterproof eyeliner." To minimize any mishaps, Stella Kae recommends you "stick to gel liner and set it with the same color of powder eyeshadow."
Eyeshadow
Like your face, priming your lids is the best way to ensure longevity, and it also gets you the rich color you see in the packaging. "Eyeshadow primer is key to keeping eyeshadow crease-free and fresh-looking all day," Jane Cohen tells us. And if you're planning to engage in activities that might get you mildly or sopping wet, Stella Kae says "there are cream eyeshadows you can use that will even stay on in the pool, like the Make Up For Ever Aqua Cream."
Mascara
Use waterproof (obvs). Melissa Hibbert says: "Make a statement with a cobalt blue Mascara by Diorshow—this blue Dior volumizing mascara brightens eyes while thickening, lengthening, and curling lashes." Jane Cohen tells us, "A great waterproof mascara that's also a great drugstore buy is: L'Oreal Voluminous Power Volume 24 Hour Mascara. It stands up to swimming and can definitely withstand hot, humid weather for 24 hours or more!"
Lips
With all the eating, imbibing, and maybe making out with mysterious strangers, your lips are the most to likely to stray from your intended look. Stella Kae says, "Three words: liquid cream lipstick. This should be number one in your waterproof-makeup arsenal. Just don't eat anything oily or it will crumble." Try Stila Liquid Lips or Jeffree Star Velour Liquid. If you'd rather go light, Melissa Hibbert advises, "Smudge-proof your lips for summer glam with lip stains. I recommend the Benetint Cheek & Lip Stain."