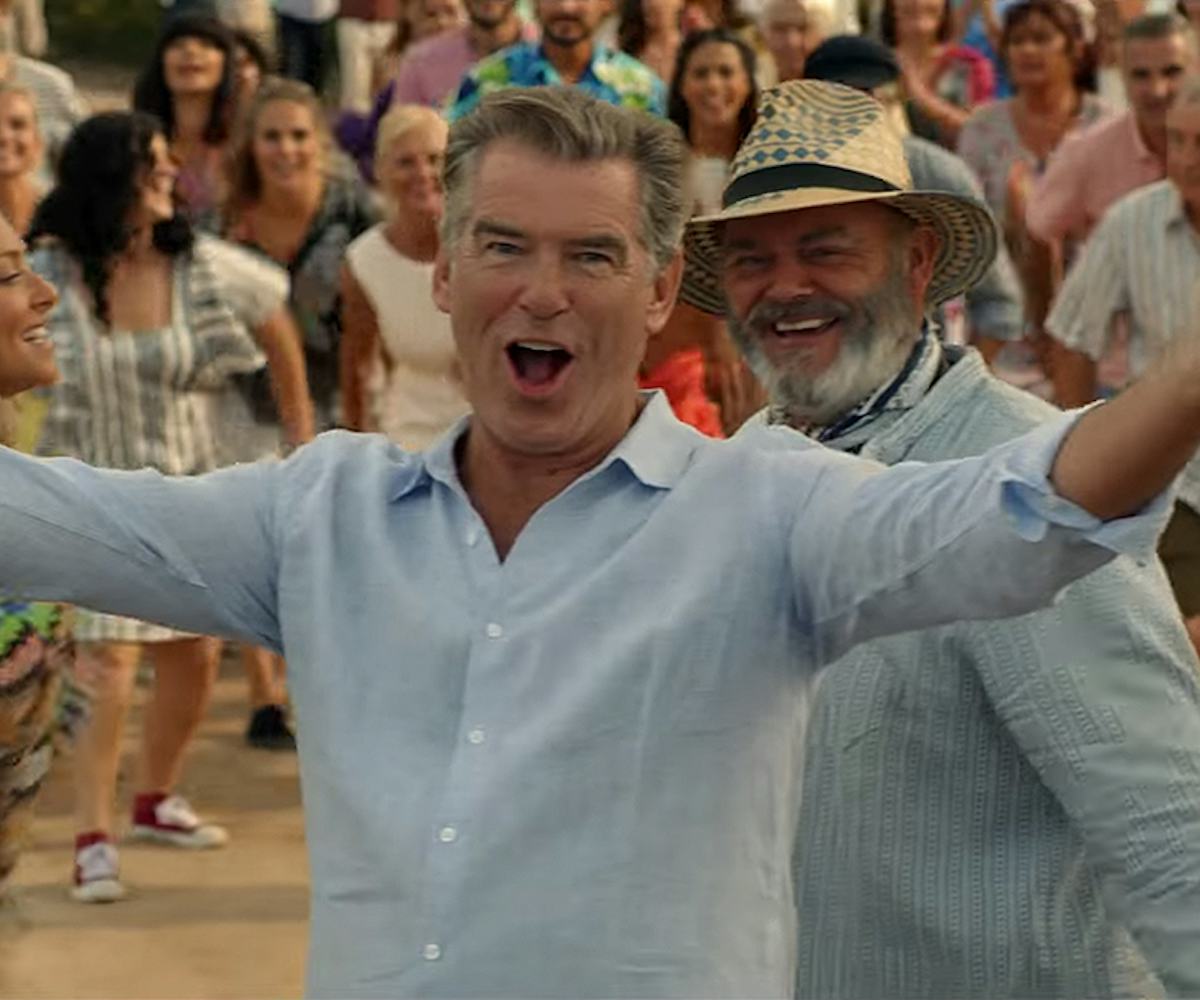 Screenshot from Mamma Mia! 2 Trailer/Youtube
'Mamma Mia 2' Is Emotional And Fun, But Missing One Important Thing
Hint: It has to do with Pierce Brosnan
Despite a collective reputation as fussy spoilsports, film critics rarely engage in open derision at movie screenings and, indeed, when I saw the ABBA-scored musical Mamma Mia! at a press screening a decade ago, most of the attendees were delighted by the movie's enthusiastic, Cheeto-level cheesiness. But when Pierce Brosnan boldly stepped forth to duet with Meryl Streep, large portions of the audience erupted into laughter. Brosnan, as it turns out, is not a very good singer. He is also, as it happens, the best part of Mamma Mia!, a terrible but beloved movie which has, a decade later, a sequel opening this weekend.
Brosnan's moment of triumph comes around the 65-minute mark of the original film. His character, Sam, is lamenting his lost relationship with Donna (Streep), the woman whose daughter's mystery dad drives the movie's plot-jalopy. Sam and Donna express themselves by trading verses on ABBA's song "S.O.S." The key lyric—"When you're gone/ How can I even try to go on"—has become nearly as much of a Brosnan signature as "shaken, not stirred."
Brosnan sings his first "When you're gone" while he looms in a doorway, watching his beloved fret; he sounds troubled, as if he's coming to terms with his emotions as they escape via his vocal cords. When he reprises the lyric, with he and Streep positioned on opposite sides of a corner wall and his "when you're gone" backing hers up, his intensity increases, emitting from his mouth as a passionate and also somewhat strangled cry, pushing the boundaries of his clearly limited range. He looks physically pained. But if Streep is in, he's in. He finishes the number.
And then it's over, in just a few glorious minutes. It's not just that Brosnan's pained utterances feel spontaneous, as if no one actually bothered to have him practice singing before it was time to record his number. This is true, but all of Mamma Mia! feels spontaneous, in the sense that very little of it looks properly choreographed or blocked. Yet, the movie also somehow feels incredibly synthetic, an infinite supply of processed cheese. In a movie where so many performers, especially the veterans, seem boundlessly confident that what they're doing represents the height of mirth, all while acting out a screenplay that gins up conflict from basically nothing, Brosnan, pushing himself past his obvious hesitation, is the only authentically expressed human emotion on display. Technical prowess is all well and good, but most of the cast falls in a range between passable and boring. Brosnan stands out. I have seen all of Mamma Mia! twice, once 10 years ago and once this week. I have seen the "S.O.S." number, conservatively, a dozen times.
Brosnan sings elsewhere in the movie, but his flailing isn't enough to make an honest movie out of Mamma Mia! If anything, the scarcity of his anti-chops hinders the movie further. The reason a climactic "The Winner Takes It All" is such a listless solo for Streep is that Brosnan must stand around politely listening, when what the movie really needs is for him to belt his tone-deaf ass off—anything to distract from the way in which, somehow, the simple task of filming a woman singing to a man seems to overtax the filmmakers. Closer to the end, the movie cruelly cuts off Brosnan's rendition of "I Do, I Do, I Do, I Do, I Do," but allows him to warble "When All Is Said and Done." It's a more minor pleasure, but it offers brief respite from all of the movie's clumsy shouting and circle-running.
The reception of Brosnan's singing is probably why he doesn't do much solo vocalizing in Mamma Mia! Here We Go Again, which is a more polished production than its predecessor. And yet even still, Brosnan provides an early emotional lynchpin for the film. Sam and Donna wound up married at the end of Mamma Mia!, but as the sequel opens, it's revealed that Donna has been dead for a year, something the trailers tried their best to obscure. At least half of the movie is a prequel dramatizing the events of Donna's life only described in the original, and as present-day Sam gazes at pictures of a younger Donna (Lily James), he sings, softly and to himself, another reprise of his big number from the last movie: "When you're gone/ How can I even try to go on," he asks the Donna in the pictures. It's a quiet moment, and the way it collapses a moment of goofy bravado from the first movie into a sense of genuine loss is devastatingly effective.
Improbably, this is not the only moment in Mamma Mia! Here We Go Again that works, and the movie is a significant improvement on its predecessor. Then again, it's difficult to state just how incompetently made the first movie is. Director Phyllida Lloyd, a wildly successful theater director who helped originate the stage show, had no feel for the rhythm of film musicals, cutting seemingly at random, indulging the screamiest possible performances, and choreographing big numbers with little more direction than: "Run this way! Now that way!" 
Lloyd declined to return for the follow-up, and new writer-director Ol Parker has a surer hand with the medium. The material that should feel redundant, following the adventures of young Donna as she meets the three suitors who grow into Brosnan, Colin Firth, and Stellan Skarsgård, is sweeter and more adorable that it needs to be, mostly through three or four zippy musical numbers featuring the sunny James. Those sequences, utilizing a mixture of corner-sweeping on ABBA Gold and shameless reprisals, aren't any less silly or synthetic, but they manage to get down to the business of entertaining the audience, rather than loudly insisting that they're having a great time. That sense of showmanship and the air of melancholy that hangs over the weaker present-day material make for, and I can't believe I'm saying this, a quieter and more reflective Mamma Mia!
Even so, the best production numbers are out of the way around the halfway mark, at which point the movie starts to run out of gas. Its very last moments are moving—I teared up, and I think the original movie is garbage—but they're preceded by a self-regarding (and terribly acted!) Cher cameo and a lot of additional plot business that has no bearing on anything. What the movie really misses, around that 65-minute mark, is Brosnan, blowing the roof off the joint. His appearances in the back half of the movie are perfunctory, giving us just a few glimpses of his peerless fake laugh. By the time Cher grabs the mic for a fine but emotionally inert rendition of an ABBA favorite, she's only strengthening the case for Brosnan as the accidental soul of this accidental series.
Mamma Mia! Here We Go Again is out in theatres July 20.