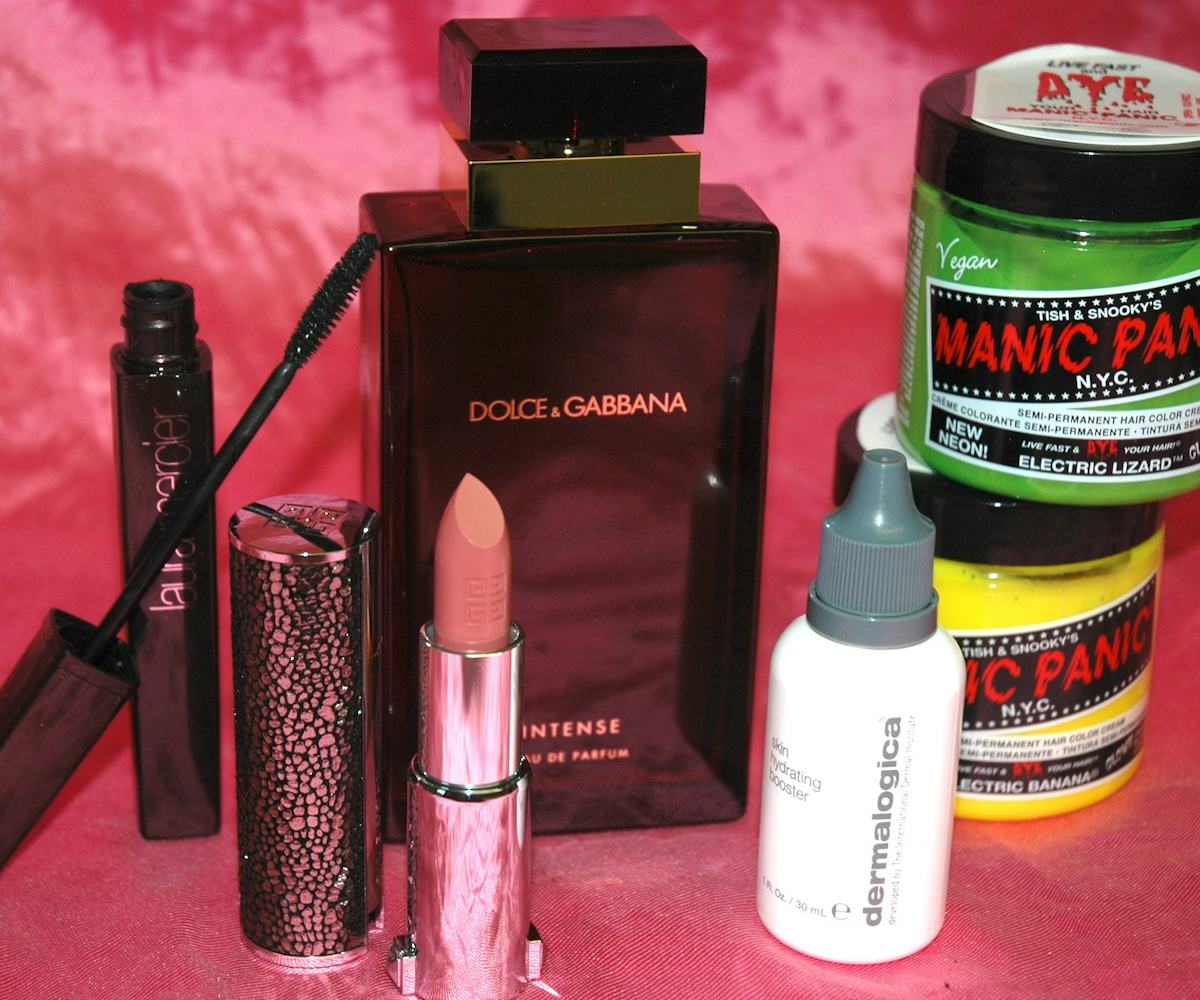 photo by jade taylor.
vanity case
beauty assistant jade taylor's five favorite products of the week!
OLFACTORY GIRL
WHAT IS IT:
Dolce & Gabbana Pour Femme Intense
WHY I LOVE IT:
A few months ago when I attended the launch of this fragrance (which was, to say the least, extravagant), I had no idea what to expect. I should've guessed the scent would mirror the pure opulence (now is the appropriate time to quote
Paris Is Burning
) of the velvet packaging and gilded burgundy bottle, but I didn't realize how much I'd end up loving it. Blending notes of neroli, jasmine, orange blossom, tuberose, and sandalwood--ingredients purposely formulated to juxtapose each other but still work--the end result is a musky-oriental aroma fit for a Queen. Which is probably why I can't stop wearing it.
FOR THOSE:
Who keep "Royals" by Lorde on repeat.
FLAMING LIPS
WHAT IS IT:
Givenchy Le Rouge Intense Color Sensuously Matte Lipstick in D'Exception
WHY I LOVE IT:
Arguably one the biggest beauty trends that dominated the 1990's was matte brown lipstick. Case in point: heroines like Winona Ryder in
Reality Bites
, Drew Barrymore in
Poison Ivy
, and Claire Danes in
My So Called Life
all rocked the grunge lip--as did every other girl who paired it with a daisy print baby doll dress and a beat-up pair of Dr. Martens in effort to copy them. Fast-forward two decades later and I'm once again on the hunt for the perfect 90's lipstick (and daisy dress, and Dr. Martens...), and thanks to Givenchy, I've at least found the lipstick. Encased in leather and studs, the packaging makes for one badass touch-up; but the color itself, a modern burnt-berry, goes on and stays on in one application. Perfect for leaving kiss marks all over a photo of your 90's boy crush...Hi, Devon Sawa!
FOR THOSE:
Who still like to pretend that theyre Blossom.
EYES WIDE SHUT
WHAT IS IT:
Laura Mercier Long Lash Mascara
WHY I LOVE IT:
Finding a mascara that doesn't clump, break, smudge, harden, smell, goop, or make your eyelashes look like creepy spider legs feels, at times, impossible. But this tube of lash-lengthening super serum partnered with a wand more magical than any sold at Ollivanders has changed my jaded ways once and for all. It divides, extends, and darkens every single lash--even the bottom ones--for long-lasting lashes. Added bonus: it doesn't get frozen like most mascaras so I can layer other pigments on top for a more extreme look.
FOR THOSE:
Who want to optimize their smize.
FACE TIME
WHAT IS IT:
Dermalogica Skin Hydrating Booster
WHY I LOVE IT:
Let's be real: having combination skin sucks. But this little miracle has helped boost (hence the name) my morning and night regimen just by adding a few drops onto my skin before applying anything else. Super-charged with Hyaluronic Acid a.k.a. magic goo that hydrates parched skin, I notice an improvement in texture, dryness, and fine lines every time I use it. Do yourself a favor and pick up a bottle. Trust me.
FOR THOSE:
Who are thirsty.
HAIR METAL
WHAT IS IT:
M
anic Panic Semi-Permanent Hair Color Cream in Electric Banana and Electric Lizard
WHY I LOVE IT:
In the beginning of 2012, when I had just started at NYLON, my hair was bleach blonde with experimental dip-dyed lilac ends I achieved by mixing Manic Panic Ultra Violet with conditioner to dilute it to the perfect shade of lavender. So when we started testing out products for our first annual NYLON Beauty Awards I became the chosen "guinea pig" to try a tub of Manic Panic Cotton Candy Pink (i.e. NYLON pink!). But instead of applying it to the ends of my hair, I decided to take the plunge and dye my entire head. For a few months I felt like Frenchy from
Grease
(my spirit animal) and I couldn't have been happier. Almost two years later I'm still using my beloved Manic Panic, but this time I've decided to do a color combo I've never tried before: highlighter yellow-green. Mixing 3/4th of Electric Banana with 1/4th of Electric Lizard and a dollop of conditioner for good measure, I soaked the blonde bits of hair in my neon-recipe for 30 minutes and then washed it out. The end result is both freaky and fun, and although I often receive some side-eye glances from people, the random "oh my god, I love your hair" compliments totally make up for it.
FOR THOSE:
Who want to unleash their inner Beetlejuice.