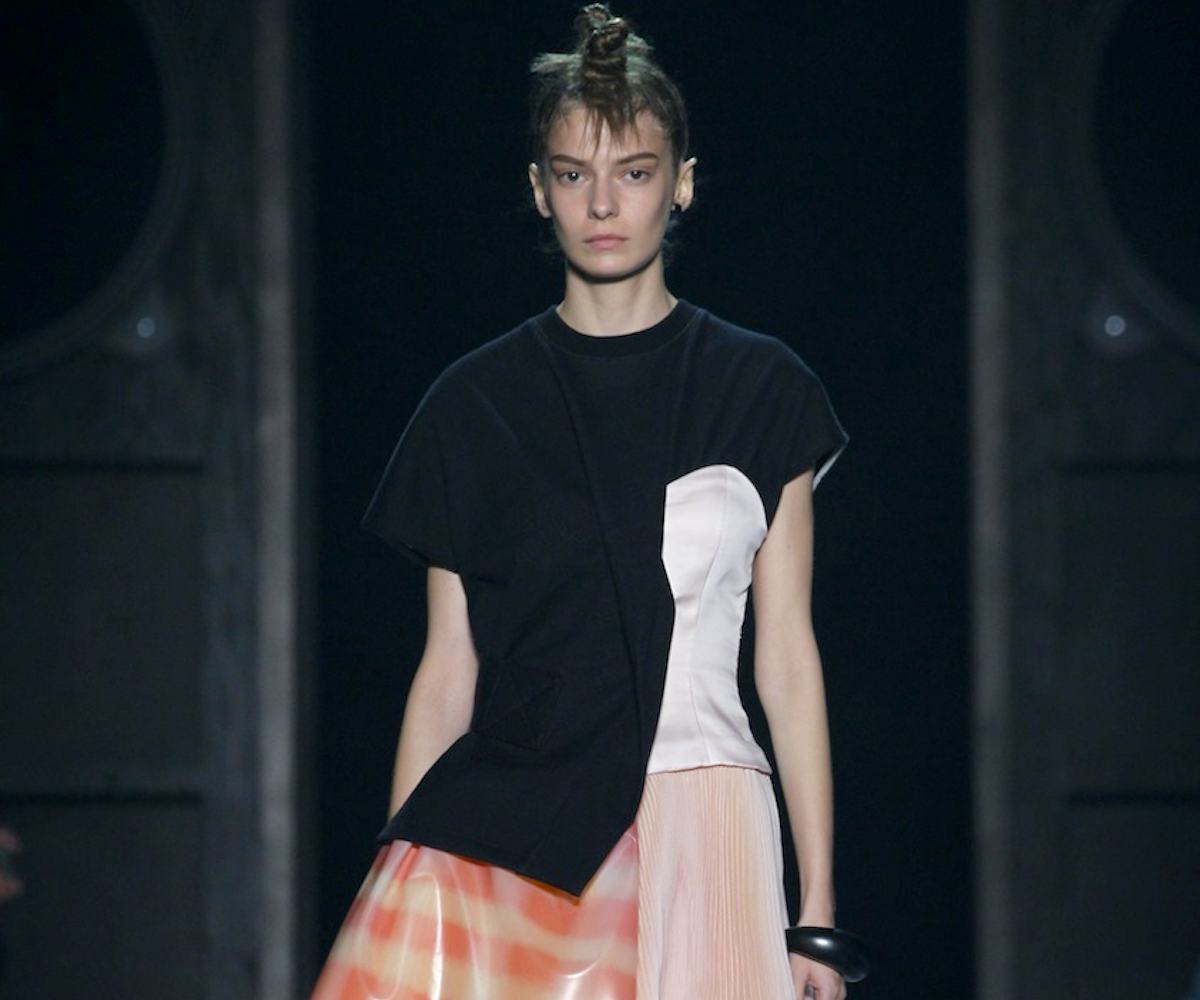 10 things you need to know about mbmj spring '15.
it's a marc jacobs rave, and you're invited.
It's not unusual for a fashion show to quickly morph into a party (see: Alexander Wang), but nobody could hold a candle to the '80s raver situation that went down at Marc by Marc Jacobs yesterday.
The sophomore showing for MBMJ's new dream team Katie Hillier and Luella Bartley, the creative and design directors, respectively, was an ode to nightlife with a rebellious twist. From the strobe lights and house music, to the mohawk hair, to the models' "f*** it" attitude, check out the top 10 moments from the MBMJ show below. Just don't be surprised if you suddenly get inspired to take your weekend plans--and your outfits--to the next party hardy level. 
1. Models' hair (crafted by famed stylist Guido) was inspired by '90s Bjork. Think four tightly-wound mohawk knots along the top of the head, but leaving the end pieces of the buns sticking out for a "danced all night" effect. 
2. Makeup artist Diane Kendal applied Marc Jacobs Beauty Lip Lock Moisture Balm to the top point of the models' cheekbones to achieve the flushed, late-night look. Then, she swiped on Twinkle Pop Eye Stick in Honey Bunny on top of their eyelids to make them really shine.
3. Latex details on shirts, skirts, dresses, and even full latex leggings, came courtesy of East London fetish shop House of Harlot.
4. One major takeaway? It's all about the sweatshirts--whether they're covered in PVC polka dots or splashed with slogans like "New World System," you're going to need one next  spring. 
5. The show was chock-full of cool girl models, like Binx Walton, Natalie Westling, and Ondra Hardin (from Marc Jacobs' recent fragrance campaign).
6. To do: wear all your separate pieces together. Whether it's layering your latex bra over your button-up (yup, really) or rocking a tee under a party dress, the fun of the collection came from this crazy mishmash.
7. The soundtrack was all over the place, including rave music artists like Larry Heard as well as a Viennese waltz. It was so loud that some editors were covering their ears. 
8. The spliced-up graphics on the T-shirts and frocks were conceived by artist Fergus Purcell of the collective Aries Arise.
9. According to designer Luella Bartley, the models were "little Alexes." She's referring to the rebellious main character in the Stanley Kubrick novel A Clockwork Orange. So if you were looking for an excuse to revisit your highschool reading list, there you go.
10. Seated in the front row were Alexa Chung, Tennessee Thomas, and the man of the hour, Mr. Marc Jacobs himself. 
Want to see it all go down in person (again)? Livestream MBMJ here!