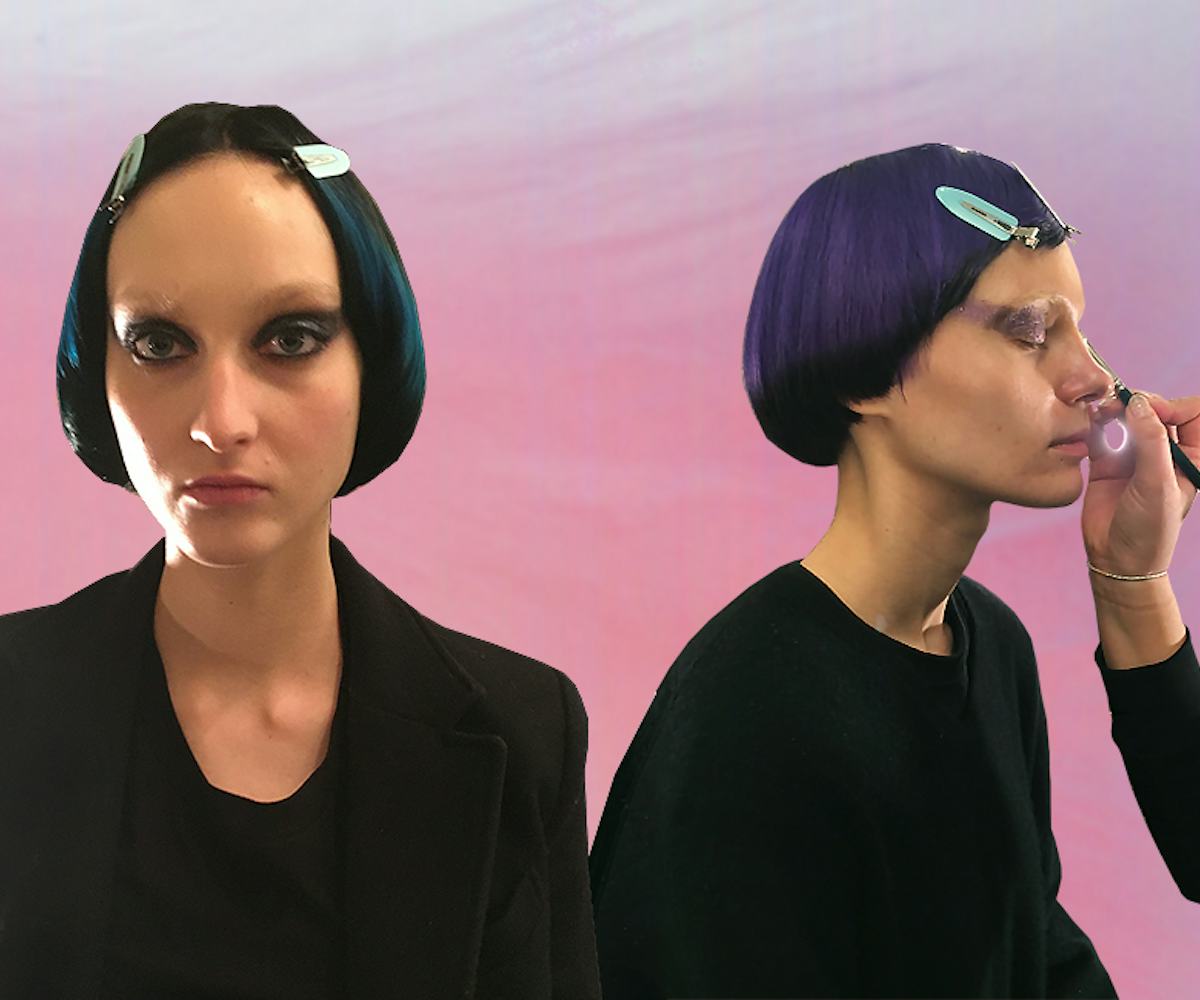 Marc Jacobs Had The Boldest Beauty Look Of NYFW Season
Go hard or don't show up at all
A Marc Jacobs fashion show is just as notable for its beauty looks as it is for its clothes. That's not always a good thing—like in some past cases—but this season's makeup and hair were standout in a really good, really loud way.
At first glance, it's easy to assume that the nine models seen with blunt cuts and colorful hair backstage were wearing fun wigs. But, turns out, their locks were actually cut and dyed over the course of three days—specifically for the show. Talk about dedication. 
Redken global creative director Guido Palau is known for giving models hair makeovers during fashion week, and he continued his streak this season, giving a handful of girls '60s, Sassoon-inspired chops. The inspiration for the color, which was done by Redken global color creative director Josh Wood, was pulled from the late '80s, early '90s. "It was all about doing clashing things that really popped," Palau said. "It wasn't meant to look natural at all. Back then, hair wasn't done to feel 'oh I just did it myself,' it felt like a very done thing. Almost like an accessory—a jewel, a hat—for when you went out at night." Speaking of hats, the models whose heads didn't undergo drastic makeovers walked down the runway in a variety of hat styles. 
Wood says that they started the transformations on Monday, and some girls underwent up to six processes to get the right color. "We created a character for each girl," he says. The colors are meant to correspond with the clothes, no two colors are the same, and each model had a personalized, individual look. "For me, it was more about looking at the individual girl and really pushing her look to be more extreme rather than beautiful. It was really about finding something in that human being and bringing personality to that look."
Bright hair deserves bright makeup. The models were seen with glittery, colorful smokey eyes that stretched to the hairline, so that you could see more color which coordinated with the inside brims of the hats. Those without hats had makeup that contrasted with their hair color. 
It was, overall, a bold way to cap off fashion week. Makeup artist Diane Kendall noted: "This season Marc wants to celebrate fashion, how people put themselves together, create a character—from the shoes to the hats, makeup is like a final accessory. So, we wanted to create a look that reflected that."
Check out some backstage shots ahead.