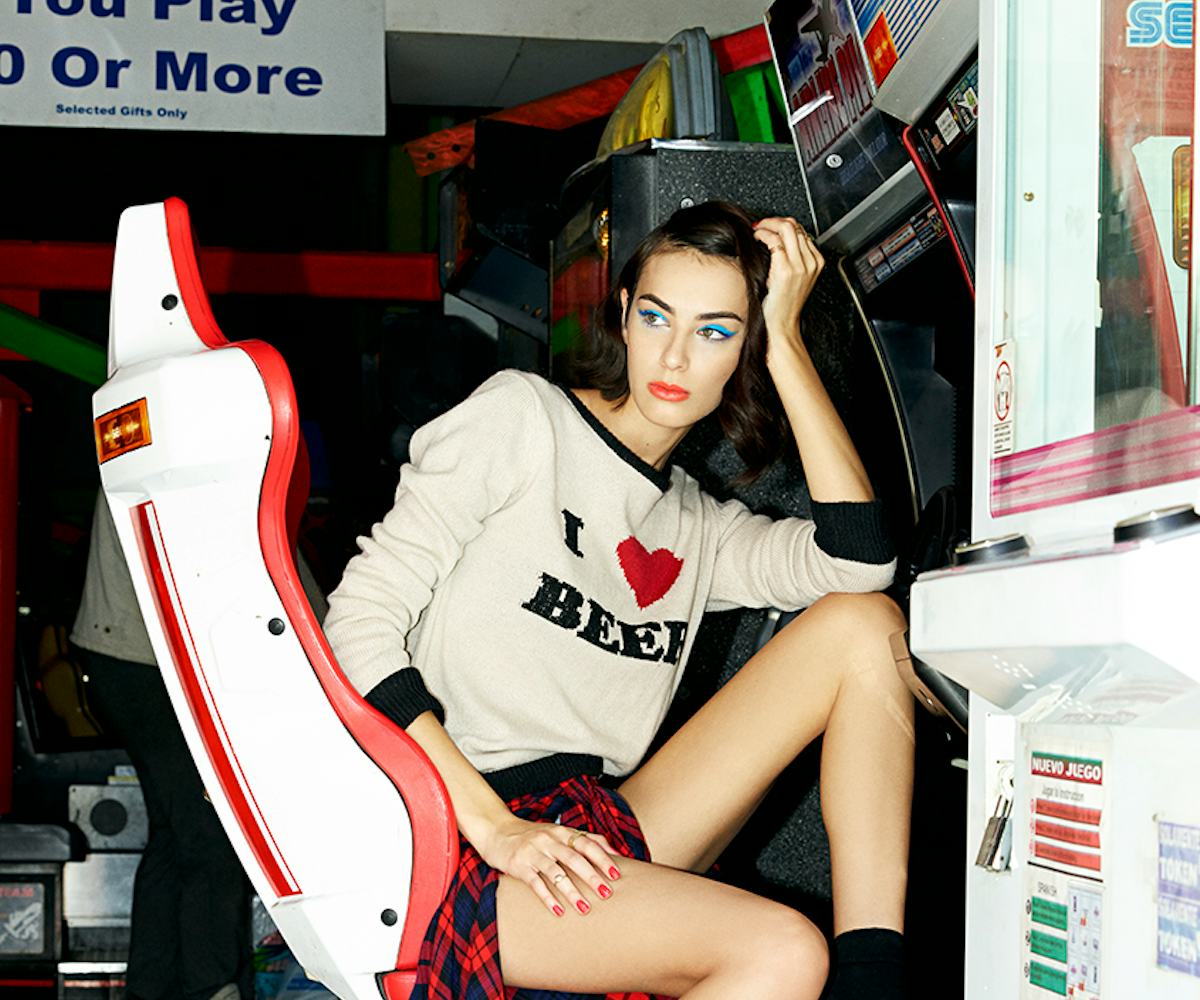 photo: ben cope / sweater: knitz for love & lemons / shorts: unif / shirt: h&m / socks: american apparel / boot: dr. martens siano in off white
why margaux brooke hearts her dr. martens
If we had to pick one thing we love about Margaux Brooke--well, it would be pretty hard. We guess we'd have to choose that look that's totally her own. From her dark, straight bangs to her amazing minimalist outfits, Brooke's just got that something--including a major obsession obsession with Dr. Martens (join the club). That's why we sat down with the bi-coastal beauty to chat about fashion, music, and individuality. Plus, it was also seriously fun running around Sassony Arcade in LA with the It Girl. Find our photos and interview below, then comment below with a story about your first-ever pair of Dr. Martens, your #STANDFORSOMETHING adventures, or your favorite new tracks this year.
"I think there's something really sexy about simple basics paired with dainty jewelry and a good shoe."
What are your must-have summer fashion essentials?
My Dr. Martens: They are perfect for every occasion and any outfit. I could easily rock the Elphies at the flea market on the weekends in an easy summer dress, or dance around the late-night desert in my Pascals and leather shorts, or to modeling auditions in my classic 1460s. Basically, there's never an opportunity not to wear them.
A Bold Bikini: There's endless swimsuits out there, but only a few brands really push the envelope when it comes to a daring bikini. I like to challenge myself and see how much style I can pack in to a tiny amount of fabric.
A Good Pair of Shades: I have a pair of sunglasses for every occasion. I have big ones, small ones, '60s-themed, aviators; black, gold, silver. Sunglasses can be the perfect finishing touch to any summer style.
Boot: Dr. Martens Siano in Off White
Tell us about your first-ever pair of Dr. Martens!
I got my first pair of 1460s towards the end of high school when I finally realized that push-up bras and Hollister were not what life was all about. My style changed completely. I ditched wearing bras entirely and just started rocking tanks, a good pair of shredded jeans or jean shorts and my 1460s. I think there's something really sexy about simple basics paired with dainty jewelry and a good shoe.
Bra Top: American Apparel / Jacket: UNIF / Necklace: LUBLU Kira Plastinina / Rings: H&M, Forever 21
Do you think fashion is a vehicle for people to express themselves?
Absolutely. Whether we like it or not, we all make an impression with our appearance. Everything from our clothing and posture to our hairstyle and makeup tells a story to people around us about who we are.  
Outside of your personal style, what is a greater cause that you support, or larger mantra that you believe in that defines what you stand for, your own #STANDFORSOMETHING?
I really believe that one of the most important things in a person's life is embracing their individuality. I was always tall and lanky and slightly awkward growing up and was teased constantly until college. But over the years and especially now that my dreams are starting to come true--like walking for Marc Jacobs last season at New York Fashion Week--I have really started to embrace what makes me different from everyone else. I just have to be myself and truly believe that I can do anything, then others will believe in me too. It's hard to not compare yourself to others in life (especially in modeling). There are certain things that I can't change about myself, but once I realized that those things might actually be the parts about me that people like, I became much more confident and happy with myself and my career. Long story short, embrace your weirdness don't hide it. The world needs a little more weird.
Top: Endless Rose / Shorts: Blanc NYC
Boot: Dr. Martens Pascal in Violet
"Embrace your weirdness don't hide it. The world needs a little more weird."
Top: Endless Rose / Skirt: Knitz For Love & Lemons / Boot: Dr. Martens Elphie in Black
What's your favorite way to style a pair of Dr. Martens?
I've always been a fan of wearing my 1460s with a little black dress, some cute tights or thigh-high socks,  plus my leather jacket or a peacoat. The combination is feminine, tough, and sexy all in one. I feel like it says, "I'm fun but I can kick ass too."
Which songs mean the most to you and why?
One of my favorite songs of all time is The Mr. Little Jeans cover of "The Suburbs" originally by Arcade Fire. Other than the music itself being beautiful, the lyrics are all about how young people are so eager to grow up and act "hard," but then when we do grow up and life actually becomes hard, we dream about the carefree days of childhood. I think it's important to take a step back every once in awhile and realize what you have accomplished, and what you still want to accomplish, and to not blame anyone else but yourself for your failures. My greatest fear in life is becoming a cynic who's jaded to the point of no return. So that song reminds me to enjoy all of life; the good, the bad. and everything in between.
Boot: Dr. Martens Elphie in Black
Top: Endless Rose
What's something you love to do in your Dr. Martens?
More like "What don't I love doing in my Dr. Martens?" But honestly one of my favorite things to do other than exploring New York City, is go to concerts. I love squeezing my way to the front of the stage, smashed into the crowd like a sardine in its can and then dance the night away in my Dr. Martens. The drunkest, heaviest guy there could step on my foot and it wouldn't ruin my night. I always wear the same pair so when I look at them it reminds me of all of the great shows I've seen and experiences I've had.
Boot: Dr. Martens Teresa in Rouge
Top: Endless Rose / Shorts: Blanc NYC / Rings: H&M, Forever 21 / Boot: Dr. Martens Pascal in Violet
PHOTOGRAPHY CREDITS
Photographer: Ben Cope @ 7 Artist Management using Phase One
Stylist: Kat Lozhnikova @ The Rex Agency
Hair: Tara Jean Mann @ Artmix using Oribe
Makeup: Anna Branson @ The Rex Agency using Urban Decay
Model: Margaux Brooke @ Wilhelmina