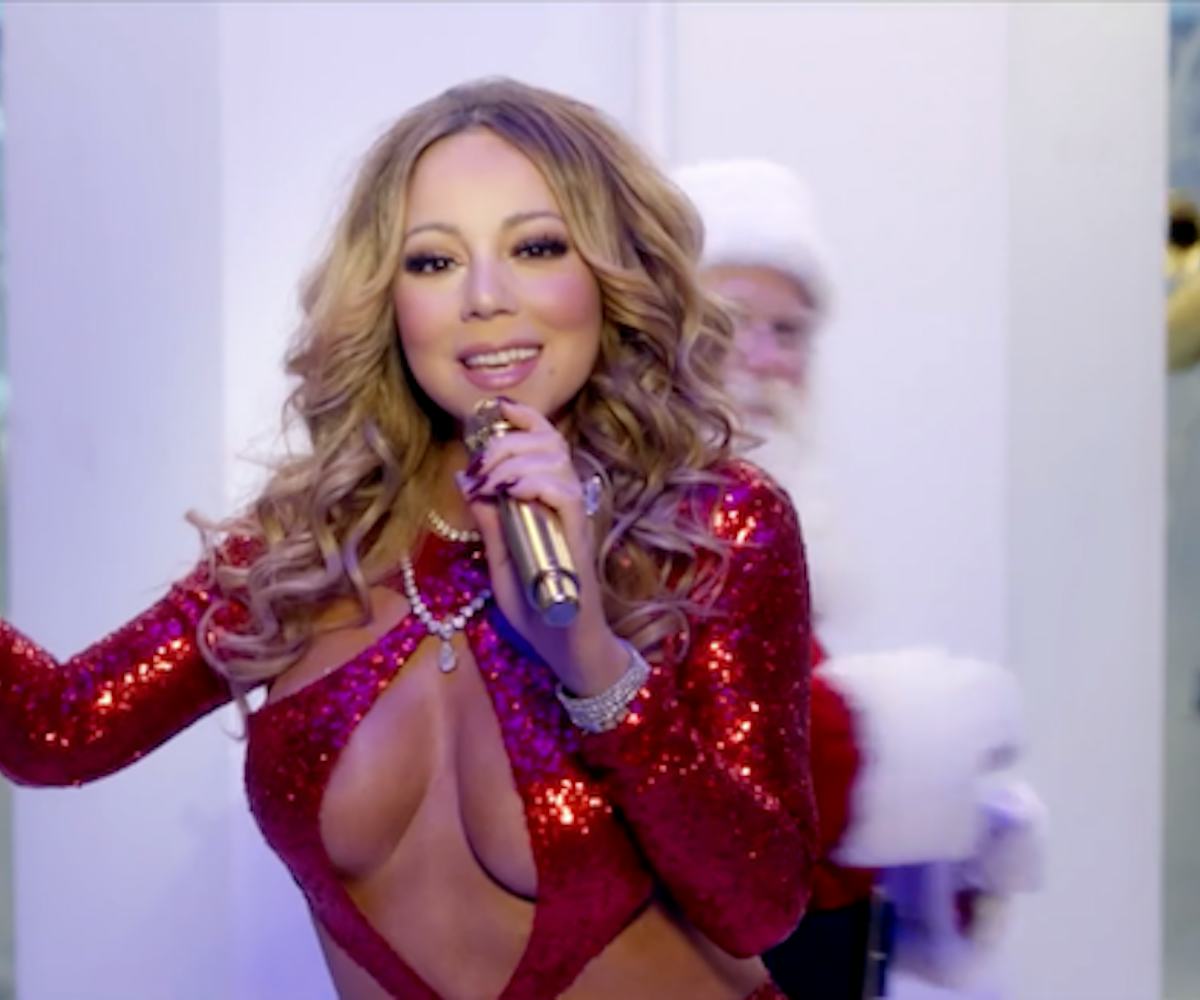 Image via Mariahsworld.com
Mariah Carey Drops 3 New Christmas Carol Videos
Time to turn off "All I Want for Christmas Is You"
It wouldn't be Christmas without at least a few Mariah Carey tunes on tap—or at least a dozen listens of "All I Want for Christmas Is You." This year, our favorite starlet to turn to for the holidays has outdone herself by releasing three new videos just in time for you feel festive and sexy before you step out to your holiday fête (or before you put on your stretchy pants and house a plate of grandma's cookies—you do you). 
First up is a sultry new version of "Here Comes Santa Claus," which was released on December 22. Carey's website describes the video as a "block party" on Santa Claus Lane, and it's just about as kooky and sexy as one might expect from Mimi's Christmas Village. Santa looks a touch lost among the gilded angels with rock-hard abs and deliriously happy drummer boys, but he seems to be having a good time so who are we to judge? Of course, you may not have noticed any of that, as the real star of the show is clearly Carey's red sequin dress, which might be one of the most stunning concoctions she's ever worn. If we could even fit one leg into a dress like that we'd wear it all year, but then again, there are priorities, like pie and wine...
Yesterday, she released a video for "Silent Night," which was a bit more pared down. Featuring Carey in a floor-length white gown with floral cutouts, a gospel choir, and a pianist, this soulful rendition retains the song's gentleness while still packing plenty of signature flair.
Finally, today on Christmas Eve, Mariah's website asked, "We have a question for all the Lambs: What's better than Mariah singing 'Joy to the World'?" Answer: not much! This new video features the same setting as "Silent Night" (only with a silvery cape added to Carey's gown) and is a lot more upbeat than the previous two releases. Perfect for getting the party started and passing out some bubbly to your guests, this is definitely one song to add to your usual holiday rotation. 
Check out the two videos below as well Carey's newly released video on her site and let us know which is your favorite!
(Via Elle)