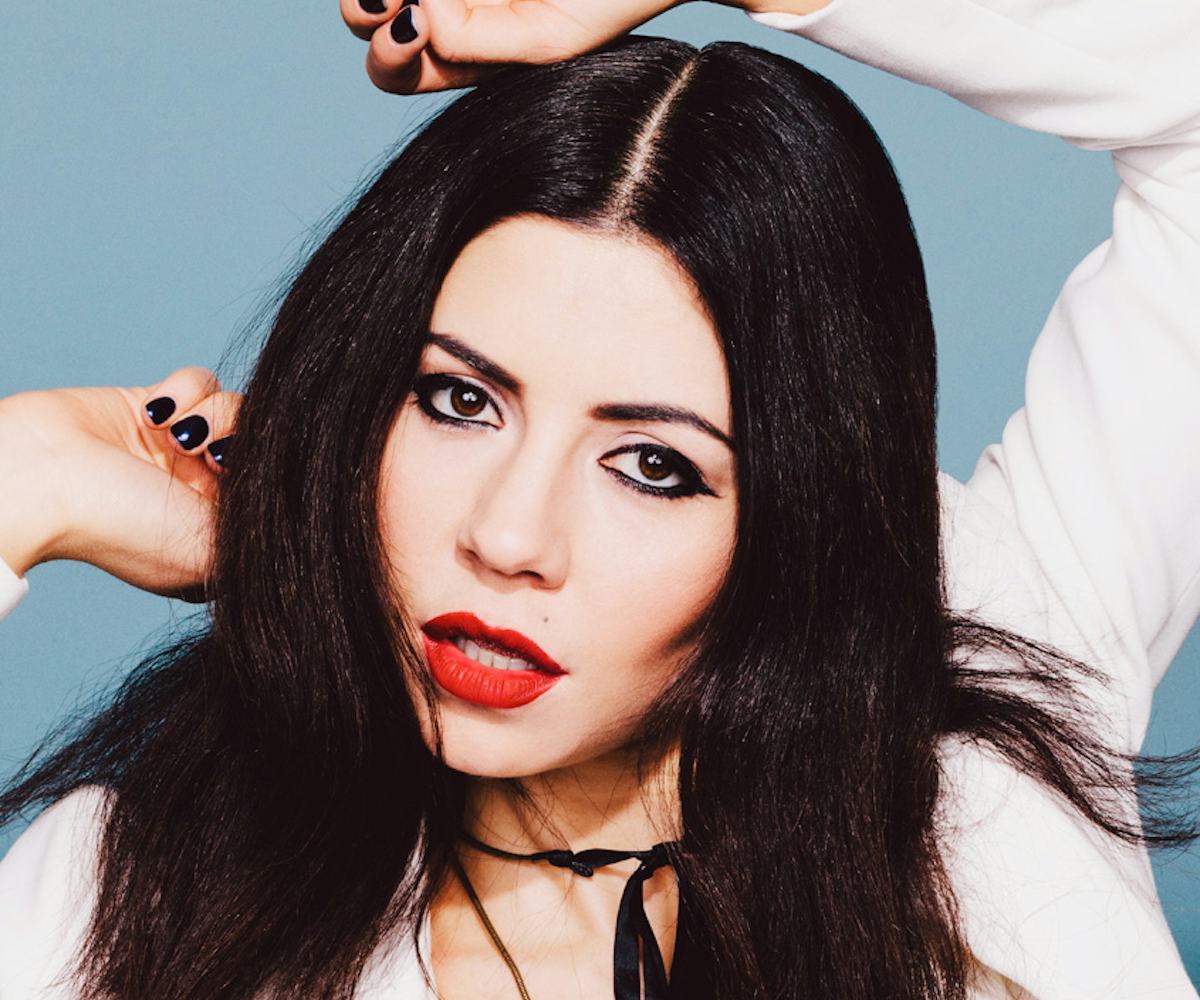 Photographed by Eric T. White
Marina and the Diamonds' 'Froot' Treads Into Jagged Territory
"Up until age 27, I hadn't really changed as a person since I was, like, 18," says Marina Diamandis, a.k.a. Marina and the Diamonds. The now 29-year-old, bundled up in a stark white trench that makes her bright red lips pop even more, is scanning a small New York City café for open seats and talking about the period when she began writing the songs for Froot, her third full-length album, out this month on Atlantic Records. At that time, she had just ended her Electra Heart tour, not to mention her "first adult relationship," as she puts it. "I took a look at my life to try and figure out what it was that wasn't making me very happy," she says. "And I asked myself: Why was I hanging out with certain people when I knew that wasn't really who I was?" 
Click through the gallery to read the entire story.
PHOTO CREDITS
Photographer: Eric T. White
Stylist: Paolo Nieddu
Hair: Siobhan Benson using Oribe 
Makeup: Daniella Shachter at Workgroup using NARS
Another part of what wasn't making Diamandis happy was tied to how little she felt she was writing her own songs. "I had done Electra Heart the step-bystep pop way, in terms of working with the right people and doing what the label encouraged," she says. "I felt like my skills had sort of stopped at a certain point. I wasn't growing anymore." To hear Diamandis talk about Froot, the first album she's written entirely by herself, it's clear the record functions not just as a document of her own emotional growth but as a display of her advanced artistic talent, something she felt she still had to prove. "I'd always battled with the fact that I identified as a songwriter and someone who's very uncompromising with my career," says Diamandis. "Up until this record, though, I hadn't really displayed that or symbolized that.
blazer and jumpsuit by mango, shoes by charlotte olympia, necklace by lanvin
The first taste the world got of Froot was the title track, a sexy, '70s-discotinged song that echoes the artist's signature playfulness and theatrics. But overall, the album has no thematic ties to the single, dipping into a different genre on nearly every track. "Better Than That" is a sneering, Debbie Harry-evoking rock song about backstabbers, "Happy" is a low-key piano ballad about newfound confidence, and "Immortal" is a dark and ethereal electro-pop track about mortality. Song by song, listeners can hear Diamandis working through everything that was holding her back, from post-breakup remorse to the larger cruelties of the world, proving that to get to joy sometimes you have to go through a lot of hurt. 
blazer and jumpsuit by mango, shoes by charlotte olympia, necklace by lanvin
"Give me love, give me dreams, give me good self-esteem," she sings in the infectiously catchy chorus of "Blue." It's the sort of sad dance track that would feel right at home next to Robyn's "Dancing on My Own"—and serves as a good reminder that even pop stars get the blues. "Part of the album is about someone I broke up with, and it was just terrible," says Diamandis, her gaze drifting across the café's lunching Midtown crowd. "I had never really felt that kind of guilt before."
The album's variety of sounds and styles is very clearly intentional— "You might think I'm one thing, but I am another," she sings on the footstomping "You Can't Pin Me Down." "All these contradictions pouring out of me/ just another girl in the 21st century."
blazer and jumpsuit by mango, shoes by charlotte olympia, necklace by lanvin
And this sincere clarity amid confusion is perhaps the most defining aspect of the album. The kitschy, silverhaired prima donna persona from the cover of Electra Heart is nowhere to be found on Froot (and neither is that performer's sardonic pop). In her place stands just Marina the woman, shining a light on all of her very real wounds and insecurities in a series of songs that somehow manage to be as reflective as they are dance-worthy.
dress by naeem khan, bracelet by jennifer fisher
There's nothing to hide behind here, not that Diamandis would want to. With the pink glitter packed away, the artist can revel in being the most honest and real version of herself she has ever put forth musically, solidifying her songwriter status along the way. "I'm fully realized now," says Diamandis, leaning in closer from across the table. "Most artists feel that surely from the beginning, but some don't. Some people take a bit longer to develop. It's a whole journey."
dress by naeem khan, bracelet by jennifer fisher