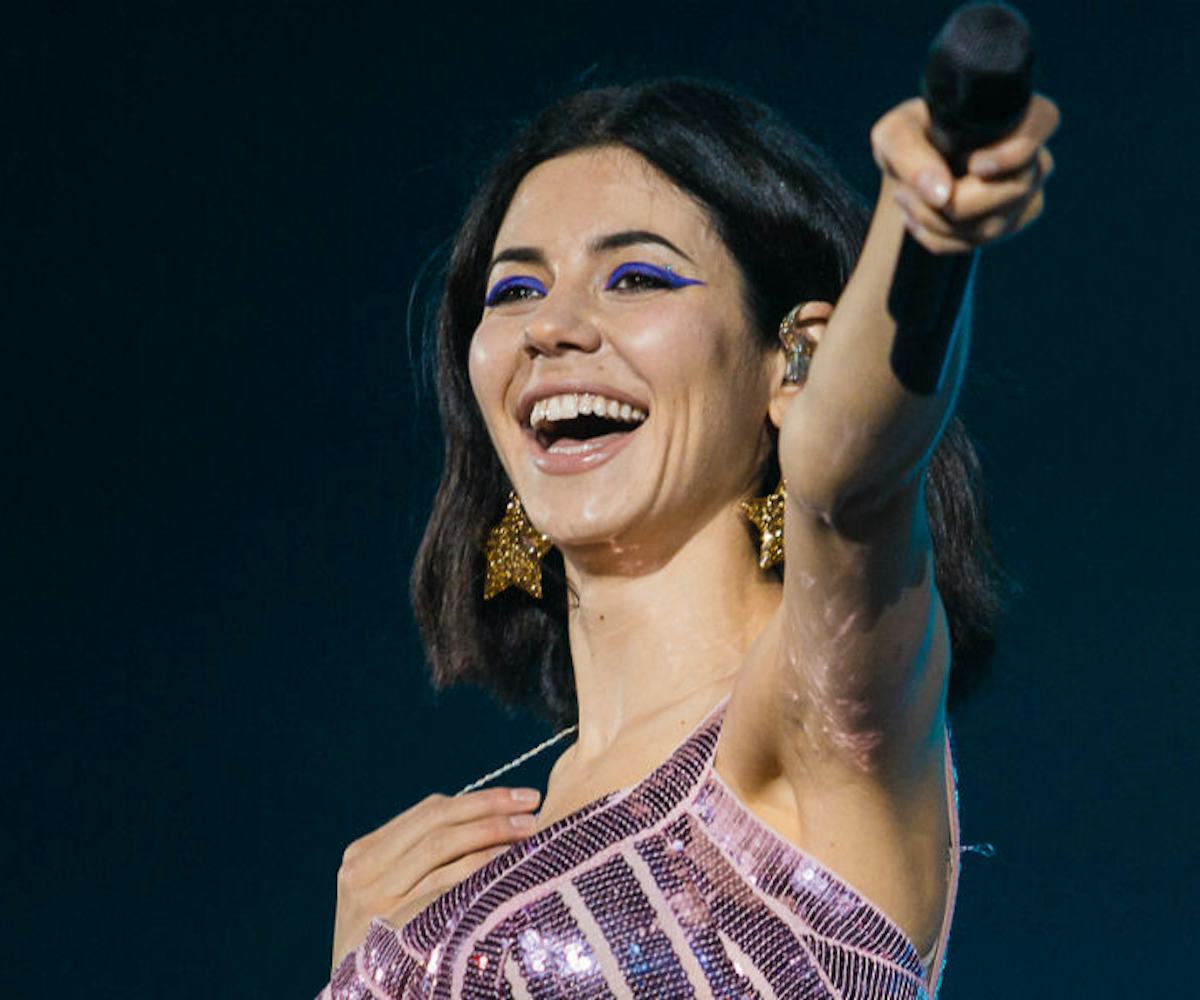 Photo by Mauricio Santana/Getty Images.
Marina And The Diamonds Calls Out Actors For Working With Woody Allen
"I believe Dylan Farrow. Always have, always will."
Even after an explosion of sexual harassment charges and the viral #MeToo campaign, there are still some accused abusers avoiding repercussions, namely director Woody Allen. Celebrities like Selena Gomez, Diane Keaton, and Kate Winslet have all given their statements defending working with the director, who has been accused of sexual assault by his adoptive daughter, Dylan Farrow. Marina and the Diamonds singer Marina Diamandis, though, is not here for that and took to Twitter to share her thoughts on the hypocrisy of the stars who continue to work with him.
Responding to a callout tweet by Rose McGowan which read, "A child rapist is completely funded by @AmazonStudios," referencing Allen's latest movie Wonder Wheel, Diamandis wrote, "How come Woody Allen goes free? I don't understand how any sane or moral person can still work with him + feel OK about that."
She also explicitly expressed her support for Allen's adoptive daughter, who has been attempting to shed light on his abusive behavior for years. "I believe Dylan Farrow," she says. "Always have, always will."
Farrow recently published an op-ed in the Los Angeles Times, in which she described her childhood and traumatic experience with her father. Maybe potential Allen collaborators should read that before signing on to any of his new projects. In conclusion, Diamandis simplified why no person in their right mind should even consider it. "Can you imagine accepting a job where your boss has child sexual abuse allegations against him AND he married his adopted daughter, but you, as a grown, financially secure human just go: 'I don't know anything, really, and whether any of it is true or false.'"
Here's hoping other celebrities will follow Diamandis' lead and refuse to let Allen escape punishment for the accusations against him.