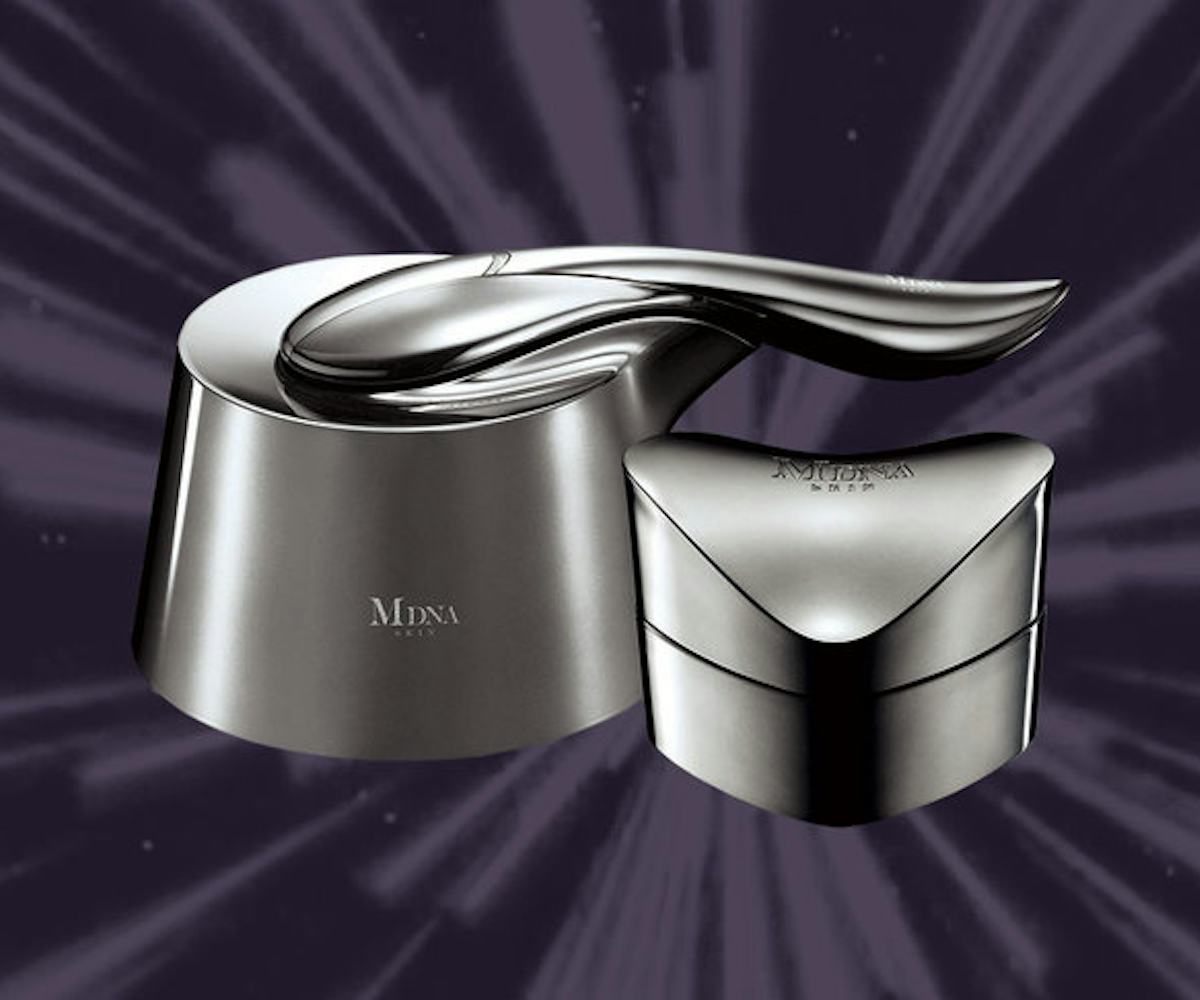 Photo courtesy of MDNA Skin
Here's What Happened When I Tried Madonna's $600 Face Mask System
When luxury beauty meets technology
After three years, Madonna finally brought her skin-care brand to the States, and naturally, we're freaking out over it.
Back in 2014, Madge teamed up with Italian spa destination Montecatini and innovative Japanese beauty company MTG to launch MDNA Skin, a beauty brand that's just as tech- and science-focused as it is luxurious. Up until two days ago, you couldn't purchase these products in the U.S.; now, they're available on MDNASkin.us, in select Barneys stores, and on Barneys.com.
The range contains products for your daily routine: a face wash, a serum, a rose mist, as well as an eye mask and eye serum. And then there's the hero product: $600 Rejuvenator Set.
Of course, $600 is quite a steep price for what's essentially a weekly face mask, so I had to see what the hype was about.
The Rejuvenator Set consists of two items: The Chrome Clay Mask, a moisturizing and smoothing mineral-rich mask that's formulated with double-coated volcanic clay, botanical extracts, and M.T. Parca Thermal Water from the Montecatini, and the Skin Rejuvenator, the removal tool that is made up of a neodymium magnet and an infusion head that uses technologies called Deep Derma Infusion and Auto Skin Search to deliver the serum where your skin needs it most. Sounds fancy, because it is.
After a particularly tiring Tuesday, I brought home my kit, prepped my dull face in my bathroom sink, and got to work. The Chrome Clay Mask is a non-drying formula, so it remains wet once it's ready to remove. The mask remains on for three to five minutes, before you hover the Skin Rejuvenator across your face—no need for skin contact—to magnetically pull it off of your skin, drawing out impurities along the way. The wide-eyed responses to my Instagram story were worth it alone.
Overall, the Skin Rejuvenator Set is pretty damn cool. I already really love peeling various beauty things off of my face, but sucking them off with a high-powered magnet? Even better!
The next morning, my face was hydrated, fresh, and glowy—a far cry from my lifeless complexion the night before. I can't say it's worth the triple-digit price tag, but should you have a taste for all things tech-meets-beauty, this is the kit for you.
The full Rejuvenator Set is available now at MDNASkin.us.