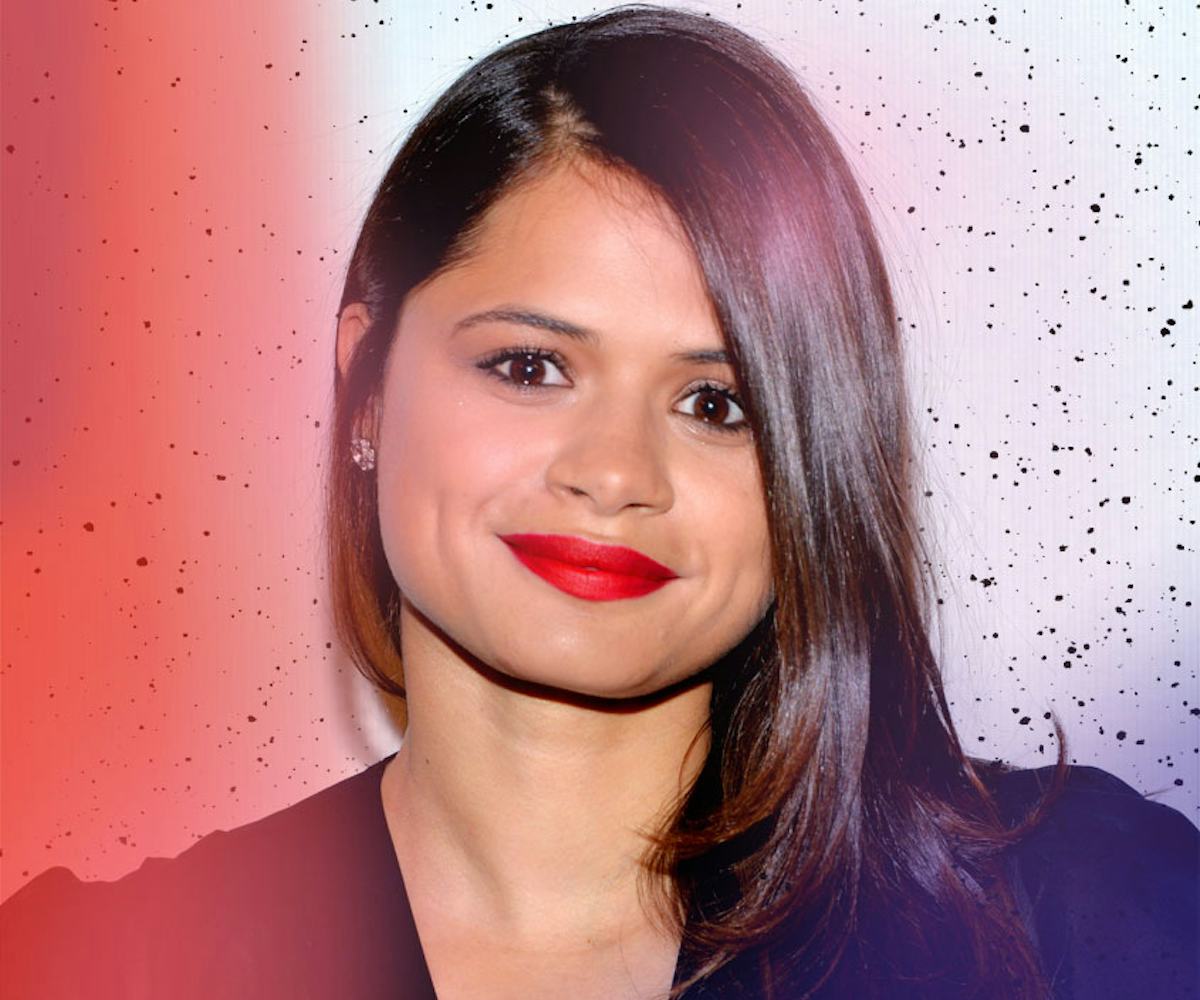 Photo by Ben Gabbe / Getty Images
melonie diaz on gentrification and minorities in hollywood
chatting with the star of 'the cobbler'
In The Cobbler, a magical-realist dramedy starring Adam Sandler, Melonie Diaz plays a neighborhood activist who crosses paths with a shoe cobbler (Sandler) who stumbles on the power to literally walk in other people's footsteps. When he puts on his customers' shoes, he inhabits their bodies and sees life from their perspective. Diaz herself has been inhabiting other lives since she broke out at the 2008 Sundance Film Festival with Raising Victor Vargas. Since then, the Lower East Side native has steadily built a career appearing in critically acclaimed projects, including a tour de force performance in 2013's Fruitvale Station, which earned her an Independent Spirit nomination. With a fresh perspective on Hollywood, Diaz is up to taking Hollywood to task, talking about the need for more visible minorities in film and how to avoid typecasting. Also, she has some good advice for any gals who are dating in their thirties—thank goodness.
What was it like working with Adam Sandler? 
There's a reason why Adam's where he is. Some people don't get it. They're like, Why is this guy such a big movie star? And then it's like, Oh my god, I can totally understand the magnitude of his celebrity. He's really kind, so normal, a good actor, quite giving, and he's just a normal guy. He doesn't have a joke every five seconds but has a really good sense of humor and is really laid back. 
You ask him on a date at the end. Do you like older men?
I'm 30 years old and men get much more interesting as they get older, I can tell you that. I don't see why not. A date wouldn't hurt. 
Your character is organizing a stand against gentrification in the movie. Have you dealt with gentrification in real life? 
I'm from the Lower East Side, born and raised, and that was a huge part of the conversation, that I love the neighborhood that I grew up in. I feel very connected to it. I see the way it changes so drastically. I'm seeing it transform before my eyes. 
The neighborhoods get better in some ways and worse in others.
I do feel like it sucks because part of gentrification is the streets get cleaned up and it looks nicer and there's much less crime, but at the same time you lose the soul and the character, you lose the mom and pop shops. So that's a kind of double-edged sword. 
All the streets wind up looking the same with all the same chain stores.
Yeah, there are all these wonderful stores that I grew up going to that are no longer there. And the people who have chosen to make small business as a living can no longer afford rent. That's a shame. That's what really upsets me. Yeah, uprooting these families and homes because somebody, I don't know who, decides these neighborhoods are really cool and great real estate—I'm not really sure how to fix that. There should be some regulation on that.
What about typecasting? Are you at a level where you're able to avoid it now?
I was attached to do an HBO show, and I was really excited about that because I auditioned and it was like a main character deal, essentially. But I can't see a key role or bigger roles in terms of what they offer to people like me. It's frustrating. It's the same for a black actor. If they're a better actor they deserve success. Yeah, I'm frustrated, yes.
Are you optimistic that things are beginning to change?
I think the success of Empire helps. I was talking to an executive friend and he says most of the studios are like, What's happening there? And hats off to the creator, Lee Daniels. What I would like to see happen is we need more writers and we need more creators and we need more original content, that's what I'm feeling right now. We need people who green light stuff to be open to that. Shonda Rhimes has been an incredible success story. She has a voice and she hires people of color in her cast and has been successful.