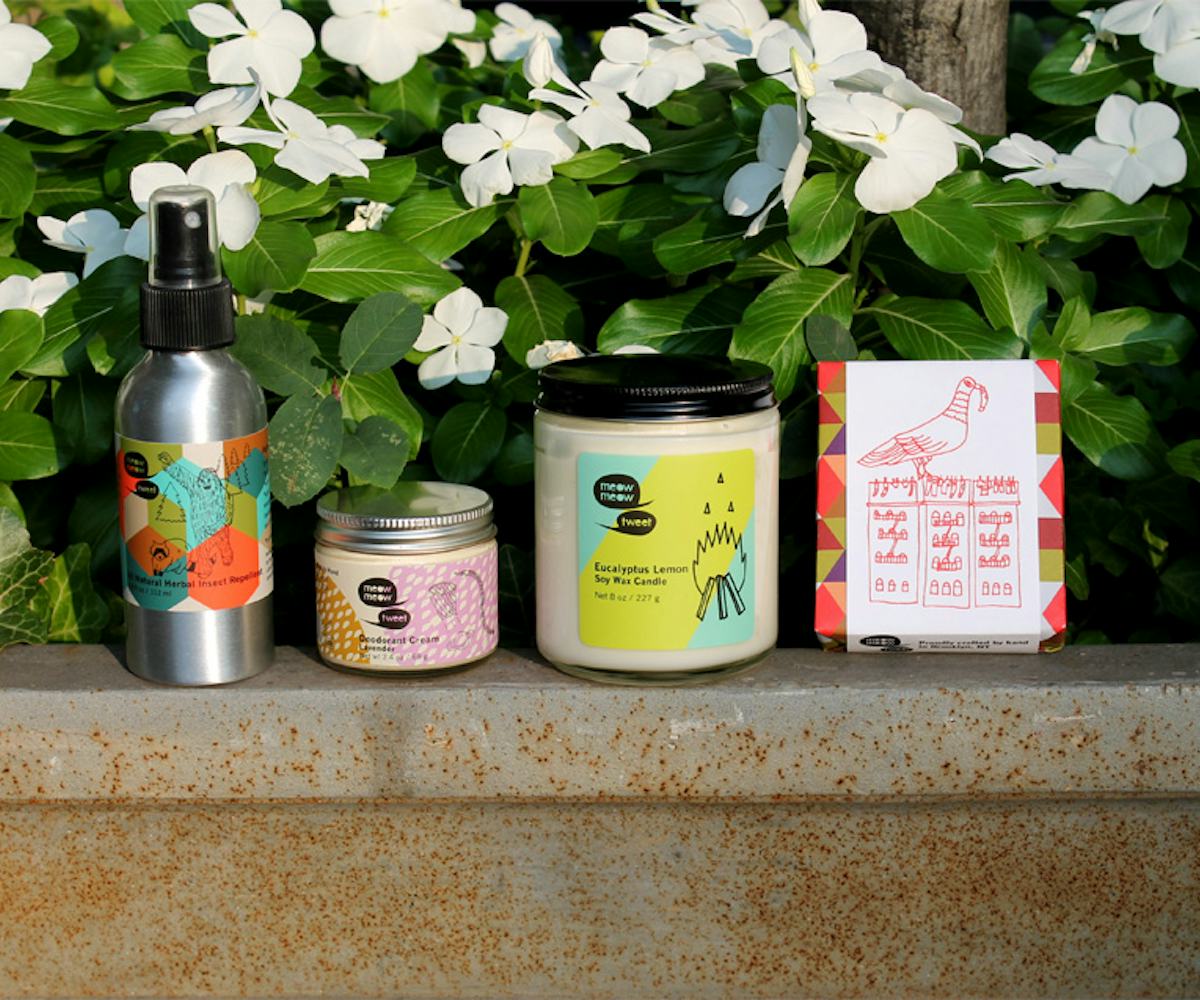 photos by liz riccardi
the ultimate vegan soap concoction from brooklyn-based mixologists
There are two kinds of beauty-product lovers in the world. First, you have your die-hard fans of the same perfumes and soaps, who swear by their go-tos for life. Then, you have the people who start browsing for a totally new product as soon as their bottles, tubes, and cans get semi-close to being empty.
I'm definitely the latter, but after trying out so many different types of washes and scrubs, you'd think I would have a mainstay by now. Nope--because even though some brands say that their formula will clear your skin, smells great, or is all-natural, none have ever been the end-all be-all in my hunt for new things to fill my vanity with.
However, the vegan soaps made with ingredients like coconut oil, sage, and grapefruit from one apothecary in Brooklyn actually do sound like they might cure my problem of walking down drugstore aisles in the hope of finding something life-changing. Plus, with a name like Meow Meow Tweet and packaging that looks like it's straight out of a bathroom in a Wes Anderson film, you can bet that this NYC small batch soapmaking brand provides goods unlike any other. The good news? You can find out for yourself by shopping their soaps, bug sprays, and candles online right here.
But first, read my interview with founders Tara Pelletier and Jeff Kurosaki below to see how the brand got its name, what inspires its art, and why it uses beer as an ingredient. Oh, and if you're interested, (and you so should be), the duo behind Meow Meow Tweet not only specializes in mixology, but they've also got a band called The Tammys (listen here).
Was there one defining moment that made you want to create a specifically handmade, vegan apothecary?
When we first got turned onto handmade soap it felt like a whole new sensory experience. We were so excited about what a simple pleasure it was to use every day and how moisturizing it is compared to other soaps. Our first bar was actually goat's milk soap. As vegans, we set out to make a plant-based alternative, so Meow Meow Tweet sprung quite naturally from our lifestyle.
How did you first start testing out your concoctions to figure out which ingredients worked best?
From the beginning, we wanted to use kitchen ingredients. We are pretty conscious of what we eat, so this made us question what we were using on our skin. Tara had managed restaurants in Southern California and was really inspired by the local food movement. We felt like there was a way to take those ideals and apply them to natural skincare. Her approach to recipe development is a blend of research, technique, and improvisation. There's a lot of testing and trial and error. She has pages of notes about each oil and botanical that she uses and she is very cautious about using ingredients that we wouldn't consider eating, and those that are as close to its plant source as possible.
Your packaging makes your products feel like they would be around a home in a Wes Anderson movie. Where do you get most of your inspiration for the illustrations?
Jeff makes all of the drawings. Sometimes they're random, but most of the time they're depicting something specific that we have a joke about, like: silly things our cats do, pigeons stealing clean laundry from rooftop clotheslines, and interspecies love affairs.
What kind of beer is in you beer shampoo bar and why did you want to add beer as an ingredient?
We use Peak Organic Ale from Portland, Maine. We like it because it's organic and delicious. The beer shampoo bar was prompted by Tara's grandmother. When Tara was a kid, she taught her a lot of natural remedies and "kitchen" body care recipes; hair masks with mayonnaise and hair rinses with beer. Remembering this, when we set out to make our shampoo bar, we decided to substitute the water in the recipe with beer. The malt and hops in beer has proteins and nutrients that strengthen hair and make it shiny.
What's the story behind your brand name?
Our two cats, Chester and Mochi, and Jeff's bird, Beans, back in Hawaii. We also wanted something fun that didn't sound like a typical skincare company name.
If someone were able to bring three of your products in their bag to a weekend-long music festival, which three should they bring?
We like products that can each be used in more than one way, so definitely our insect repellent. Aside from being a bug spray, you can use it as a deodorant, a body mist, a hand sanitizer, and a foot spray. You could probably get through a wild weekend of non-stop dancing, while still smelling and feeling pretty fresh with just this. You could also bring one of our bar soaps. We actually always carry around a sliver of the bar soap in our bags so that when we're in a pinch, we can break off a small bit to wash our hands. This works well for Porta-Potty and public restroom situations. Third, it's a toss up between one of our lip balms and our deodorant cream. If there's a lot of dancing, you may need the extra bit of help from our deodorant, and we always have one of our lip balms inside every pocket and bag.
Made with olive oil, coconut oil, sunflower oil, walnut oil, shea butter, black walnut hull.
Eucalyptus Lemon Soy Candle - $26
Made with 100% soy wax that is scented with 100% pure essential oils and hand poured in a glass jar with a sustainable hemp cotton wick.
Made with grain alcohol, wild harvested witch hazel, lavender water, apple cider vinegar, and essential oils.
Lavender Deodorant Cream - $13
Made with virgin coconut oil, jojoba oil, shea butter, arrowroot powder, baking soda, lavender essential oil.