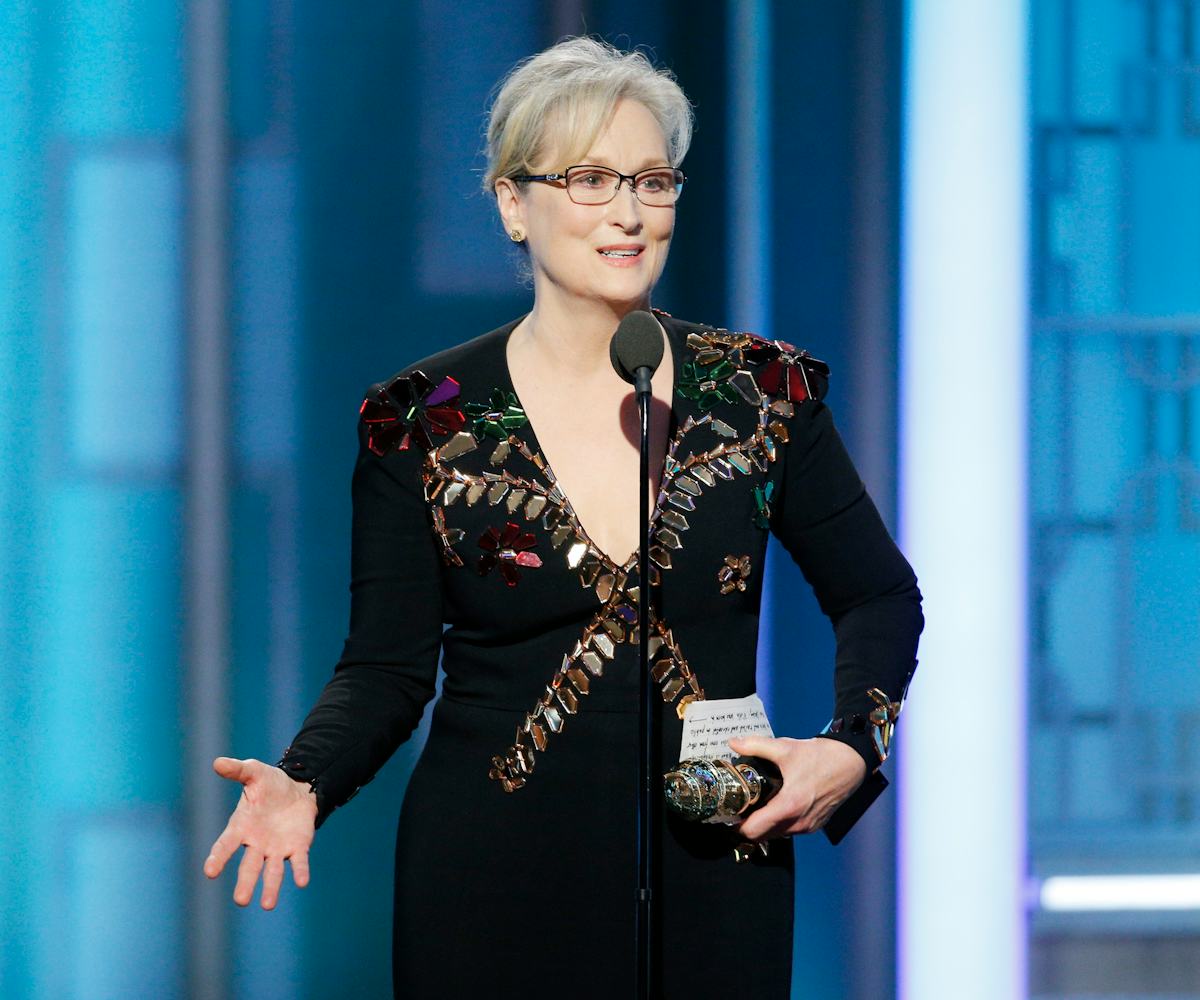 Photo by Vittorio Zunino Celotto/Getty Images
Meryl Streep Delivered The Most Gripping Speech Of The Night
Sealed with a Carrie Fisher quote
When Meryl Streep took the stage to accept the Cecil B. DeMille Award at the 2017 Golden Globes, the dynamic in the audience noticeably shifted as all the attendees anticipated something epic. Following a long career highlight reel and heartfelt introduction by Viola Davis, the actress held everyone's attention as she gave them a piece of her brilliant mind in a powerful speech about "Hollywood, foreigners, and the press." 
Rather than focus on her own personal journey from the "public schools of New Jersey," Streep used her time on the mic to give a special shout-out to all of the "outsiders and foreigners" working in Hollywood like Viola Davis, Sarah Jessica Parker, Ruth Negga, Sarah Paulson, Amy Adams, Natalie Portman, Dev Patel, and Ryan Gosling. "If we kick them all out, we'll have nothing to watch but football and mixed martial arts which are not the arts," she said.
After the audience finished applauding, the speech took a serious turn as Streep called out President-elect Donald Trump. "An actor's only job is to enter the lives of people and let you feel what that feels like," she said. "There was one performance this year that stunned me. It sank its hooks in my heart... It was that moment when the person asking to sit in the most respected seat in our country imitated a disabled reporter—someone he outranked in privilege, power, and the capacity to fight back."
Streep went on to explain how "disrespect invites disrespect" and we can't allow people in positions of power to bully others. From there, she declared that Hollywood needs to defend the press and protect journalists to "safeguard the truth." Lastly, she wanted to remind her fellow peers that it is a privilege and responsibility to be an actor with empathy.
Streep closed her speech with a quote from her dearly departed friend, Carrie Fisher: "Take your broken heart, make it into art." Streep might have lost her voice, but her message was heard loud and clear. Grab a tissue and watch the entire speech in the video, below.
At tonight's #GoldenGlobes we honor Hollywood legend Meryl Streep with the prestigious Cecil B. Demille Award. pic.twitter.com/dxpeCDNXY6 — Golden Globe Awards (@goldenglobes) January 9, 2017