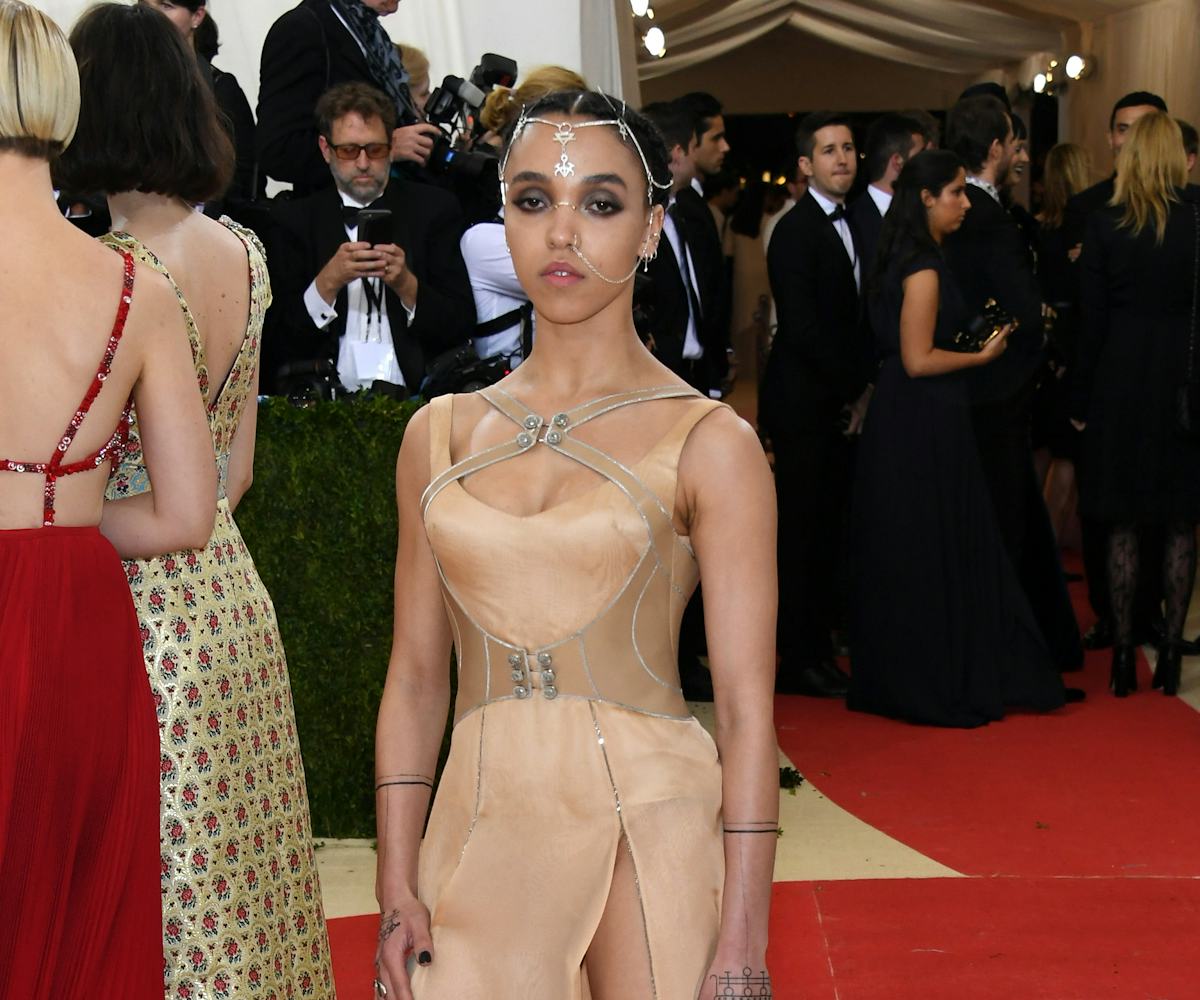 Photo by Dimitrios Kambouris/Getty Images
The Best Dressed Of Tonight's Met Gala
It's the first Monday of May, and you know what that means: It's time for the Met Gala. Known to many, with good reason, as the "party of the year," the soiree celebrates the opening of the Costume Institute's annual show, and has become famous for the red carpet fashion—some of the most unique looks we see all year. 
This year, the exhibit is "Manus x Machina: Fashion in an Age of Technology." It explores how fashion designers use handmade and machine-made processes when creating haute couture and avant-garde ready-to-wear clothes. With that being the theme, we knew to expect a number of tech-y looks on the red carpet. Tonight's party hosts include Anna Wintour (who serves as chairwoman of the gala), Taylor Swift, Jonathan Ive (the chief design officer of Apple), and actor Idris Elba.
While we saw a range of looks, sparkling silver seemed to be the hue of the evening—with ladies such as Taylor Swift, Poppy Delevingne, and Brie Larsen rocking the look, in sequins, embellishments, or metallic snakeskin. However, even without any sparkle, the HAIM sisters absolutely killed it, looking like total goddesses in matching black and white Rodarte gowns.
Still, the red carpet looks of the evening varied. While we saw a ton of almost-casual short dresses, there were also a number enormous gowns with colossal trains (just ask Zoe Saldana) on this evening's red carpet. 
Click through the gallery below to check out our favorite looks from the Met Gala 2016.
Bee Shaffer opted to wear this gorgeous floral Alexander McQueen gown alongside her mother, the chairwoman of tonight's Gala, Anna Wintour.
Kylie Jenner wore a custom sparkling, long-sleeve Balmain for her Met Gala debut.
Jaden and Willow Smith slayed on the red carpet, arriving together wearing all-black Louis Vuitton and Chanel, respectively.
Simplicity is key: Michelle Williams killed it in Louis Vuitton mini dress.    
Kate Bosworth channeled an actual Roman goddess in this Dolce & Gabbana gown and hairpiece.
Kendall Jenner wore a sleek ponytail along with this futuristic Versace gown for her first time at the Met Gala.
Kerry Washington debuted her baby bump on tonight's red carpet, decked out in Marc Jacobs.
Lady Gaga channeled old Lady Gaga in a sparkling Versace bodysuit and jacket—and of course, some sky-high heels.
This may be the first time we've ever seen a jumpsuit with a train, thanks to Emma Watson's look by Calvin Klein.
Lily-Rose Depp made her Met Gala debut in this Chanel Haute Couture haltered gown and shawl.
The multicolored feathered train on Zoe Saldana's Dolce & Gabbana dress was absolutely breathtaking. 
Hailee Steinfeld showed some serious leg in this emerald-green gown by H&M.
Karlie Kloss stunned in an all-white gown by Brandon Maxwell, only to reveal a killer cutout dress by the designer underneath.
It's quite possible that the HAIM sisters have won our award for best dressed of the evening. The three sisters slayed in black-and-white Rodarte gowns.
Nicole Kidman channels a mystical moon goddess in this celestial dress by Alexander McQueen.
The first naked dress of the evening, Poppy Delevingne absolutely stunned in this silver, embellished Marchesa gown.
Taylor Swift, co-host of the evening, chose to wear these custom Louis Vuitton knee-high gladiator sandals with her tiered, silver snakeskin gown.
Jessica Hart looks like a warrior for some sort of futuristic battle in her look by Alaia, and we totally hope she is on our side. 
As a freshman to the Met Gala, Amandla Stenberg doesn't need to get particularly techy—she does high fashion in her own laid-back way. She looks like a literal angel in this Calvin Klein number.
In yet another tiered, sparkling silver dress (and dark lip), Brie Larsen stunned in this piece by Proenza Schouler.
Claire Danes absolutely glowed on tonight's red carpet in this Zac Posen gown (literally, it lights up).
Are those heels on the red carpet? Mary-Kate and Ashley Olsen blew us away in these oversized, bohemian looks by The Row (probably).
When your sister gives you Lemonade, you show up looking like a high-tech lemon and just blow all the other amateurs out of the water. While we might not wear this look, Solange is taking risks in David LaPort, and that's what tonight is all about. 
Katy Perry takes themed dressing very seriously, and her dramatic cyborg look (courtesy of Prada)—including the loss of eyebrows—may be too extreme for some. However, she's just truly owning the woman vs. machine spectacle of the evening, with a matching Tamagotchi.
FKA Twigs comes from the planet Auroralus and speaks only in hymnals, and her regency is one that her subjects find fair and gracious because she will protect them, using only the elemental power that is her birthright. 
There is absolutely nothing reckless about Beyonce rocking this Givenchy dress.
Kristen Stewart is obviously wearing Chanel, obviously looks totally effortless, and is obviously part cyborg.
We didn't even know pearlescence was a wearable trend we wanted until we saw Florence Welch in this Gucci magic.