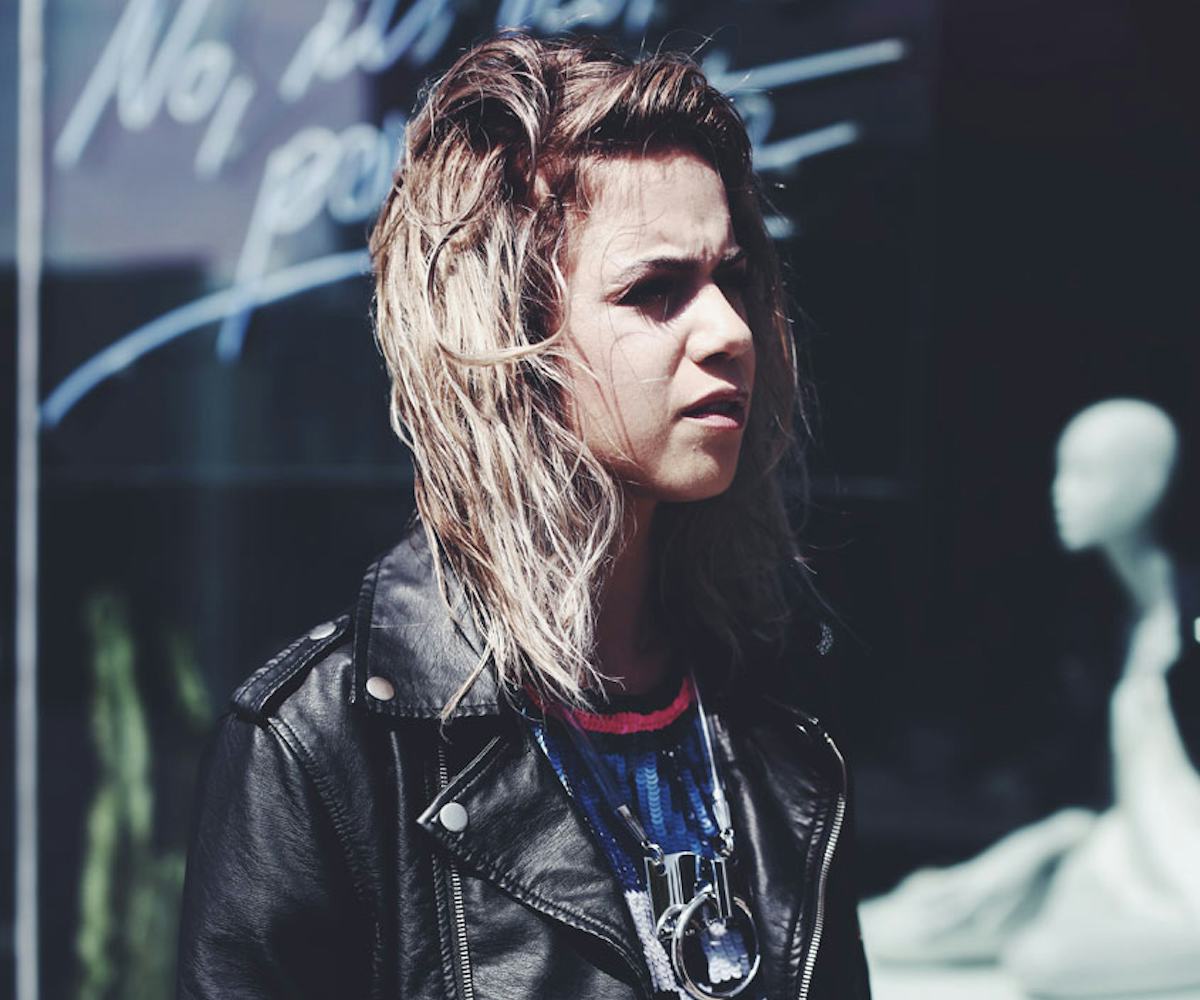 Photo by Matthew Kazarian.
the coolest new way to go blonde
get your metallic sheen on
In case you haven't noticed, we're huge fans of the whole pastel-hair thing—we'll throw a less-than-natural hue on our heads any day of the week. The one thing we're growing tired of, though, is the chalky, dried-out texture that tends to accompany that look. It was pretty awesome in the winter, but now that the sun is poised to start shining, we want locks that'll gleam right along with it. So when expert hairstylist Garrett Markenson mentioned he'd come up with a way to give hair a metallic finish, we knew it was what our lives were missing.
"It's impossible with today's technology to literally get a metallic finish, but you can recreate it using color and product," he explains. "It's like the liquidy look of leather pants or a shiny purse. It's a wet look." Notably, though, it involves dry hair—which is appealing to those of us who can't pull off the slicked-back-hair thing.
The first step of metallic hair happens in the salon chair. Garrett says to ask your colorist for a multidimensional blonde base color that features dusty, cool-toned pinks. "You'll need really strong ash tones and pink champagne hues," he says, explaining that it should look like a very pale combination of rose gold and white gold. To make this color more sustainable, you can ask for it to be blended with your roots. That way, it'll grow out into a perfect ombré.
That hair color will be totally stunning on its own, but getting the metallic sheen is going to take product. For the effect shown here, Garrett saturated the hair with Milk, a lightweight leave-in conditioner of his own design that combines creams and oils. He then used a ton of Bumble and bumble's CitySwept Finish spray, which creates a lived-in, piecey style. The two products over the color of the hair result in a nearly metallic sheen that's eye-catching and modern.
Click through the gallery to see more images of the metallic-finish blonde.