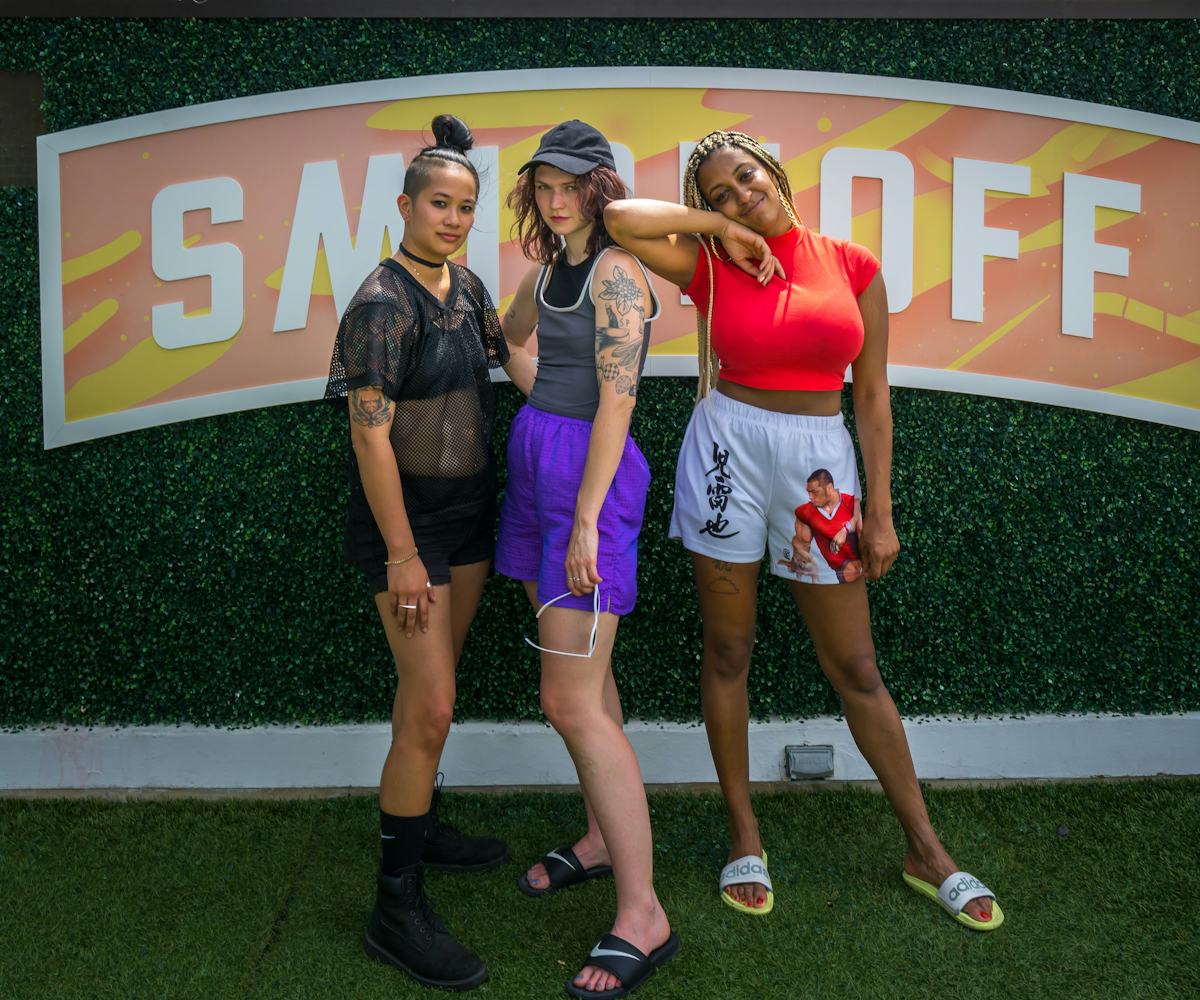 Discwoman: photo by PHIVES Photography.
Miami Music Week With Discwoman: Fun And Sun For Everyone
"People are just ready for the conversation"
While some of us were at Austin's SXSW, others scampered off to another music mecca happening at exactly the same time: Miami Music Week. Swapping our boots for sandals and guitars for turntables, we jetted to the home of Ultra Music Festival and all things dance music, for insiders and revelers alike, on the sunny shores of South Beach.
While Miami Music Week (or as it used to be known, Winter Music Conference), has grown infinitely over the years, in response to America's growing insatiable appetite for everything electronic, the visibility for women artists has remained somewhat stagnant.
The past two years, though, have finally shown incredible pushback toward what has been considered acceptable: Chicago-based The Black Madonna was named Mixmag's Most Inspirational Artist of 2015, young prodigies like Canada's Rezz made programming cool, and New York-based collective Discwoman followed in steps of groups before them like Superjane and Women on Wax, becoming the voice of a new, modern wave of equality.
Discwoman, in particular, has made quite the digital ripple over the past year and a half, with features not just in music-centric outlets, but in Forbes and NPR, expanding the base of people made aware of the large discrepancies that still exist within digital musicianship. They even curated a lineup focused on black women for famed DJ platform Boiler Room, have cultivated their own booking agency, and, for International Women's Day, collaborated with Smirnoff Sound Collective for a mini documentary on their movement.
Expanding into the stoked bro-fires of a place like Miami Music Week seemed like a logical next step. Part of Discwoman's success has been, in partial credit, to them taking their message to communities who would not be exposed to it otherwise. The trio collaborated once again with Smirnoff Sound Collective, curating their own lineup at the historic Gale South Beach hotel with the likes of Laura Jones and Miss Honey Dijon, and we followed in tow. The time is now, after all, as they themselves say, "people are just ready for the conversation." So, armed with open minds, hearts, and a grip of buzzy tunes, we followed Discwoman and crew to the heart of Miami. Here's what happened.
Emma Olson, Frankie Hutchinson, and Christine Tran, aka Discwoman, are not, as many suspect, a DJ trio. In fact, Olson is the only one. The more soft-spoken member of the group with a stare that kills lenses, she possesses a quiet fire that accompanies the best of DJs. Tran handles Discwoman's financials and contracts and Hutchinson is the public voice for the group, a befitting station as she leans in towards the mic, eager to engage in conversation. The group would arguably not work with all three operating as artists and in fact, it shouldn't. It's as much about awareness as it is about action, and Olson is merely one spoke in the wheel of what they do. Not only does Olson DJ under the torch of Discwoman, the three throw their own events, curate high-profile lineups, operate a booking agency, and sit on countless industry panels to talk about the issues at hand. "More exposure to the masses," says Tran. "that's how we start to change the norm."
Several other women artists have also taken up the charge of leading by example, such as Anna Lunoe, pictured above. Running her own Hyperhouse brand and her own show with Apple Beats 1, she often highlights other female artists on lineups, choosing to work with the likes of rising L.A. star Ducky and aqua-haired OWSLA icon Mija. Lunoe has been an outspoken voice, and in 2014 published a pointed Facebook post saying, "Don't ask me why there are less female producers, we both know that issue is so much bigger than the dance industry. This conversation NEVER STOPS and It doesn't seem to help us girls at all. Instead it seems to further perpetuate the idea of women as visitors in this industry who should be fighting for their place."
Permission to exist is a battle marginalized talent has always had contention with, and now, at least for women artists, it seems that the conversation has shifted. Not only is there more attention to the topic thanks to the collective vocality of women within all aspects of dance, but men like Destructo, aka HARD/Holy Ship! founder Gary Richards, are now becoming allies.
We chatted with Richards post-set at Smirnoff Sound Collective Miami about his quiet activism. Putting together an all-women lineup for the pre-Holy Ship! party (but not labeling it as such because "why should it be branded as anything but a great party?"), Richards sees the need for involvement from people like himself, men in positions of creating actionable change. "It's very cool to see more women producers and I try to book them as much as I can," he emphatically states. "It doesn't matter what your gender is, it matters if you make good music. So I thought, let's bring them together; let the proof be in the pudding."
Proof in the pudding is exactly what Discwoman brought to Smirnoff Sound Collective Miami. In a showcase that fused the likes of tech house, Jersey club, house, disco, vogue, and a smattering of other subgenres, Discwoman, along with Miss Honey Dijon and Laura Jones, provided a forward-thinking respite from the fist-pumping sounds dominating the rest of Collins Avenue.
Standing at the bar, we assess the event's flavor. The partygoers at this intimate event bridge the stranger-to-friend gap effortlessly. An energetic, bikini-clad woman who looks as if she's performing calisthenics suddenly grabs a guy's hand, leading him in a circular bop around the rooftop. A group that met moments before is spotted in a corner trading artist pins from their snapbacks. Even the photographers are getting down, momentarily forgetting duties to shout with hands up at every drop.
This is the atmosphere that Discwoman lives for, the atmosphere that they strive to recreate at every turn. They know once they provide the platform, the artists deliver in spades, musically serving up their inclusive ethos with every song and every foot tapped. Fellow Smirnoff Sound Collective Miami artist Laura Jones says it best. "I do believe if you create something good, it doesn't matter if you're male or female. Your music does the talking."
As we cool down from the day of dancing under the sweltering Miami sun, we grab one last talk with Miss Honey Dijon, who rounds out the collective's lineup. A New York-via-Chicago house artist who has lived through multiple waves of equality-driven movements in music, she reflects on why people seem to finally be taking note. "Like most things in life, it's repetition. It's how we learn—repetition and memorization. This is why it's important to have these images put in front of us constantly and all the time."
She elaborates, doling out lessons on the importance of visibility and communication. "Everything is in reaction to heteronormative cisgender men, they're the ones who lead the conversation. It's not so much the system, it's the paradigm we live in, breaking down these social constructs. The constructs affect not only women but men as well. They're being just as limited by these paradigms. It's not a contest, or an attempt to dismantle anything. Ideally, it should just be about the music. It isn't, and that's why we have collectives like Discwoman, trying to get more female-identifying artists the opportunity to shine."
As the sun sets over the Miami strip, a glow is still left behind: a shine, no doubt left by Discwoman and company, enlightening souls one record at a time.