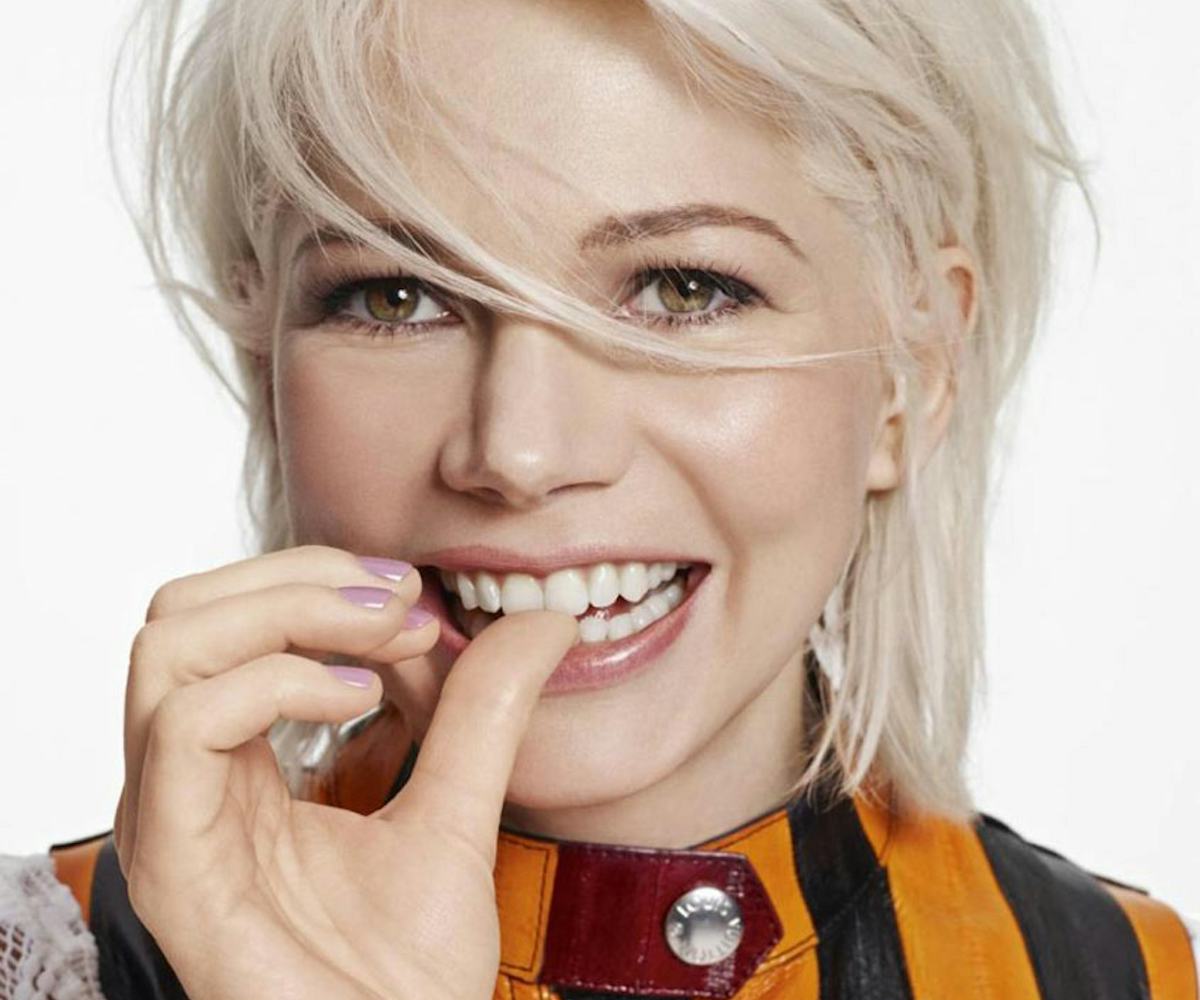 Photo by Kerry Hallihan / Elle UK
michelle williams gives great advice
she might actually be a perfect human
If there was a model for the perfect human being, we'd imagine it would look a lot like Michelle Williams. Not only is the former Dawson's Creek actress one of the most down-to-earth women in Hollywood, but she's also a veritable fountain of wisdom, as revealed in her Elle UK cover story.
After her partner, Heath Ledger, passed away in 2008, the media (and most directly, paparazzi) zeroed in on Williams and her daughter, Matilda, who was two years old at the time. "Men and women in suits were cashing checks off of my daughter's face," Williams said. But since Kristen Bell started No Kids Policy, a movement to discourage media coverage (read: harassment) of famous children, that's all changed. Williams said, "Kristen has made it so much easier for these kids to live in a world that is friendly and that they can trust. Every month I send her a gushy, 'You don't know what you've done' note. Now my daughter and other kids aren't scared to walk down the street any more. It's like a miracle." Although not many of us can relate to this exact situation, Williams brings up an important point: We should all respect the idea of privacy.
Photo by Kerry Hallihan / Elle UK
We should also, as Williams inadvertently advises, start the day with poetry. "I love poetry because it's like a shot, like an attack, like a dose. And for a person who doesn't have very much free time, it does its work very quickly," says Williams. "So I read poems on my phone when I wake up in the morning. It opens you up for the rest of the day, and suddenly your life becomes a little more observed. And, when it becomes more observed, it can't help but start to become more beautiful."
Her experience with the theater, in regards to her recent appearance in Broadway's Cabaret, also yields some valuable guidance about life. "You truly never know what's going to happen," she says. "And, to have things go wrong, or to make mistakes in real time and then be able to assimilate whatever is different is a tremendous feeling. To find in those moments that one doesn't stop, or perish, or run away, but that you can rely on yourself to process things and keep going."
Also, if it's not already apparent, you should dye your hair platinum white. Because it looks damn good.
Pick up Elle UK when it hits newsstands March 5 to read the entire interview.
Photo by Kerry Hallihan / Elle UK