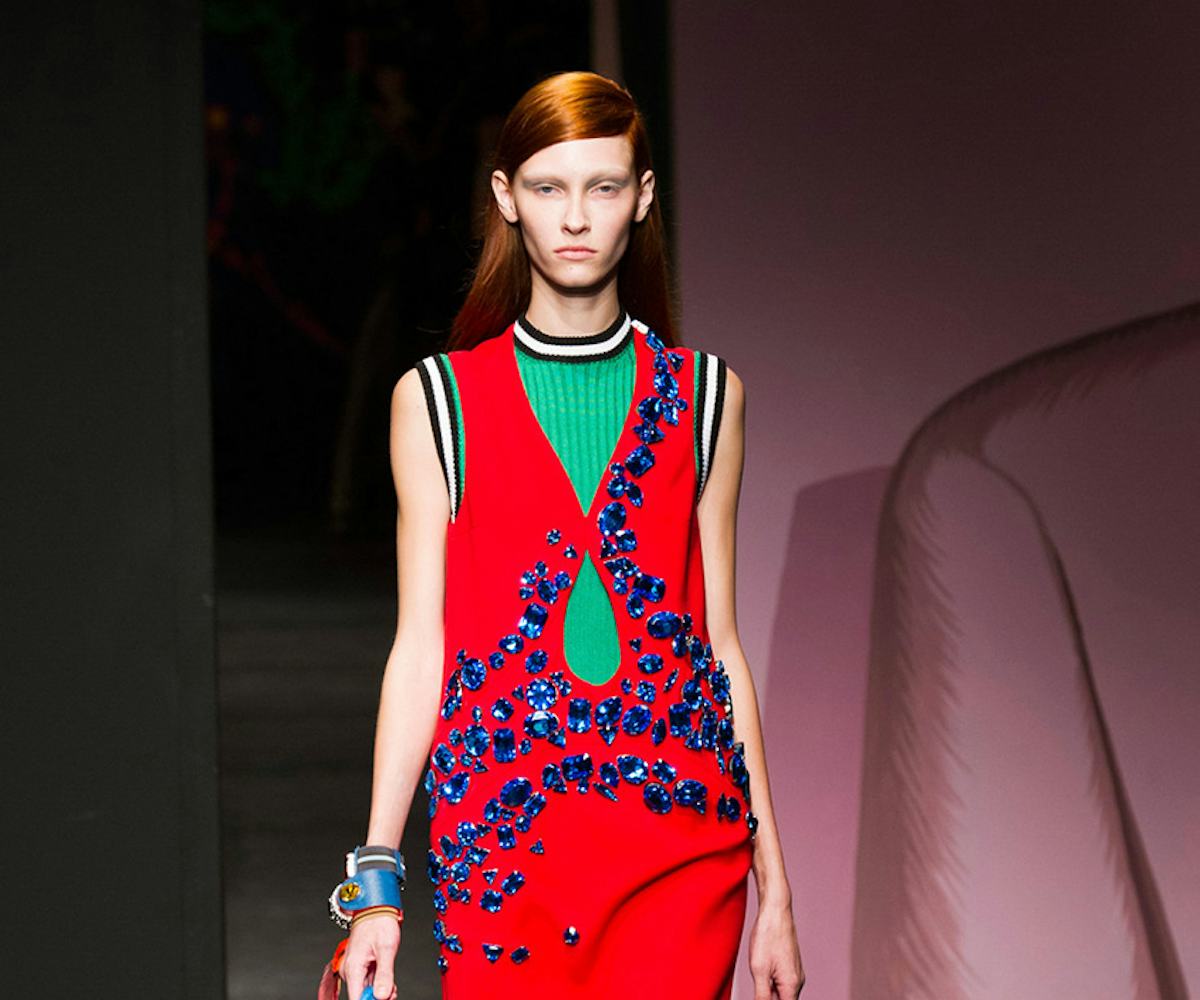 make mine milan
what to watch, listen to, and wear now inspired by milan's best shows.
Don't lie to yourself, Milan Fashion Week has been making you wish for a Roman holiday.
Well, you're in luck. We might not be giving away a trip to Italy (sorry), but we did compile all the things you can get your hands on now to transport yourself into the headspace of Milan's best designers. From what song to watch while you're pretending to be a Prada girl to which flower crown you need to fulfill your Dolce & Gabbana fantasies, we've picked out the best items, beauty products, movies, and songs to put you in a Milan state of mind. 
When in Milan, do as the Milanese, we say. 
JUST CAVALLI
Holy Lisa Frank! This collection was an explosion of neon leopard print, oversized flowers, and graphic black-and-white prints. No, it's not for the meek--but then, wouldn't life be boring if it was all beige? -- REBECCA WILLA DAVISWear: Vans Cheetah/Zebra S8 High Slim
Listen To: "I Want Candy" by Bow Wow Wow
Watch: HouseSitter 
Beautify With: MAC Kohl Power Eye Pencil in Feline
PRADA Part socialist, part feminist, and part Rainbow Brite, the Prada spring '14 was a beautiful and kooky assemblage of ideas. We learned the importance of tube socks, Britney Spears songs, and bedazzlers--all things we knew we loved, but sort of forgot about. Thanks for the reminder, Miuccia! -- STEFF YOTKA
Wear: Asos Basketball Jersey Tank
Listen To: "Come Walk With Me" by M.I.A.
Watch: Bend It Like Beckham
Beautify With: Temptu S/B Multicolor in MossMARNIYou can always count on Marni to bring the quirk factor, and this time Consuelo Castiglioni chose to do so with headwear, tunics, and oversized jackets. She topped everything off with her trademark statement jewelry and some seriously ugly-cool (emphasis on "cool") shoes. The result is a little bit sporty, and little bit vacation, and a whole lot of amazing. -- LIZA DARWIN
Wear: Black Bloomingdales Visor
Listen To: "Sunny Afternoon" by The Kinks
Watch: The Darjeeling Limited
Beautify With: Too Faced Brow Envy KitDOLCE & GABBANA
There are so many ways to interpret Sicilian culture, but for spring '14 Dolce & Gabbana went with ancient ruins, floral hair pieces, and coins. Lots of gold coins. The result was a collection that looked like an old photograph but still felt completely modern. -- RWD
Wear: 
Mr. Gugu & Miss Go Terrain or Shine Top
Listen To: 
Watch: 
Beautify With: 
Cult Gaia Jasmin Flower Crown Headwrap
FENDI
The bowl cut: it's happening, everyone. At least it is according to Mr. Karl Lagerfeld, who put models like Cara Delevingne, Georgia May Jagger, and Lindsey Wixson into shaggy black wigs for Fendi's spring show. When we weren't focused on the hairstyles, we were obsessing over the collection of ombre organza dresses, patterned jackets, and sheer checkered shirts inspired by digital technology. -- LD
Wear: 
Listen To: 
Watch: 
Beautify With: 
NO. 21
Your first look at the No. 21 show will have you thinking of a bad girl on the tennis courts, but after revisiting the collection you'll see that the sheer slips, white kilt-y skirts, and bejeweled button downs are perfect for any sort of wear. The leopard print stoles are just plain rad, too. -- SY
Wear: American Apparel Cropped Button Down
Listen To: "Ya Hey" by Vampire Weekend
Watch: Pretty in Pink
Beautify With: Dior Creme de rose Soothing Plumping Lip Balm
Just Cavalli spring '14
Even wallflowers can handle animal print when it's just on their feet. -- RWD
Just enough pop without giving you a sugar high. -- RWD
The only downside to watching this '92 comedic gem is that every five minutes you'll be pausing it to take screengrabs of Goldie Hawn's outrageous (in a good way) outfits. -- RWD
All you need is this liner for the show's messy cat-eye look (though we've got the exact products they used on the rest of the face here). -- RWD
Prada spring '14
Wear your faux jersey on its own or layer it under a dress for a Prada-approved look. -- SY
M.I.A. blasted over Prada's soundtrack because girls rule and boys drool. -- SY
Girl power all the way with Bend It Like Beckham. -- SY
Makeup mastermind Pat McGrath used the Temptu airbrush system to give the models luminous and strange eye makeup at the show. Try out this moss shade for your own eerily feminine makeup look. -- SY
Marni spring '14
It might not be the most practical winter item, but who cares? Also, it's on sale! -- LD
What better song to soundtrack this collection of visors and off-kilter dresses than this sunshine-y track by the English rockers? Nothing, that's what. -- LD
Awesome travel movie to get you excited about your future awesome travel wardrobe. There's really been no better excuse to start planning your summer vacation immediately. -- LD
Channel your inner Ali Michael with Too Faced's brow kit. -- LD
Dolce & Gabbana spring '14
It's not Italy, but this photorealistic tee would look just as good when worn with fuzzy mini. -- RWD
It's not a question of if, but when Katy Perry pulls on one of these photorealistic dresses or gold coin-emblazoned skirts. -- RWD
The classic Michelangelo Antonioni film takes place on an island off the Sicily coast and, just as with Dolce & Gabbana's spring '14 collection, there's some serious polka dot action in the wardrobe department. -- RWD
Add a little etherealness to your look with one of these white floral hair pieces. -- RWD
Fendi spring '14
Future, meet past. Past, meet future. Sunglasses, meet our closet. -- LD
Lagerfeld was inspired by graphic design, digital printing, and technology in his ombre layers of organza. -- LD
Dreams? Check. Technology? Check. Somehow, we have a feeling the Kaiser would dig it. -- LD
Assuming you don't want to do the bowl cut, copy the models' wide-eyed look by lining your lower lashes with the Nyx Wonder Pencil. -- LD
No. 21 spring '14
Boxy, WASP-y, and tennis appropriate. -- SY
Vampire Weekend is the perfect mix of Uptown (they did go to Columbia University) and Downtown cool. -- SY
If you mixed Andie, Duckie, and Steff's wardrobes together, you'd get the No. 21 collection. Or maybe I'm just biased because my name is Steff too. -- SY
Every highbrow beauty look starts with a good lip balm. -- SY