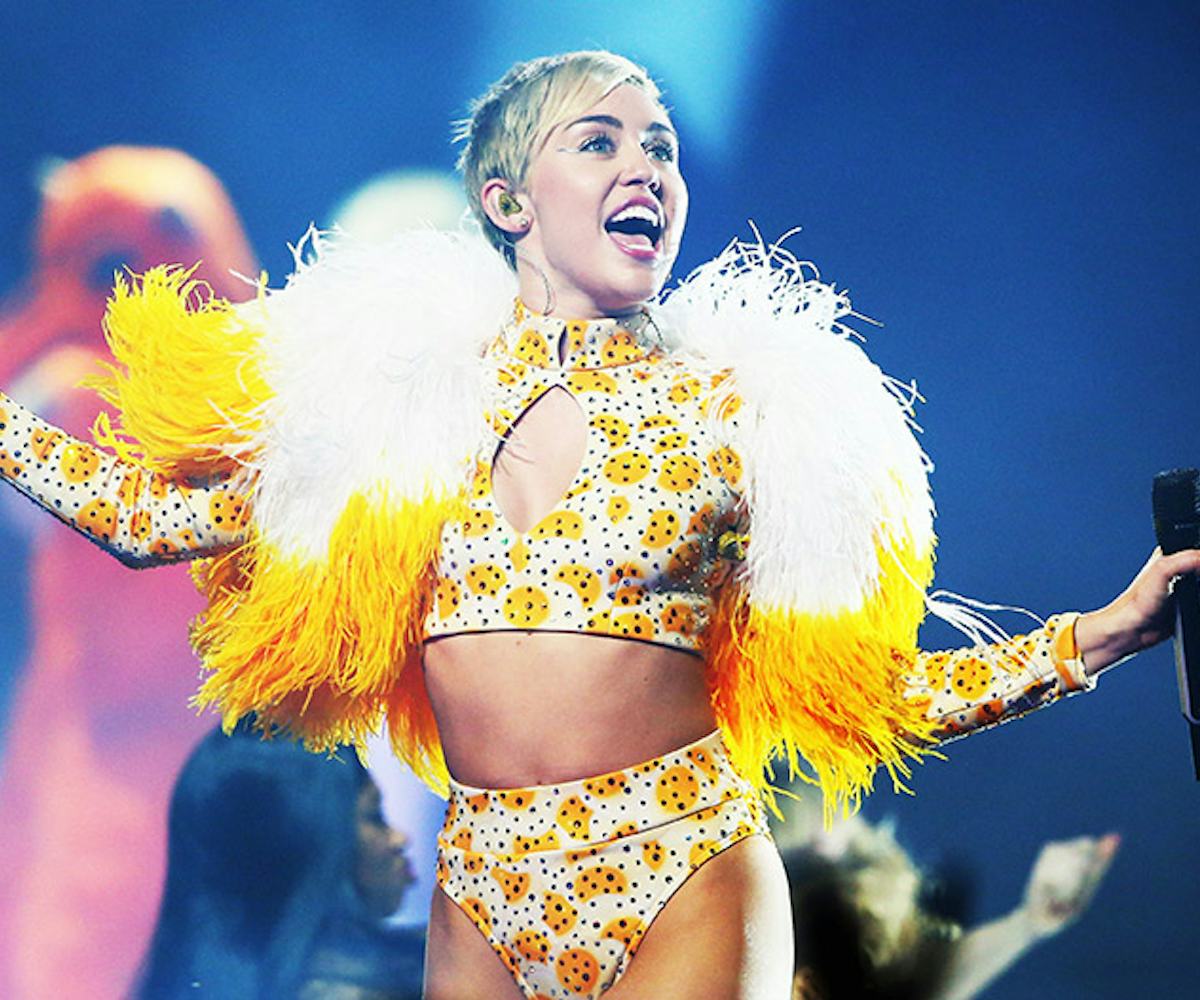 Photo by Scott Barbour/Getty Images
Miley Cyrus Is The Pop Star This Generation Needs
She truly came in like a wrecking ball
Miley Cyrus has it all: talent, humbleness, and a platform she uses for good. Tabloids like to ruminate over her dating life and outfit choices, and while that's unfortunate, it keeps her in the media, which, in turn, keeps her message in the media. And, that message is one of pure authenticity.
Many pop stars talk a lot about acceptance and individuality, but few walk it. Cyrus happens to fall in the latter and has become one of today's most outspoken celebrities. She truly lives by her own rules. Who else would casually drop one of their best albums for free on SoundCloud, and, as such, prevent it from being nominated for any awards? Cyrus represents a freedom this generation longs for and works to make happen. Her boldness inspires others to be just as bold. Ahead, five reasons why she's the pop star this generation deserves. She is, after all, in her own words, "the only fucking Disney star who would say [she's] pro-lesbian and gay, before it was okay to say that."
Miley Encourages People To Make Their Own Decisions
Part of being a role model is advocating for one's own decision-making skills. Cyrus has come under fire in the past for her drug use and sexuality, but she's been the first to say she's not encouraging others to follow suit. In an interview with the New York Times, Cyrus cites a Kurt Cobain quote about the "special place in hell for people that glamorize drugs." She says, "I never want to be that person that's, like, talking to 16- and 17-year-olds and being like, 'Smoke weed.' I've got a little sister. I don't want her to smoke weed, and it's not because I think weed is bad, but... she'll make the choice." The power of the individual is Cyrus' raison d'être.
Miley Uses Her Platform For Good
Cyrus has long been a vocal supporter for and member of the LGBTQIA community and homeless youth. She brought a homeless youth to the 2014 VMAs and allowed him to raise awareness for the rising number of young adults like himself. In 2014, Cyrus launched the Happy Hippie Foundation as a nonprofit aimed at supporting the LGBTQIA community, homeless youth, and other threatened communities. In a 2016 interview with Variety, Cyrus explained that she only signed on to judge on The Voice so she could amplify the foundation's message. "People listen because of who I am," she says of the impetus to create the foundation, "so instead of being embarrassed, I should say: 'Fuck yeah, I got the microphone.'"
Miley Truly Looks Out For Her Fans
While some musicians restrict or even cancel their time with fans, Cyrus makes a point to look out for them. During a stop on her Bangerz tour, Cyrus scolded a security guard for yelling at a fan who was taking her photo. What's more, though, is that she has repeatedly interacted with her fans over social media when they share their personal journeys and thanks them for their support. 
Miley Advocates For Individuality
Growing up in the public eye can, obviously, take a toll on your sense of identity. Cyrus' transition from teen to young adult is one of pop's most notorious, not because of the drastic transition, but for how authentic Cyrus handled it. She continues to own her identity and encourages others to do the same. "Everyone to me seems like Vanna White," she tells W Magazine. "I'm trying to tell girls, like, 'Fuck that. You don't have to wear makeup. You don't have to have long blonde hair and big titties. That's not what it's about. It's, like, personal style.' I like that I'm associated with sexuality and the kind of punk-rock shit where we just don't care."
Miley Has Talent
Just watch this. That's all.