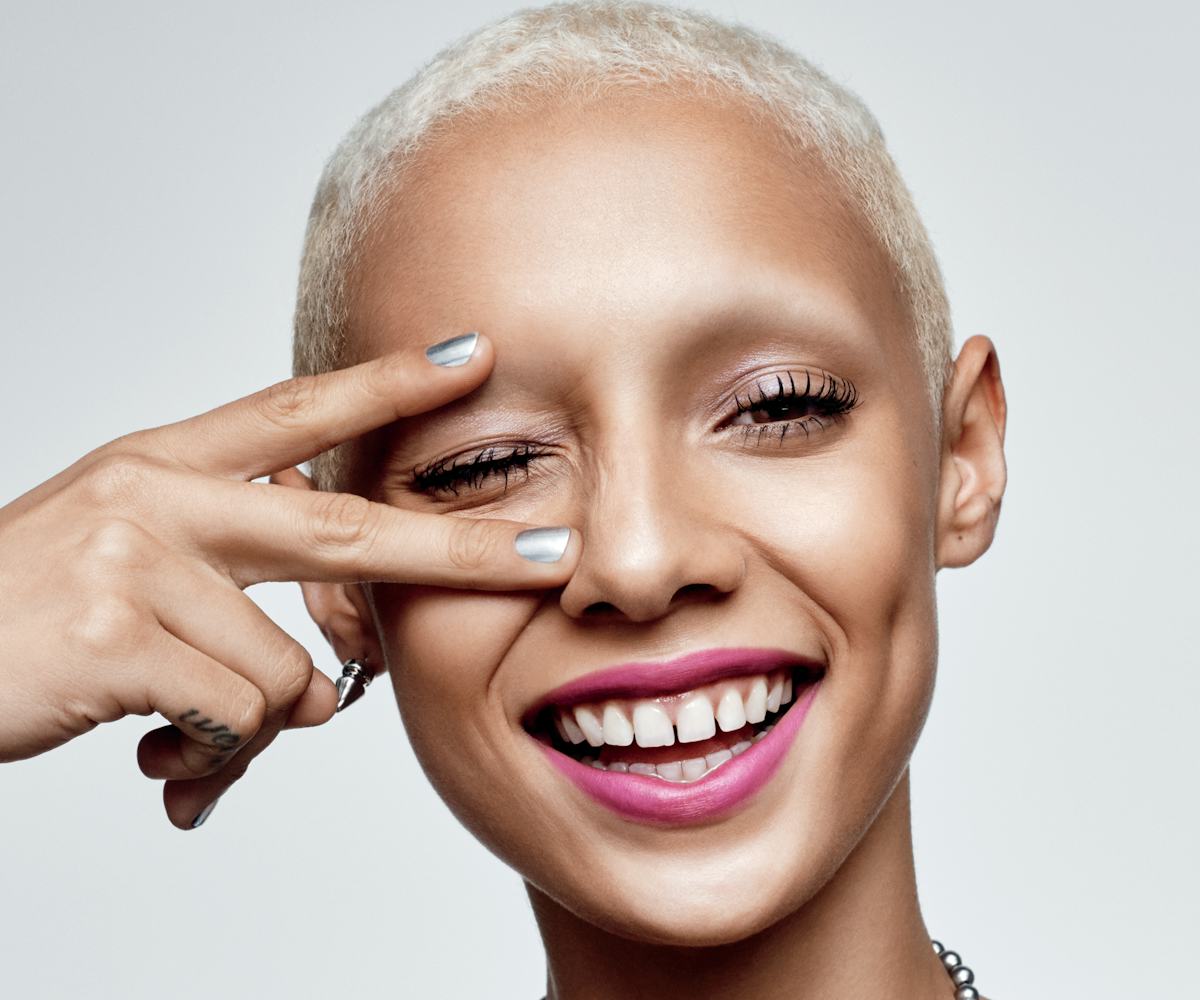 Photo courtesy of Milk Makeup.
How Millennials Are Changing Beauty
Whether they realize it or not
Shopping at Glossier's flagship store feels a bit like entering a cult. Opening the door to a tiny, empty room on Lafayette Street in lower Manhattan which houses the makeup and skin-care brand's products, I'm greeted by a redhead in a pastel pink lab coat, matching pink pants, and blindingly white sneakers.
"Are you here for the showroom?" she asks, perched on a white bar stool.
I feebly nod, she makes a scribble in her pink notebook, and I'm directed to take the elevator to the penthouse.
Yes, shopping at Glossier is akin to joining a secret society of sorts—but that's no accident.
Since its launch by Into The Gloss founder Emily Weiss in 2014, Glossier has built an obsessive following on its promise of low-maintenance, "no-makeup" makeup for "real girls in real life." The company oozes girl power through pastel pink branding, products that highlight natural beauty, and cheeky self-love slogans like "skin is in" or "you're not just a skin type." In an age of enormous millennial feminist activism, this is exactly the message our generation is asking to receive from people in the beauty industry, and they're not letting us down. Emerging brands like Glossier, Milk Makeup, and others are reflecting and responding to a changing clientele, one comprising women who no longer have the time for complicated beauty routines, nor subscribe to the outdated mindset that we need them.
It's telling that the online shop doesn't describe Glossier as a beauty brand, but as a "beauty movement." Weiss said it herself in a blog post marking the fifth anniversary of Into the Gloss: "I believe we're entering a time when women are open to authenticity—who they are, and want to be, in real life—like never before. Now more than ever, people are striving to develop their own unique identities, go on their own journey, and talk about it."
Julia Greenwald, a 24-year-old teacher in Phoenix, Arizona, and fan of Glossier products, also recognizes a generational change in the approach to makeup.
"Women my mom's age didn't ask themselves the questions I ask myself," Greenwald says through a survey I conducted online. "Women my age, we feel the power and a sense of worth and a sense of being hot and sexy when we are happy with ourselves."
She adds that Glossier connects directly to this sentiment: "It appeals to my idea that I wear makeup for myself and not for others and that I do not need a ton of it."
Greenwald isn't alone. As of this writing, Glossier has nearly 400,000 followers on Instagram, and 25,000 on Twitter. Recently, Fast Company named Glossier one of the world's 50 most innovative companies, placing the beauty brand alongside the likes of Google and Apple. And after customers complained last May that many products were absent online, Weiss explained that the company sold out of almost one year's worth of products in just three months.
But though the brand may be leading the industry change, Glossier isn't the only makeup company appealing to feminist millennials. Lilah Beauty (or simply Lilah B.), a minimalist makeup brand launched close to two years ago by Cheryl Yannotti Foland, is making similar inroads into the sought-after demographic.
Foland, who has worked in the makeup industry for more than 10 years, says she started her own brand after making the move from New York City to Sausalito, California. Foland's urge to simplify and declutter for her West Coast lifestyle soon extended to her makeup bag. Lilah B. encourages a less-is-more approach to beauty, emboldening customers to buy only what they need from a range of multipurpose products in neutral tones. The brand's slogan reflects this motto: "With less," Lilah B. urges, "you are more."
"Women have more of a mind of their own [now]," Foland explains over the phone. "And they don't need to be told that you have to buy these 15 products to layer on top of each other, and take an hour to get ready in the morning."
Still, not everyone is convinced by the rosy message of female empowerment through cosmetics. For some, these claims are only skin-deep. Five years ago, in a talk at the Nova Scotia Women's Summit, sociology and women's studies professor Gail Dines voiced concerns that are still ricocheting around Tumblr: "If tomorrow, women woke up and decided they really liked their bodies, just think how many industries would go out of business."
Recently, I tracked down Dines, who teaches at Wheelock College in Boston, to see if she thinks modern women are forcing change in the beauty industry. Her answer, in a word, was no.
"How does one empower a woman through a makeup brand? I've got no idea," Dines says over the phone. "What empowers women is equal pay, stopping rape, more battered women's shelters, Planned Parenthood... that's what empowerment, or rather liberation, of women is."
Dines says she isn't critical of makeup brands—or women who buy from them—but worries that focusing on individual empowerment distracts from the bigger picture. "Empowerment is changing the conditions of oppression," Dines says. "And no amount of makeup in the world is going to do that."
There's also the concern that popularizing the idea of "natural" beauty merely holds women to another impossible standard. Maybe what we're seeing is simply the myth of the "cool girl," reborn for 2017. At least, that's why Teta Alim, a 22-year-old writer in Washington, D.C., isn't buying the "minimalist" beauty trend.
"People who practice 'minimalist' beauty have already met the current standard of beauty—they're already typically slim with clear skin," Alim says. "It's appealing in theory, but in practice, there are already certain standards in place in order to pass in 'minimalist beauty.'"
But millennials taking ownership of their beauty routines doesn't have to mean natural-toned makeup. Milk Makeup, launched early last year by media company Milk, offers genderless, colorful cosmetics with easy-to-use application that are meant to encourage self-expression. Georgie Greville, Milk Makeup's co-founder, says most of the products can be applied with your fingers alone.
"Beauty standards and imagery have been so rigid for so long that it's no surprise to me that there is such a wide audience for our approach to self-expression," Greville explains over email. "Now more than ever, as the spectrum of individuality becomes more visible in the world, we need to respect the fact that we are all unique and can't presume anything about one another."
Greville adds that the company is "absolutely" feminist and that the co-founders, Zanna Roberts Rassi and Dianna Ruth, are a testament to that. "[We] are all progressive, ambitious, intuitive women, so there is a built-in sense of women trying to understand and support each other's needs," she writes.
And least one of the emerging girl power beauty companies is working to make a lasting change outside the brand. Take RealHer, a brand launched in May by innovator Bill Xiang that offers minimalistic makeup products with self-affirming messages like "I DECIDE MY DESTINY" built into the packaging. During more than 10 years of working in the makeup branding industry, Xiang was disheartened by companies that profited off of telling women they were "not enough—not poreless enough, skinny enough, tall enough, conforming enough," he says.
Xiang began to worry about how these messages would affect his newborn daughter growing up. He had the idea to create a line of makeup for his future daughter—should she choose to wear makeup—and for all other women who are constantly torn down by the beauty industry. The company donates 20 percent of proceeds to the American Association of University Women, a nonprofit that offers workshops, fellowships, and grants to support women in professional life and academics. "I know exactly how the 20 percent is going to make some difference, how the 20 percent is going to change the world," Xiang says.
Whether millennials buy into the female empowerment narrative of these brands or not, they are buying the minimalist trend. Back at the Glossier showroom, I can't resist joining the chic 20-something shoppers all trying on products, and I'm told every item on display is fair game. 
I reach for the priming moisturizer and "boy brow" eyebrow gel—two products I've seen all over Instagram—and head to the mirror to see how I look. That's when I notice the all-caps words stuck onto the mirror in soft pink lettering, bearing what may be the makeup industry's new and improved message: YOU LOOK GOOD.