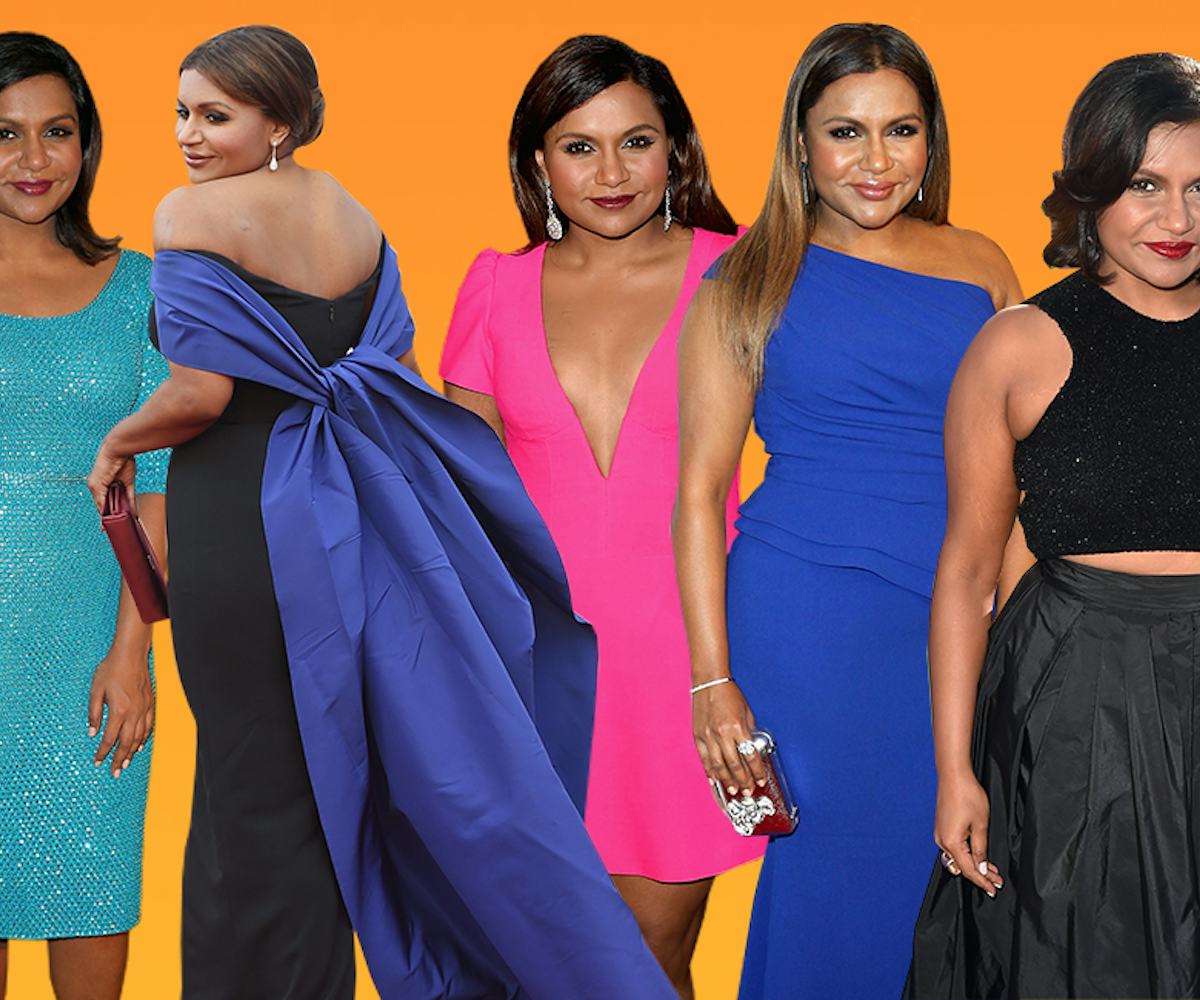 Photos via Getty Images
Mindy Kaling's Guide To Dressing Like You Give A Damn
"I don't understand what's so great about effortlessness"
Mindy Kaling doesn't do DGAF fashion. Sure, she knows it's cool to look like you don't try. And seemingly, that's what everyone's doing now, from L.A. wellness goddesses in flea market-found, gauzy dresses to Kristen Stewart-inspired cool girls wearing threadbare tees and jeans to model/actress/IG chicks off-duty sporting impossibly strappy athleisure. They're all making an effort to appear, well, effortless. But thanks to the sartorial influences of her very extra character, Mindy Lahiri on The Mindy Project—and her partnership with Salvador Pérez, the show's costume designer who helped push Lahiri's look into bonkers levels of pattern play—Kaling's approach to dressing IRL has diverged from the pack and become increasingly similar to her character's onscreen.
"I think that my style has been so inspired by Mindy Lahiri," she recently declared at an event presented by the Beverly Center in L.A., in which the star sat down with Pérez to discuss The Mindy Project's costume choices. "Since doing the show, Sal has really influenced me to break out more colors, more daring cuts I wouldn't necessarily do, materials I don't necessarily gravitate towards—so that has been a big influence." Look no further than Kaling's own outfit that night—a sunny yellow Lela Rose tea dress and killer lightning bolt Louboutins—for proof of her style MO, which can best be described as: Dress like you give a damn.  
"I don't understand what's so great about effortlessness," she added. "I think showing up means you care. So, for me, I'm very effortful, and my character is very effortful. She projects a confidence. If you come in with jeans and a T-shirt, great, that looks great and is a very L.A. way of dressing. [But] I happen to disagree," she said, while also giving props to Reese Witherspoon, who she refers to as a fellow effortful dresser. ("I never see Reese without perfect hair, perfect makeup.")
Exactly which tips has Kaling gleaned from her tenure on the show (the final season of which is slated to stream on Hulu in September)? We plied both Kaling and Pérez for details on woke style, the Lahiri way.
Forget flimsy fabrics: The idea of gauzy gowns sounds romantic, but they can often look sloppy over underwear. "Flimsy lightweight fabrics show everything, so we stay away from them," Pérez says. "We find the sturdier fabrics are more forgiving and hide lines from the Spanx." 
The solution: Reach for form-fitting clothes rendered in wool, leather, and cotton blends. "We make a lot of Mindy's gowns in wool, as we can shape them so well," he adds.
Follow runway looks—then make them your own: "We follow a lot of fashion designers, especially for a comedy," Kaling says of her partnership with Pérez on the show. After seeing the Fendi Fall 2017 collection, the pair agreed that the coats, faux fur numbers in laser-cut herringbone (pink!), were worth a study. "That's a $25,000 coat," she says, noting that, as producer of the show, she has an eye on its budget, too. "But maybe we can build me something that might fit me better." 
The takeaway: If you really love something from the runway with the same price tag as a new car, consider having something made to better fit your body, lifestyle, aesthetic, and budget. 
Combine color and patterns with an editor's eye: Most sitcoms rely on pumped-up sets for a color fix, but on The Mindy Project, it's Lahiri's wardrobe that provides the punch. And the character's pattern play? Next level. 
Two ways to pull off the extra AF vibe without slipping into "five-year-old with a dress-up box" territory: Combine patterns made in the same color family (blues, grays, and whites, for example) and color block like a pro. Pérez's tip? "Pair a green sweater with a pink blouse and a yellow coat," he says. "It's a tonal thing, but, as a general rule, jewel tones look great together."
Find true fit: "Buy things that fit you and that are not tight—you should not be a sausage. There's a huge difference," the costume designer says. To find your best fit, he suggests digging online. "Go to the websites, enter your sizes, and get clothes that are proportionately made for you." He uses a discovery made when finding clothes for the six-foot-tall Jane Lynch as an example of how affordable brands cater to all kinds of body types. "I didn't know this, but J. Crew and Banana Republic have Tall [sizes] for women—most women don't know that." 
Another tactic: Figure out which brands are best for you by trying on clothes IRL. "Donna Karan might be too big, Ann Taylor might be great. Put a little effort into it, and eventually, you can figure it out," he says.
Go vintage—with tailoring, not threads: Sometimes, a jacket is just too dope to pass up—even with its ill-fitting sleeves. Instead of settling for bunchy cuffs, Pérez suggests an old-school fix that most of us have heard our grandmothers mention a time or two: Take it to a tailor. The notion may seem old-fashioned, but Pérez says there's a reason why people in the '40s, '50s, and '60s looked so good: "Everybody had a tailor, so everybody's clothes fit. And then we went to the '80s and '90s grunge and one size fits all and people stopped learning how to fit clothes," he notes. 
We know, we know. Dragging your clothes to a tailor sounds like a huge pain in the ass. (As does trying on tons of styles or doing extensive online searches for special sizing, frankly.) But as Kaling proves on and off the show, looking fresh AF means putting the work into it from time to time. Besides Pérez points out another upshot to effortful dressing with his favorite tailoring trick: "Take the sleeves in on your jacket," he advises. "It will make you look 10 pounds lighter, no matter whether you're a size 0 or a 20." And just like that, trying hard has never looked so good.