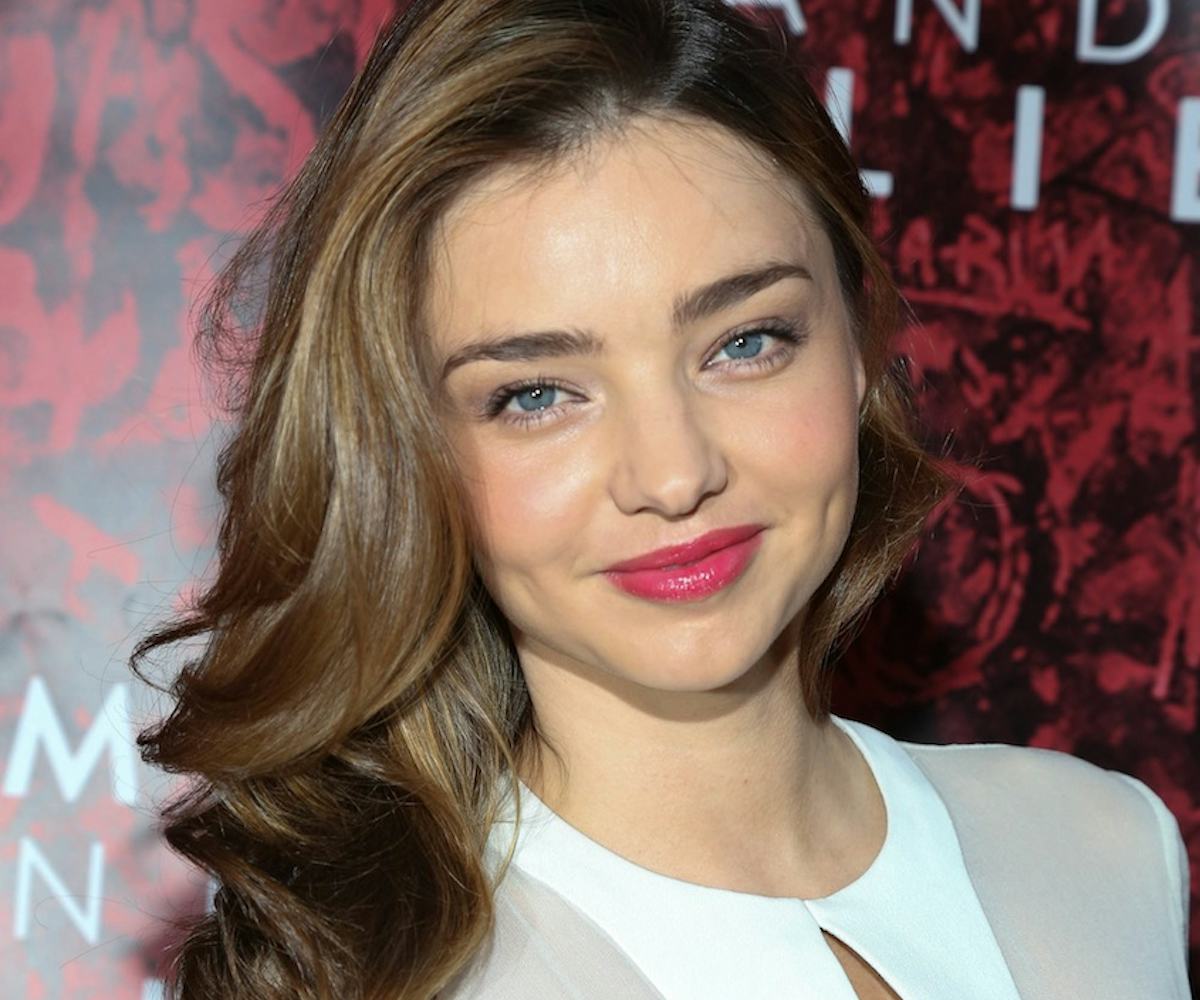 the insider: miranda kerr
on runnning, her new reebok gig, and her workout playlist.
What do you call a day where you begin with your 8AM writing class and end in a yoga class with Miranda Kerr in the Upper East Side? Only a typical Wednesday morning, of course. Interestingly enough, on this very day, my professor was teaching us interviewing strategies, which I would later put to the test while attending the launch of Reebok's new Skyscape shoe collection featuring Miranda Kerr. Talk about coincidence...and nerves! My first step into the Reebok FitHub store on Third Avenue was much like entering a fitness wonderland-meets-chic lounge. From pretty plum yoga mats to perfectly manicured flowers, the stage was set for a thrilling morning adventure. Why wolf down an omelette at my dining hall when I could be feasting on yogurt parfait and quiche amongst envy-worthy shoes and Miranda Kerr herself?
Kerr is the face of Reebok's new Skyscape collection, an alluring line of lingerie-inspired shoes crafted for both the girl on the go and the fashionista. Say what? Time to cue Hannah Montana's classic hit of the "Best of Both Worlds." The Skyscape shoe recipe draws influence from the lingerie industry, using the same material and molding process that concocts our favorite undergarments. The Skyscape is all about lightweight comfort, and its blissful fit is guaranteed to make you even forget you're rocking these gems around the city (we're talking literally, too. . . they only weigh five ounces!). If you've ever dreamt of walking on clouds, the Skyscape answers with its pillow-like soles that ensure cushioning and flexibility. Feeling sleepy yet?
I managed to catch a few words with Miranda Kerr herself post-yoga. Naturally, she looked like a picture of perfection, even after all of those excruciating leg lifts. Take a peek at how she would style her Skyscape shoes, her favorite tunes, and tips on how to relax here. 
How did you get started with Reebok and why did you decide to work with them in the first place?
[Reebok] was one of the first campaigns I did after I had the baby actually [son, Flynn]. What I like is that Reebok is very supportive of women especially and of a healthy lifestyle and being active. I love the 3D foam technology [in the sole] and it's such a pleasure for me to wear them. They're easy to travel with as well, which is important. 
How would you style an outfit to go with your Skypscape shoes?
would have to say matching it with a pair of jeans or a pair of [patterned] pants, like jeans and sweatshirt or tank, maybe with a hat and sunglasses. Something very casual, but fun and fashionable at the same time.
Do you have any favorite songs or bands on your workout playlist?
[The music] depends on how I'm feeling. It can be sometimes relaxed and chill. I like classical music like Mozart, and Billie Holiday too. I also really love Dr. Dre, Drake, U2, Eminem, Kanye, and I've got a bit of Marilyn Monroe, but then there's Tiesto as well. It really depends what mood I'm in. I'm quite eclectic and I like to mix it up. 
How do you unwind and relax after a long day?
Music, just being with my son, and you know, dimming the lights and listening to music. I love having fresh flowers and taking a bath. 
Do you have a favorite yoga pose?
I love shoulder stand at night time. I also really enjoy just putting up my legs up the wall. Even if you're reading a book, you have your legs up the wall and it's very good after you've been at work, especially for me, since I have to be in high heels a lot of the time.